Master Of Science In Management-Engineering (Grande Ecole)
Home ›
MSc ›
Master Of Science In Management-Engineering (Grande Ecole)
Read more about this program on the school's website
Program Description
Creative International Management Training for Engineers
Develop a dual competency in management to increase your effectiveness and employability as an engineer. As the first French school of business to open our doors to engineering students, Audencia Business School is well established in the field. Your training will be of the highest quality; ranked 29th in the world for masters in management and 9th for international students (The Financial Times, 2017).
During the MSc in Management-Engineering programme, you'll study entirely in English. Your programme is where engineering meets international management, which accelerates your creativity. Graduates are qualified for roles requiring engineering expertise and business strategy within a global environment.
Key Information
Degree earned: MSc (Master of Science) in Management-Engineering
Language: English
Duration: 1 year + internship (4-6 months)
Programme start: September or February
Tuition: €22,000

Eligibility:

Proficiency in English
A 4-year degree in engineering or science (Applicants holding or completing a degree from a French institution should contact us.)
Programme
As a graduate, you'll be uniquely qualified for top positions in engineering and management. Audencia developed this original programme in partnership with five national and international corporations looking to hire engineers with managerial skills: ERDF, PwC, Société Générale, Thales and Valeo.
Take advanced management courses with top faculty and experts in the field.
Select a specialisation in management, finance or marketing.
Gain experience with a 4- to 6-month internship that boosts your networks and career possibilities.

International Scope
Audencia is among the elite 1% of business schools to hold triple accreditation from EQUIS, AACSB and AMBA – the international triple crown of quality. You'll benefit from our network of international corporate partners, faculty members with extensive industry and international experience, and researchers who specialise in the field.
Career & Alumni
Proven career outcomes for management success
With the ever-increasing globalisation of the world's economies, corporations need highly trained leaders who can tackle complex and challenging issues in innovative and socially responsible ways.
Audencia works hand-in-hand with the corporate world and is a leader in advanced management practices. As a result, 98% of graduates found a job before or within 2 months of graduation– with a truly international education gained in one of the best places to live in France.
Note: Statistics are based on the number of replies to the question. They relate to all classes to date unless otherwise stipulated.
Sectors
Graduates of this programme have found employment in the following sectors:
Agribusiness: 4%
Automobile: 5%
Audit: 12%
Banking: 11%
Computing: 15%
Consulting: 15%
Distribution: 9%
Electricity and energy: 6%
Engineering: 15%
Industry: 10%
Functions
Programme graduates have found employment in the following job roles:
Auditor: 10%
Bank financial analyst: 8%
Company manager: 10%
Consultant: 18%
Engineer: 22%
Founder or entrepreneur: 6%
Purchaser or logistician: 5%
Sales and marketing: 21%
Audencia Career Services
Audencia provides you with personalised career services that address your specific experiences, strengths and weaknesses, and goals. We also cultivate close ties with the business world, which benefit you in the classroom and in your future career.
Individual career coaching and advising
15,000+ employment opportunities posted each year on our dedicated intranet
Employment fairs with 120+ companies
CV workshops
Interview preparation and mock interviews
Panel discussions with professionals and alumni
Assessment centre preparation
Personal development programme on topics including leadership skills, communication skills, ethics, intercultural management and networking
Auditing sector fair
Information resources and online tools
Access to 100+ career events on various topics
Audencia also has a business incubator that supports select graduates in their entrepreneurial work.
Admissions & Finance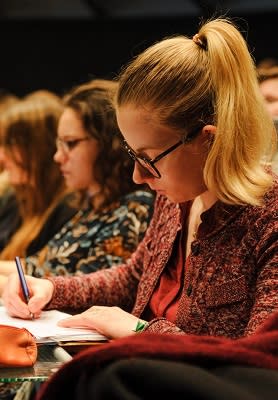 (Note that the application procedure is different for candidates with a degree from a French institution. Contact us with any questions.)
Join us in Nantes to internationalise your future career! Here is a breakdown of everything you'll need to make it smoothly through the application process.
The Management-Engineering programme has two intakes per year:
Start in September. Admissions are open until June 15 at the latest and may close earlier if the class is full.
Start in February. Admissions are open until December 31 at the latest and may close earlier if the class is full.
We strongly recommend applying as early as possible due to the limited number of seats available.
Eligibility
Independent international applicants
To apply, you must have:
A four-year bachelor's degree in engineering or sciences
Proficiency in English
Note: You can apply during the final year of your bachelor's studies.
Students at a French institution
To apply, you must have:
Currently pursuing a master's engineering degree from a French institution
Proficiency in English
Note: Please contact the programme coordinator, Amandine Delaunay, to learn if your home institution is a partner.
Applying independently
Independent applicants (not currently attending a partner institution) follow our international application procedures. In addition to the online application, you will be required to submit the following documents:
CV and letter of motivation in English
Copy of engineering degree and related transcripts from an institution outside of France
English test score* (TOEFL, TOEIC or IELTS)
Copy of identity document (e.g. passport)
You may contact the Office of International Admissions if you have any queries.
Tuition
MSc in Management-Engineering: €22,000
Other costs linked to school fees
Application fee: €100
Compulsory registration with the student social security system (students under 28 years of age): As an example, the total for 2018/2019 was €218. The fee must be paid at the latest on the first day of the first school year, and for subsequent years before 30 September.
Costs such as visa fees, transportation, accommodation and meals are to be paid directly by the student.
Financing
There is a range of external scholarships you may be eligible for as an international student. Please contact us with questions.
Last updated Nov 2019
About the School

Founded in 1900, Audencia Business School is one of the best management schools in Europe. The EQUIS, AACSB and AMBA international accreditations added to the positive evaluation by AERES (the French ... Read More
Founded in 1900, Audencia Business School is one of the best management schools in Europe. The EQUIS, AACSB and AMBA international accreditations added to the positive evaluation by AERES (the French agency that rates research and higher education) underline a commitment to teaching excellence.
Read less
Nantes ,
Bradford ,
Bilbao ,
Nantes ,
São Paulo ,
Toulouse ,
Beijing ,
Milan ,
Shenzhen
+ 8 More
Less