Master International Business Economics
Program Description
Master International Business Economics
The MIBE is a one-year course duration program. It operates on a schedule of three semesters of four months each. The students must take 8 core courses in the first two semesters. For the third semester, the students select one of the two plans: writing a thesis or taking supplementary 2 elective courses and a workshop. Upon successful completion of the third semester, the students awarded a Master Degree in International Business Economics. Additional semesters (not exceeding five academic years) are designed to accommodate thesis-option students who need more time to finish their works as well as workshop-option students who can not pass the workshop plan requirements in three semesters.
Core Courses in Economics and Methodology (5 courses)

Microeconomics
Macroeconomics
Statistical Analysis of Business Decision Making
Microeconomics for Business Decision Making
International Trade
Core Courses in Business (3 courses)
Financial Decision Making
International Marketing
International Business Management
Plan A (Thesis Plan)
Plan B (Workshop Plan)
Electives (2 Courses)
Introduction to Econometrics
Marketing Management and Administrative Policy
Introduction to Financial and Managerial Accounting
Accounting for Administrative Control
Political Economy and International Relations
International Business and Economic Law
Workshop on International Business Economics
Program Objectives
Provide academic training for professionals who will secure executive and research positions in domestic and international business, trade and professional associations universities, and private research organizations;
Advance research skill in the field of international business economics; and
Support Thailand development of high leveled human resources
The Curriculum Highlight
Joint program with Washington State University and cooperate with other prominent universities including: University of Chicago and Texas A& M University in the U.S.A., McGill University in Canada and the University of Auckland in New Zealand;
Strategic intent for Global Business Economics
Elite program for Business Strategic Planner
One year program and International Program at the local cost
Last updated Jan 2018
About the School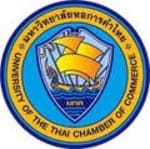 The University of the Thai Chamber of Commerce (UTCC) is the oldest private non-profit higher education institution offering degrees in Business Administration, Accounting, Economics, Humanities, Scie ... Read More
The University of the Thai Chamber of Commerce (UTCC) is the oldest private non-profit higher education institution offering degrees in Business Administration, Accounting, Economics, Humanities, Science, Communication Arts, Engineering, and Law. It is a place where academic theories and business experiences are integrated to produce graduates who can successfully meet today's business challenges. The University of the Thai Chamber of Commerce, originally known as the College of Commerce, is the private university that was founded by the Thai Chamber of Commerce in 1940 to provide education for business to Thai youth. After the outbreak of World War II in 1941, the institution was closed and it was reopened in 1963. The two-year curriculum was developed into a standard four-year program in 1964 and on June 17, 1970, the College of Commerce was officially accredited under the Private College Act. On October 24, 1984, this institution was accredited as a university and the name was changed to the University of the Thai Chamber of Commerce. International Programs represent the academic expansion of the University of the Thai Chamber of Commerce in keeping with global business trends. Vision and Mission In order to realize our vision of being one of the leading universities in education for business in Asia, UTCC missions put emphasis on producing graduates with academic and business abilities and ethics, having faculty members, staff and students with distinguished abilities in English, information technology and business, and being the reliable source of academic services in the area of business for the society. Status and Strength As of January 2007, UTCC has 19,472 undergraduate and 1,710 graduate students. The total number includes international students from different countries worldwide. Since its foundation, the University has maintained its close relationship and cooperation with the Thai Chamber of Commerce. Many of our part-time lecturers are successful and outstanding businessmen and executives with invaluable knowledge and experiences. In the highly competitive and rapidly changing environment, our curriculums are incessantly improved and developed; furthermore, new curriculums such as Logistics Management and Global MBA are offered to meet the demands of the new economy.
Read less