Master in risk and emergency management
Home ›
Master ›
Master in risk and emergency management
Program Description
At the time of managing an emergency, in the field of civil protection often conflicts of action and coordination, and the lack of dedicated professionals exclusively to this subject arise.
Administrations require experts in the field of civil protection with a comprehensive vision, aware of the plurality of strands in an emergency can be found, with the capacity to do the analysis of the causes of emergencies, intervene, coordinate and introduce proposals for improve the situation.
This master's degree in Risk Management and Emergency offers some studies that train professionals Civil Protection, useful for Public Administration asking experts in any population however small, in any municipality.
people prepared to undertake civil protection measures and to coordinate the different emergency teams are needed.
It incorporates a comprehensive training on techniques, procedures and rules of application for planning and managing emergency situations. The program is adapted to the protection needs of an advanced society like ours.
GOALS
Deepening Prevention and Risk Planning Graves in Catalonia and Emergency Management.
Provide the knowledge necessary to develop protection plans and to obtain accreditation as a competent technical staff in the development of self-protection plans for activities and places of interest for local civil protection in accordance with Decree 82/2010, 29 June, subsequently replaced by Decree 30/2015 of 3 March.
Entry Requirements
Graduates, diploma holders or graduates related to Civil Protection.
Civil protection professionals with university degrees (Members of the public authorities that have jurisdiction in the matter. Members of private public undertakings concerned or managing public ownerships that may affect the case of an emergency).
Career prospects
Technicians and Administrations with competence in the field (local, regional and central)
Technicians and managers of public companies affected
Technicians and managers of private companies that manage public ownerships that may affect the case of an emergency
CURRICULUM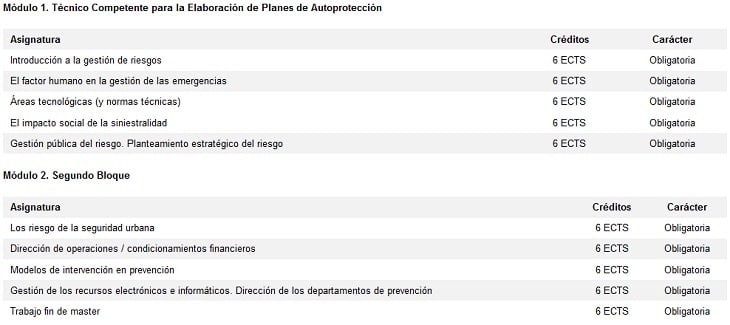 itineraries
Students who wish to study the competent technical graduate diploma for the Development of Self-Protection Plans must enroll the first thirty credits of the master.
Competencies
Basic skills
Knowledge and understanding that provide a basis or opportunity to be original in the development and / or implementation of ideas.
That the students can apply their knowledge and their ability to solve problems in new or unfamiliar environments within broader (or multidisciplinary) contexts related to their field of study.
That students are able to integrate knowledge and handle complexity, and formulate judgments based on information that was incomplete or limited, includes reflections on social and ethical responsibilities linked to the application of their knowledge and judgments.
Students can communicate their conclusions with the knowledge and rationale underpinning to specialists and non-specialists in a clear and unambiguous manner.
Students must possess the learning skills that enable them to continue studying in a way that will be largely self-directed or autonomous.
Specific skills
Provide a comprehensive view of civil protection and general vision of social protection of citizens as first and last recipient of the actions of the public authorities.
Recognize and solve problems related to the Civil Protection and Public Safety
Hone the skills of professional work of Civil Protection.
Identify the factors involved in risk situations related to Civil Protection.
Learn to evaluate different risk agents and organize action plans to neutralize, as well as relief measures and immediate intervention, both physical and psychological, that there, take in each case.
Knowing the basic legislation on crisis management and emergencies. And the skills and current functioning of the State Administration: Civil Protection Act, ministerial orders regarding emergency plans.
Provide knowledge necessary for good planning to ensure an immediate response to emergencies, or natural disasters.
Knowing the basic guidelines for developing a Self-Protection Plan.
Define the scope of the Civil Protection and the scope of the Self-Protection Plans.
Mastering the regulatory body in the field of Civil Protection.
Identify and assess the risks associated with the Civil Protection and Self-Protection Plans, an industrial facility, commercial or service.
Knowing the risks of high-rise buildings (EGA).
Indicate the corrective measures on the premises on which to develop Self-Protection Plans for emergency services can act.
Equipment planning containment and / or disposal in the development of an emergency.
Schedule drills in the Plan of Implementation of Self-Protection Plans.
Conduct the evaluation and measure the risks of fire, environmental and people with a methodology of qualitative and / or quantitative assessment.
Quantifying resources (material, personal, electronic, etc.) and the corrective measures to be implemented in each Self-Protection Plan.
Use the Hermes platform the Generalitat of Catalonia to register Self-Protection Plans responsibility of the student.
transversal competences
To analyze the variables involved in the area of ​​knowledge management program.
Develop skills for making informed decisions referred.
Reflect on the forms of communication necessary for management knowledge area.
Recognize and solve problems related to the management of knowledge of the program area.
Promote the culture of dialogue mediation and conflict resolution.
Manage bibliographic and documentary resources.
Communicate orally and in writing:

use appropriate scientific terminology.
Professional reports.
Writing publications.
orally defend and argue their contributions.

Develop a learning process based on reflection in action.
Analyse and summarize documents and interpret protocols. Find information sources, consult and select the information needed for specific topics.
Last updated Mar 2020
About the School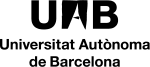 La Fundación Universidad Autónoma de Barcelona (FUAB) es una institución creada en el seno de la Universidad Autónoma de Barcelona para colaborar con la Universidad en el desarrollo y en la realizació ... Read More
La Fundación Universidad Autónoma de Barcelona (FUAB) es una institución creada en el seno de la Universidad Autónoma de Barcelona para colaborar con la Universidad en el desarrollo y en la realización de proyectos docentes complementarios a su oferta académica e impulsar nuevos sistemas de gestión en colaboración con diversas instituciones y empresas, y para la prestación de servicios vinculados a la universidad y la implementación de nuevos proyectos académicos, de investigación, de asesoramiento, de consultoría y de servicios.
Read less