Master economic and International Studies (eco)
Home ›
Master ›
Master economic and International Studies (eco)
Program Description
Master Economic and International Studies (Eco) is a Master of the Moroccan School of Economics (MSE) built through international partnerships between the Mohammed VI Polytechnic University, the Institute for Studies of Aix-en-Provence and Policies Faculty of Economics of the University Pierre Mendes France of Grenoble.
This course aims to train students to analyze and act in an international context profoundly marked by the internationalization of economic systems and businesses. In a world marked by an abundance of economic data and information, the Economic and International Studies degree allows to develop the tools to scientifically understand the economic mechanisms and systems, weigh and put into perspective the analysis or recommendations but also anticipate disseminate and thinking about the economy and development.
Economic and International Studies allows students to acquire a true culture of economics through a reflection on the history and epistemological value of economics and their different theoretical constructs. The curriculum also allows especially to acquire the practical tools and economic knowledge applied to public policy development through mastery of statistics, mathematics applied to economics, growth theory, education policy industrial or theories of growth.
At the end of their course students gain a solid grasp of theoretical and practical issues of discipline and a master of his methods and analysis techniques, a mastery of the expression of their findings in several languages ​​(Arabic, French , English) and a strong capacity for analysis, synthesis and oral and written production. It allows to train managers comfortable with the environment and the international context through international mobility is facilitated in the second year of the master in the curriculum of our academic partners. This training provides access to a wide range of occupations -cadres higher in analysis and prospective directions but also to careers in research and teaching through three courses designed to enable specialize in a specific area of ​​activity the theoretical resources and practices taught in the curriculum.
Partners
ECO Master is part of the scientific partnership between Mohammed VI Polytechnic University and the Institute of Political Studies in Aix-en-Provence on the one hand, and the Faculty of Economics of Grenoble (UPMFG) of somewhere else.
Admission
The master Economic and International Studies is open to all students with a Bachelor's degree or equivalent in the different specialties of Humanities and Social Sciences (180 ECTS credits). Applicants to the program will present an application with Mohammed VI Polytechnic University - Rabat and pass an oral interview before a panel of university teachers. At the end of the interview, the jury will decide on the application from a grid of pre-established criteria for this purpose.
Professional strengths and opportunities
The two degrees, a Moroccan and French, excellence in language mastery synthesis you open many doors organizations and careers in the fields of economic expertise, international development, research or policy international public.
International organizations
Non Governmental Organizations
Consulting firms
Development agencies
National or local administration
Permanent Representation of a country in an international organization
Universities
Economic Research Department in a financial institution
Department of Analysis and prospective enterprise
Corporate strategy department
Department for International Development Company
Public Relations Department
Trades:
Economist
Researcher
Consultant or expert
Manager or project managers
Responsible or for study
Extra-financial analyst
Risk Analyst
Languages
The objective of the Master of Economic and International Studies Mohammed VI Polytechnic University - RABAT is to train students able to achieve an excellent level of professional skills in English, French and Arabic in economics. Training pays special attention to the methods of writing research paper in English and French.
Last updated Apr 2015
About the School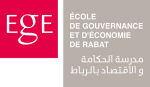 Since 2014, the School of Governance and Economics Rabat (EGE) has become the political science school at the University Mohammed VI Polytechnic. The EMA was established in 2008 by a non-profit founda ... Read More
Since 2014, the School of Governance and Economics Rabat (EGE) has become the political science school at the University Mohammed VI Polytechnic. The EMA was established in 2008 by a non-profit foundation, the Foundation for Teaching Economics, Political and Social (FESEPS) with the aim of reintroducing a high-level training in political science and economics in the Moroccan university environment.
Read less