Master Biomass and Waste for Energy and Materials (BiWEM)
Home ›
Master ›
Master Biomass and Waste for Energy and Materials (BiWEM)
Program Description
MSc Biomass and Waste for Energy and Materials
Who are we? Where are we located?
IMT Mines Albi is one of the 13 Graduate Schools of Engineering of the Institut Mines Telecom (IMT), a French public institution dedicated to Higher Education and Research for Innovation in the fields of engineering and digital technology.
It is located in the city of Albi, near Toulouse in the Southwest of France.
Is BiWEM the right program for me?
Are you thinking about a career in renewable energy? Do you want to become a professional that contributes to the creation of a less carbon-intensive world? Do you want to design technical solutions that meet energy and materials needs while reducing the consumption of non-renewable resources and greenhouse gas emissions?
If so, the Master Biomass and Waste for Energy and Materials, 100% taught in English, offers you a unique opportunity to become a major player in climate and social changes. BiWEM prepares executives, process engineers, project engineers, environmental consultants and future researchers for international careers in the field of waste and biomass valorization and circular economy.
What is the Master BiWEM all about?
BiWEM provides a state-of-the-art education in the fields of clean technology (including bioenergy, material recovery and valorization, waste to energy), resource diagnostic, integrated strategies for designing and managing economically and environmentally sustainable systems. To this end, BiWEM is positioned at the crossroads of Chemical Engineering, Environmental Sciences, Economics and Social Sciences & Humanities.
This multidisciplinary training program is structured around the following pillars:
How practical are the classes?
BiWEM gives students high qualification in STEM (science, technology, engineering and mathematics), which is essential for developing analytical skills and ensuring flexibility and resilience. To acquire practical ingenuity and develop agility and creativity, BiWEM combines multi-faceted learning experiences (hands-on computer training, serious games, use of creative thinking methods and art medium, class discussion, visits, lectures and conferences) with a « Do-It-Yourself » approach under the face-to-face supervision of expert practitioners, mentors and collaboration with the peers.
Our wish is to have strong interactions between students, teachers, researchers and expert practitioners from the industry and a pragmatic and concrete approach. To this end, you will have the opportunity to undertake an industrially-relevant team project. You will acquire the ability to design economically viable biological or thermochemical processes for the conversion of biomass and waste into new materials or energy carriers, within a sustainable development frame. Also, during the 6-month thesis or internship (semester 4), students have the opportunity to consolidate and improve their knowledge and their skills. If made in France, this internship period will be paid with a minimum of 500€/month (can be much more)
Overall, 43% of the training activities is dedicated to practice.
In joining this full-time program over two years, you will experience a challenging learning environment that combines high academic and scientific legitimacy with a practical proximity to business:
The BiWEM program is boosted by the research department RAPSODEE CNRS UMR 5302 with an outstanding national and international scientific recognition in the field of waste and biomass valorization. You will meet highly qualified and internationally recognized teachers since RAPSODEE, whose Director is the renowned Professor Ange NZIHOU, collaborates with many top universities around the world;
You will have access to our impressive and up-to-date on-site pilot-scale facilities. RAPSODEE has been granted by the French government as a research center of excellence in Science for Energy Conversion (a label given to only 10% of research labs in France) and has advanced thermal technologies for the conversion of waste and biomass into energy carriers and useful materials;
You will have strong interactions with expert practitioners from the industry through lectures, conferences, visits and practical sessions (including internship).
IMT Mines Albi is located in the city of Albi, a warm, lovely and affordable city near Toulouse, in the Southwest of France.
All IMT Mines Albi students have an accommodation (with an affordable rent) in one of the 8 IMT Mines Albi residences, downtown or on the campus.
The green campus is a perfect place to unwind after the lessons and to practice many sports activities, even in the week-end.
For more info, write to admission.biwem@mines-albi.fr
Applications are open until July 2020.
Last updated Dec 2019
About the School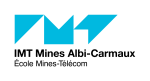 Founded in 1993, IMT Mines Albi is a state-funded higher education institution, placed under the authority of the Ministry of Economy and Industry.
Founded in 1993, IMT Mines Albi is a state-funded higher education institution, placed under the authority of the Ministry of Economy and Industry.
Read less