Master Art Education in Curatorial Studies
Program Description
Studying at Zurich University of the Arts
With over 2.500 students, Zurich University of the Arts is one of the largest arts universities in Europe. We welcome students seeking to cross boundaries and bring different fields together because we are convinced that the productive exchange with other disciplines brings forth better, more versatile, and critically minded curators.
We have an excellent network worldwide — thanks to collaborations with over seventy universities in Switzerland and abroad, and with countless partners from the fields of science, culture, business, and industry. This manifold collaboration stands for the national and international relevance of our programs.

About the Program Master Art Education, Curatorial Studies
The professional communication of culture, art, architecture, and design is essential. Education, effective staging, and communication in the area of arts and design have an important role to play, in both the public and private sectors, reflecting the shifts currently taking place in cultural production and the creative and cultural industries.
In this context, the program in Curatorial Studies will enable the student to work successfully as a curator and/or as an art and culture educator across the entire spectrum of institutional and non-institutional contexts, in the public and private sectors, and in the for-profit and not-for-profit domains.
This is a conceptual program, through its linkage of the theory of art and design, culture and society, with curating and education practice. It is communicative, in that it focuses on interpretation and target-group-aligned education. It also has an organizational focus, offering a project-based introduction to the conception and management of exhibitions and educational events. This includes museums of across numerous thematic areas, exhibition halls, platforms such as major exhibitions, biennale events and festivals, artist-run spaces, public spaces, and tradeshows and corporate presentations.

The education focuses on the following competency areas:
Knowledge competence: the ability to interpret trends and phenomena with reference to scholarly and academic discourses
Authorial competence: clearly defined, self-aware, independent stance in the exhibition and education field
Production competence: contemporary conception and goal-focused realization of exhibitions and educational agents in a diverse range of cultural and commercial contexts
Networking competence: enhancing the relevance of exhibition and education projects through the involvement of a wide range of experts and actors
Communication competence: verbal and visual communication with a wide range of target groups
People competence: the ability to create positive work environments through independent thought, communication and teamworking skills, and a strong sense of personal responsibility.
The Program is recommended by the ICOM Schweiz (Swiss International Council of Museums).

Degree Title
Master of Arts ZFH in Art Education with a Specialization in Curatorial Studies

Program structure (120 ECTS)
The program structure consists of the Specialization in Curatorial Studies (100 ECTS) and the core program Master Art Education (20 ECTS).

Specialization in Curatorial Studies
The tuition content in the Specialization in Curatorial Studies is focused on the systematic linkage of subject knowledge and experiential knowledge. The specialization program Curatorial Studies comprises 100 ECTS points and is divided into three teaching and learning areas: Exhibition and Education, Practice and Projects, Transfer.

Exhibition and Education (34-36 ECTS)
This area focuses on exhibitions and presentations and support events straddling the divide between for-profit and not-for-profit, public and private, and institutional and non-institutional. This obviously includes the exhibition and museum context as long-standing locations of education and experience, with their multi-layered portfolio of research, collection, exhibition and education tasks. Also covered are numerous other formats, such as festivals or tradeshow and corporate presentations.
The students' engagement with historical, contemporary and future-oriented curating and education discourses and practices provides the basis for reflection on the potential of such platforms for further development and forms of artistic and curatorial intervention. These range from efforts in favor of the social change to the design of presentations on commercial platforms. A range of analog and digital presentation formats are covered, to shed light on the specific features of exhibitions as a medium in the above context. There is also discussion of the importance of collection and archives, and appropriate instruments for their analysis.
The subject knowledge imparted in the tuition content pursues a wide variety of approaches: cultural and artistic studies, cultural sociology, curating, museum studies, pedagogy, aesthetics, and scenography. It brings together relevant research on the subject-matter and current debates and practices in the exhibition and education domain.

Practice and Projects (34-36 ECTS)
In this case, the focus is on building up the students' practical knowledge in the above fields, as required for their future role as curators and/or art and culture educators. The subject knowledge gained in the Exhibition and Education teaching and learning area is transferred into the domain of practice. In the project modules and the practice project, students explore examples of innovative concept designs for exhibitions and education programs, and also methods for the goal-focused realization of exhibition and education projects. This teaching and learning area also provides insights into the practical circumstances and constraints of exhibiting institutions and non-institutional exhibition projects.
For practice projects and internships, there are partnerships in place with the Museum of Design Zurich and numerous Swiss and international museums, exhibition institutions, and education platforms.

Transfer (30 ECTS)
In the Transfer teaching and learning area, students prepare their graduation assignment, bringing together the subject discourse skills gained in the Exhibition and Education and the Practice and Projects teaching and learning areas and their innovative, self-aware practice.
The Master's thesis may either comprise a practical section and a theory section, i.e. a comprehensive concept, underpinned by theory, for an exhibition and/or education project or consist solely of a theory discussion. It may be related to a research project or to the student's practice project/internship, or it may be based on a collaboration with an exhibition institution or other relevant contexts. In any case, the thesis must address an issue that relates to significant aspects of the professional field and is relevant for its present and future.

Core program Master Art Education
Students from the three specializations acquire a common grounding, partly theoretical and partly practical. This provides a background of knowledge and ideas that can be used to tackle complex issues in their professional careers. The core program is worth 20 ECTS points and is divided into three main areas of study:

Arts and Design (8 ECTS)
Historic and current trends and discourse positions in the arts, in design and in adjacent fields (incl. aesthetics, art theory, image theory), are explored readily for addressing in greater depth.

Culture and Society (2 ECTS)
Academic paradigms and basic concepts, along with historic and current trends in culture and society, are explored readily for addressing in greater depth. The focus is on those aspects that are important for enabling a budding educator to act in a considered way in a socioeconomic, cultural and political context.

Education (10 ECTS)
Students acquire practical knowledge of fundamental questions and problems relating to education that are vital to its success regardless of the specific context of the occupation or action. The spectrum ranges from personal education and the social make-up of the audience through to applied learning in context.

Research
The course content in the Master of Arts in Art Education program is research-based. Suitable modules address core research questions from the both academic as well as the artistic and design perspectives. Future specialists in cultural, art and design education are expected to be familiar with these core questions and to take part in ongoing specialist discourse. Students wishing to become involved in research or to work in this area will be offered support and assistance to enable them to pursue this path. This includes any continuation at 3rd cycle level.

Eligibility and admission requirements
The number of study places for the programs at Zurich University of the Arts is limited. Admission to the course is a multi-stage process. Various conditions of admission must be satisfied as part of the process:
A Bachelor's degree specializing in art and design, cultural or aesthetic studies, pedagogy or other related subjects.
Special admission ("sur dossier") is possible if the required qualifications for prior education are not available and exceptional talent for the field can be demonstrated.
A keen interest in the medium of exhibitions as a space for aesthetic and participatory learning processes.
A sense of discernment and aesthetic appreciation, along with verbal expressiveness, self-motivation, and self-awareness.
A demonstrated knowledge of German (B1 on the application, B2 by the start of the course) and of English, sufficient to allow the student to follow the classes.
The basic language is German. Students are expected to have a good knowledge of spoken German. Written theses may be submitted in English. Consultations are available in English.

1st application process
Application deadline: 1 March 2019
2nd application process
Application deadline: 1 May 2019
Start Date: 16 September 2019

Tuition fees
The following fees are charged for the Bachelor and Master programs:
Tuition fee per semester: CHF 720
Semester fee for the Academic Sports Association Zurich (ASVZ): CHF 30
Semester fee for the Verein der Studierendenvertretung (Association of Student Union): CHF 40 (optional membership fee – www.verso-verso.org)
Depending on the specific course of study pursued, students should also expect to incur expenses for study materials.

Additional semester fees for foreign students
Under applicable law, international students who enter Switzerland for the purposes of study and who take up residence in the country do not meet the statutory requirements of a permanent place of residence. They must, therefore, pay an additional fee of CHF 500 per semester.

Tuition fee waiver
Tuition and additional semester fees may be waived in whole or in part in special hardship cases. Before requesting such a tuition waiver, the student must apply for a grant from their home canton or city, or from a foundation.
Waivers are granted from the second semester of study on. Requests for waivers may be submitted twice per year on the following dates: 15 June and 15 November.

Grants
Students must apply for grants from their home cantons or cities. Foreign students can apply for grants from their home countries.

Application fees
Registration for the application procedure: CHF 100
Admissions examination: CHF 200

Contact
Zurich University of the Arts
University Office
Toni-Areal, Pfingstweidstrasse 96
P.O. Box
CH 8031 Zurich
Last updated Jul 2018
About the School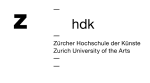 With around 2,800 students and 650 teaching staff, Zurich University of the Arts is one of the major universities of the arts in Europe. The study and research programme covers the areas of design, fi ... Read More
With around 2,800 students and 650 teaching staff, Zurich University of the Arts is one of the major universities of the arts in Europe. The study and research programme covers the areas of design, film, fine arts, music, dance, theatre, transdisciplinary studies, and the teaching of arts and design. The university also has many venues for exhibitions and performances, where the results of the education provided can be shown in public.
Read less