Master's Degree in Business Administration with a specialization in Aviation Management
Home ›
Master ›
Master's Degree in Business Administration with a specialization in Aviation Management
Read more about this program on the school's website
Program Description
Why Aviation Management?
According to the International Air Transport Association (IATA), the number of air travelers will balloon to 7.2 billion in 2035, a near doubling of current levels. This trend is supported by the growth of the middle class in China and its impact on domestic travels and the economic rise of the Asia Pacific as an international destination.
Aviation Management not only provides pertinent knowledge of the aviation industry, but it also provides students with the business skills necessary to enter this industry. The career opportunities range from Airport Management to Aviation Law and offer travel opportunities within a multicultural environment.
Conveniently located near the company headquarters, The International Aviation Transportation Association (IATA), AUS is uniquely positioned to offer its students access to knowledgeable professors, internships, and IATA certification that is unparalleled by any other institute of Higher Learning.
Degree Overview
While at AUS, the student will acquire the necessary skills to fast-track their management career in aviation management. Grounded in cutting-edge business theory, the student will learn to sell ideas while establishing, implementing, and overseeing an aviation structure for an organization.
All courses are taught onsite by AUS professors, distinguished leaders in the fields of air transportation, hospitality, and business management. The curriculum is comprised of ever-evolving theory and real-world practical examples, and internships are required for candidates during their third term of study.
To support internship placement, AUS is partnering with leaders in the aviation eld. PrivatPort is a company backed by Swissport International Ltd, which provides best-in-class airport ground services on behalf of more than 50 client-companies for some 2 5 million passengers annually in 50 countries.
On the 24th of May 2019, the International Aviation Transportation Association (IATA) and the American University in Switzerland (AUS) announced a partnership recognizing AUS as an IATA Authorized Training Center. So, in addition to an accredited degree, students can also earn industry certification that is recognized worldwide.
Degree Information
Type: Graduate Degree
Duration: 24 Months
Start Date: September, January, April
Location: La Tour-de-Peilz, Switzerland
Study Mode: Full-time, Part-time
Language: English
ECTS Credits: 112
CH Credits: 79
Tuition Fees For The 2-Year Program: CHF 30,500
Scholarship Information
The American University in Switzerland is committed to ensuring students can access higher education. Therefore, AUS offers a variety of scholarships designed to help you and your family with the cost of tuition. Scholarships could be award to a student based on merit or need, as determined in the application process.
Modules
5 Foundation
13 Core
8 Specialization
"Over the next two decades, the demand for air transportation will double, resulting in ever-increasing job creation."
The degree builds on a student's knowledge developed at a bachelor level and will develop their business personality and hone their management skills. Students will study a range of core modules in which they will do an in-depth analysis of business practices and apply this knowledge to the aviation sector in order to gain expert industry knowledge in this profession. Students will then dive further into their modules and learn the application of theory to ensure a comprehensive understanding of the impact their knowledge can have.
Module Examples
Airline Marketing
Managing the Travel Business
Air Transport Fundamentals
Aviation Security Awareness
Social Media for the Travel Industry
Accounting and Financial Management for Travel Agencies
IATA Authorized Training Center
The American University in Switzerland is proud to be named as an official IATA Authorized Training Center. Offering both Bachelor and Master level degrees with a specialization in Aviation Management as well as specific IATA certified training courses, enables students to gain expert industry knowledge from a global organization in air transport.
Courses available to students will complement the AUS curriculum and give real-industry insight to support academic knowledge. Topics such as Air Transport Fundamentals, providing an overview of the air transportation system and illustrating the interdependencies among its various components and Aviation Security Awareness, which looks at introducing security measures and regulations to keep the industry safe. This opportunity provides students a real advantage when seeking employment by showcasing their expertise and applied knowledge through gaining industry-recognized certifications.
Internships and Placements
During their degree, students must undertake at least one internship. Students are supported by our dedicated careers team and faculty to ensure they can find an internship relevant to their career path. Students are also encouraged to undertake additional internships in other fundamental business areas in order to broader their experience and enhance their CV.
Career Opportunities
The international aviation, airport, and tourism industry has witnessed unprecedented growth during the last decade due to the increased number of destinations for business travel, holidaymakers and private flyers. This growth has paved the way for a range of exciting career opportunities that allow you to apply the management, technical and business skills gained studying this degree. Studying Aviation Management, you could progress into careers including:
Airline Management
Freight and Cargo Management
Passenger Services
Aviation Support Services
Airport Security Management
Immigration and Customs
Why Switzerland?
Rated in the Top 2 Countries to Study Abroad in Europe, Switzerland is an exceptional location to live, study, and work. Its cultural diversity, magnificent landscape, and innovative environment offer first-class conditions for both personal well-being and career achievement. With its amazing cuisine, four national languages, horology eminence, and more than 1.5 million cows, Switzerland offers an international study experience like no other.
Why AUS?
The American University in Switzerland (AUS) is a private and fully accredited institution of Higher Education located near beautiful Lake Geneva. With a professor to student ratio of only 1 to 7 and a graduation rate of nearly 95%, students will experience the individual attention they deserve and obtain the career they desire.
At AUS, we recognize that business leaders today must not only master the hard skills needed to make data-driven decisions but also the soft skills needed to make them a better collaborator. To thrive in this field and to truly create value in an organization, leaders must acquire the management skills necessary to interface across the organization.
Recognizing the need for this skillset in the market, AUS has developed a holistic approach to educating tomorrow's leaders.
Among its many charms, Switzerland scenery tops it all. Stunning Lake Geneva lends itself to great boating and swimming, and of course, the mountains are there for memorable hiking. If you love to ski and snowboard, there is no better place than Switzerland. And if you don't know how to ski and snowboard, there is no better place to learn. From Zermatt to St. Moritz, Switzerland is a mecca for winter sports enthusiasts.
Last updated Jul 2020
About the School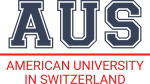 Preparing you for the modern business environment, the American University in Switzerland is one of Switzerland's leading international business universities, situated in La Tour-de-Peilz. Located on ... Read More
Preparing you for the modern business environment, the American University in Switzerland is one of Switzerland's leading international business universities, situated in La Tour-de-Peilz. Located on the shores of Lake Geneva, AUS is close to the Olympic Capital Lausanne, and Geneva, the center for diplomacy. Offering personalized education in an international and multicultural environment, with practical and relevant programs. AUS offers all its students a dynamic and ambitious culture, both in the classroom and outside of the school.
Read less