Manager of Information and Digital Systems (3rd Cycle)
Home ›
Master ›
Manager of Information and Digital Systems (3rd Cycle)
Read more about this program on the school's website
Program Description
The Information Systems and Digital Manager training prepares you to manage strategic projects thanks to a detailed understanding of the issues related to new information technologies. This training benefits from a RNCP level 7 certified title.
The field of Information Technologies is one of the employment sectors which is experiencing one of the strongest growth in France, according to Syntec Numérique. The IT sector, for example, grew by 4.2% in 2019. Much of this demand stems from recent advances in cloud computing, SaaS, data storage and analytics (Big Data), security some information. Technology consulting firms have also created a variety of opportunities for candidates with both technical skills, industry knowledge and real world experience.

Jacques Verville
Academic Director
Professor of Information Systems
objectives
Develop "bilingualism" between the world of technology and the world of business.
Become a vector of value creation within the company.
Develop strategic, managerial, operational and technical skills in the field of IS.
strengths
Join a program accessible through work-study contracts and a professionalization contract.
Find your first job in IS before graduation (100% placement of our students).
Join a training course developed in partnership by two large schools: EMSI Grenoble and EM Normandie .
Benefit from education provided by recognized experts in their field.
Mobilize your skills with professional training: work-study training, business challenges, HR cafés, interviews with professionals.
Meet the needs of the job market.
Take advantage of close individual monitoring in a promotion on a human scale.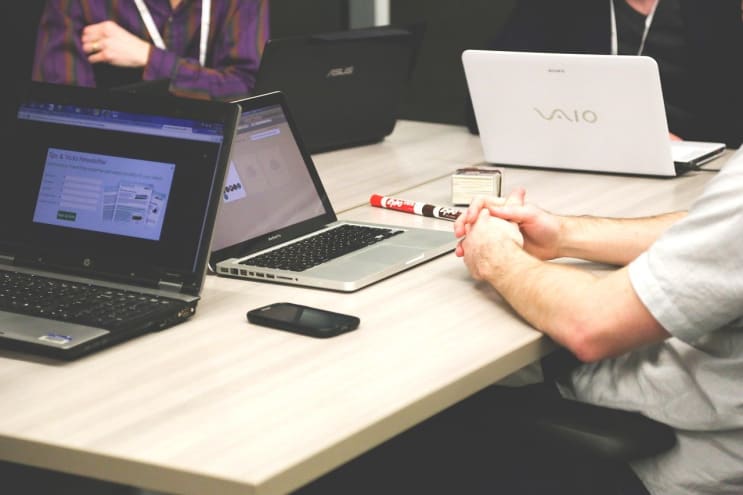 Program
The program of the 3rd cycle Manager of Information Systems and Digital enhances the link between the contribution of theoretical knowledge and the study of concrete cases which allows to develop the spirit of analysis and to bring the necessary perspective to practices. future IT managers.
Technical Foundations and Programming
Modeling and Databases
Environmental Management of the Consultant
Personal Development and Culture
Career Path
English
Introduction to IS and IS professions
Assertiveness
Business Engineering
Discovery of New Horizons
Issues around digital technologies
Methodology of the dissertation
Challenge
Integration of IS into Businesses
Security management
Governance and IS Strategy
End of Study Projects
Admission
Mode of admission
Selection on file and individual motivation interview.
We invite you to apply online.
Conditions of admission
The program is open to students holding or in the process of validating one of the following diplomas:
Master's degree or equivalent
Bachelor degree in four years
At the discretion of the jury: Bac +3 level diploma with 2 years of professional experience in IS (excluding internships and work-study)
Admission steps
A first selection is made on the basis of the examination of the application file: seriousness of the file, quality of the profile on an academic and / or professional level.
Eligible applicants are invited to a Skype interview with an academic manager. This interview helps to get to know the candidate better, his projects and his objectives. The admission decision (admitted, refused) is pronounced a few days after the interview.
In the event of a positive admission result, the candidate receives an eligibility notification and an invitation to the payment of a deposit, deductible from the tuition fees, which makes it possible to reserve the candidate's place in the program and triggers the publication of '' a letter of final acceptance.
In order for our students to benefit from our learning in the best conditions, places are limited in our training. The available places are reassessed at each admission session. When a class is complete, admissions are closed.
The deadline for submitting applications for the 2020-2021 admission session is May 15, 2020 .
In addition to the EM Normandie application file, international applicants must constitute a Campus France file in order to facilitate obtaining their visa.
International students will be supported in their visa and accommodation procedures by the School once the deposit has been paid.
Additional information for funded applicants (CIF or related)
Applicants for funding are requested to collect the necessary information and send us their application as soon as possible in order to allow the preparation of administrative documents within the time limit.
Career
General data on the labor market
The current digitization and robotization are leading to a transformation of the IT professions and of the entire ecosystem (manufacturers as well as services). The IT professions, beyond the base of basic skills, evolve in a professional world where the boundaries between service, integration and advice are increasingly blurred. It is not surprising that recruiters seek to surround themselves with versatile collaborators, able to take on assignments over increasingly short cycles.
Example of positions
Director of Information Systems
IT Project Manager
Systems Urban Planner - IS Architect, functional
Responsible for application systems: Business Analyst in IT, Business Intelligence Analyst, Data Base Management, Cybersecurity Consultant, Consultant in Information System, Project integrator, Account relations management
Cost of training for the year 2020-2021
Cost of training: € 12,500 (single price: French and international students, employees, self-employed, job seekers)
Application fees: 50 € will be requested from candidates for the study of their application
Added to this is:
The Student and Campus Life Contribution (CVEC), in the amount of € 91, by logging into the dedicated platform.
The entry fee of € 575 to the Alumni EM Normandie Association, which gives you access to all of the association's services and the status of life member (not compulsory).
Funding
Different possibilities are offered to students for the financing of their studies:
Grants: higher education, regions, travel or internship grants.
Bank loans: agreements between EM Normandie and partner banks.
Paid student jobs offered by the Jobs Service and Junior Enterprise associations.
Last updated Aug 2020
About the School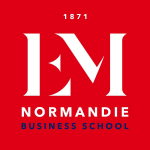 Over the last 25 years, the Chambers of Commerce of Caen and Le Havre have combined their efforts to set up a joint structure in Higher Education for the benefit of their respective towns and regions. ... Read More
Over the last 25 years, the Chambers of Commerce of Caen and Le Havre have combined their efforts to set up a joint structure in Higher Education for the benefit of their respective towns and regions. Today, this effort has given birth to the Ecole de Management de Normandie, a unified and strengthened business school ready to meet both the national and international needs of firms.
Read less
Accreditations