ma media management and public communication
Home ›
MA ›
Media ›
ma media management and public communication
Program Description
Take on leadership roles in the communication
Are you interested in media? You know that communication is of central importance in company and strive to be a leader? Then the master's degree program Media Management and Public Communication is the place for you!
The master's program at the SRH University of Economics and media Calw is an interdisciplinary course with a focus on media, communications, management and business administration.
The program aims to provide media skills from different perspectives of individual modules and qualified so for various media-related professions. The aim is to provide a thorough understanding of the various priorities.
The course lasts six trimesters or 24 months in cases where 120 ECTS achieved. Baseline is usually a year on three dates - in January, May and September of each year.
By business management education students receive the necessary tools to take over after successful completion leadership roles in business. We see ourselves as a center of excellence for training in the areas of business and the media. Therefore, we will make the whole person - safe in the knowledge quickly in practice and strong as a team. International and intercultural focus in the study of secure access to the global labor market. Students expect small groups, individual attention and personal coaching by highly motivated professors and lecturers from practice. Simulations, professional appearance in international business transactions or abroad facilitate a successful career start.
The lectures are usually three days a week instead, thus provides the opportunity to study a parallel Werkstudenten- or go to employment after. The program concludes with the Master's thesis and a colloquium.
Major field of study: Media
The use of media to communicate is one of the key areas of responsibility of leadership and management. The curriculum of the "media" and others include special aspects of PR, project work in Visual Communication, Photography and corporate design. The students learn how to communicate in business improved by effective use of media. Through practical projects, students learn such as a corporate film produced and this is effective advertising published in the media. In addition, the students basics in business networking, customer briefing and negotiations are brought closer. This knowledge is deepened by many practical projects even further.
Major field of study: Communication
Communication plays in the economy sometimes the most important role. It is important not only to communicate internally in a company properly and clearly, but also externally. Success and sales are dependent on hierarchical inter-company communication, as well as by directly addressing the audience through the effective use of media.
Major field of study: Management
Good management is the engine of a successful company. Managers must coordinate projects, delegate tasks or recognize market and customer needs. The management area of ​​SRH Hochschule Calw teaches students the how and what of management.
Major field of study: Business Administration
Business Administration, also known as Business Administration, is a branch of economics. It is based on the assumption that goods are generally scarce and therefore require an economic use.
The economy demands highly trained communications manager, therefore, the course provides the students the theory and practice to join. With numerous case studies and topics from the field, this concept is perfectly rounded. The teaching faculty are industry specific experts who provide students with a clear and practical based course content.
The course is characterized by high Managerial expertise, practice-oriented project studies and case studies. By this advantage, the Department of Media and Communication creates a nationwide USP. This master's program qualifies students for a variety of work areas, such as.
Marketing and Sales Management - Public Relations - Event Management / Trade Marketing - Business creation & Business Succession - Advertising Agency and PR agencies - publishing company - Corporate Publishing Agencies - E-Commerce Company - Team management / leadership positions The course equal weight combines two perspectives that otherwise taught in separate compartments are: communication management as part of the area of ​​marketing and media studies as part of the field of sociology. Put modules in foreign languages, the international focus supplement the education of students and increase their chances of an internationalizing labor market. In addition, there are events on intercultural management and international communication.
With this configuration, the SRH Calw offers a unique program for media professionals and prepares students optimally for the professional challenges.
Last updated Mar 2020
About the School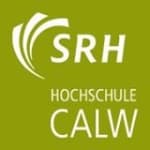 Zukunftsorientierte Bachelor- und Masterstudiengänge in den Bereichen Wirtschaft und Medien in kleinen Gruppen mit individueller Betreuung in Calw studieren.
Zukunftsorientierte Bachelor- und Masterstudiengänge in den Bereichen Wirtschaft und Medien in kleinen Gruppen mit individueller Betreuung in Calw studieren.
Read less