MSc/PgDip/PgCert Biofluid Mechanics
Home ›
MSc ›
MSc/PgDip/PgCert Biofluid Mechanics
Program Description
Why this course?
Biofluid Mechanics applies engineering, mathematical and physical principles of fluids to solve complex and multifaceted problems, primarily in biology and medicine, but also in aerospace and robotics.
This newly-launched MSc course is the first one-year taught course dedicated to Biofluid Mechanics. It covers a wide range of multidisciplinary training on the kinematics and dynamics of fluids related to biological systems, medical science, cardiovascular devices, numerical modelling and computational fluid dynamics.
The one-year full-time programme offers you a unique opportunity to lead the next generation of highly-skilled postgraduates that will form a new model worldwide for academia – with world-class research knowledge, industry – with highly-competitive skills in both biomedical engineering and fluid dynamics, and for society – with better training to work with clinicians.
The course is taught by the Department of Biomedical Engineering, with input from other departments across the Faculty of Engineering and the wider University. You'll be supported throughout the course by a strong team of academics with global connections. You'll benefit from a unique training and an innovative teaching and learning environment.
You'll study
In Semesters 1 and 2, you'll take compulsory classes and a choice of optional classes. The remaining months are dedicated to project work, submitted as a dissertation (Diploma students) or as a research thesis (MSc students).
Compulsory Classes
Biofluid Mechanics
Industrial Software
Medical Science for Engineering
Research Methodology
Professional Studies in Biomedical Engineering
Optional Classes
Haemodynamics for Engineers
Numerical Modelling in Biomedical Engineering
Cardiovascular Devices
The Medical Device Regulatory Process
Entrepreneurship and Commercialisation in Biomedical Engineering
Introduction to Biomechanics
Finite Element Methods for Boundary Value Problems and Approximation
Mathematical Biology and Marine Population Modelling
Design Management
Risk Management
Masters Research Project
The project provides MSc students with the opportunity to experience the challenges and rewards of independent study in a topic of their own choice; the project may involve an extended literature review, experimental and/or computational work.
Postgraduate Diploma Dissertation
The dissertation is likely to take the form of an extended literature review. Your project work will have been supported by a compulsory research methods module and specialist knowledge classes throughout the year designed to assist with technical aspects of methodology and analysis.
Entry requirements
MSc: a first or second-class Honours degree in engineering, physical science, or mathematics. PgDip: a degree is normally required, but applications from those with other qualifications can be considered
English language requirements
You must have an English language minimum score of IELTS 6.5 (with no component below 5.5).
We offer comprehensive English Language courses for students whose IELTS scores are below 6.5.
Last updated Sep 2019
About the School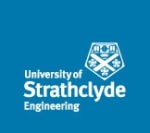 Our Faculty of Engineering is the biggest in Scotland. We're also one of the largest, best equipped engineering faculties in the UK.
Our Faculty of Engineering is the biggest in Scotland. We're also one of the largest, best equipped engineering faculties in the UK.
Read less