MSc/PG Dip/PG Cert in Systems Engineering Management
Home ›
MSc ›
MSc/PG Dip/PG Cert in Systems Engineering Management
Program Description
Why this course?

The management of large complex systems engineering projects demands a unique set of skills that are not taught within conventional engineering or business management programmes.
The aim of this programme is to develop systems engineering management capability by creating graduates who understand the complexities of the management situations they face, and who can apply systems thinking approaches and techniques in order to address the challenge of managing the complexity between the technical system being developed and the people and organizations that are responsible.
You'll focus on engineered systems, however, many of the skills and techniques you'll acquire are equally applicable to other complex systems such as manufacturing and organizations.
The programme is based within the Department of Design, Manufacture and Engineering Management, the only department in the UK combining end-to-end expertise from creative design, through engineering design, manufacture, and management of the entire system.
Our work in partnership with a number of global companies with extensive systems engineering expertise, not only ensures our teaching is based on the latest research and the skills you gain are cutting edge and relevant, it also enables us to incorporate practical challenges and solutions in the programme, through your project work with an industrial partner.


The right course for you

This course is ideal for:
project managers who need to develop their skills to address the challenges of large systems engineering projects.
recent graduates from any engineering discipline, either employed within or interested in systems engineering industries, looking to develop their skills to enhance their career.
staff and graduates who'd like to move into leading-edge systems engineering research or consultancy careers.

Develop your skills

This course will help you develop a unique set of skills that'll help you manage systems engineering projects. We have a strong track record of world-leading systems engineering management research.
You'll gain skills in:
systems decomposition and integration.
management of complexity and uncertainty within engineering, business, and socio-technical systems.
processes for managing the lifecycle of systems.
verification and validation


Duration
MSc: 12 months full-time, 24 months part-time
PgDip: 9 months full-time, 21 months part-time


You'll study

You'll take a number of compulsory and optional modules. The Master's project provides the opportunity to work with an industrial partner.


Major Projects

During the course, you'll undertake an Individual Project and an Industrial Group Project. These will help you to develop and apply your skills as a Systems Engineering Manager within the real world.
The Industrial Group Project will give you the opportunity to work as part of a team. You'll develop your people and project management and leadership skills. You'll do this by applying systems engineering management principles to address a practical problem for an industrial client, gaining direct industry experience. These Industrial Group Projects work in conjunction with major organizations that face challenges with the management of major systems engineering projects and have a demand for the skills gained from this course.


Course content

Compulsory classes
Systems Architectures and Design
People, Organisation and Technology
Engineering Risk Management
Postgraduate Individual Project (MSc only)
Systems Thinking & Modelling
Design Management

Optional classes
Choose at least two from this list
Knowledge and Information Management for Engineers
Design Methods
Product Modelling and Visualisation
Strategic Technology Management
Sustainable Product Design and Manufacture
Product Costing & Financial Management
Strategic Supply Chain Management
Business Simulation Methods


Entry requirements
MSc: First- or upper second-class Honours degree, or overseas equivalent, in any discipline.
PgDip: Degree or good HND, plus relevant industrial experience.

Pre-Masters preparation course

The Pre-Masters Programme is a preparation course for international students (non-EU/UK) who do not meet the entry requirements for a Masters degree at University of Strathclyde. The Pre-Masters programme provides progression to a number of degree options.
To find out more about the courses and opportunities on offer, visit International Study Centre and discuss your education future. You can also complete the online application form. To ask a question please fill in the inquiry form and talk to one of our multi-lingual Student Enrolment Advisers today.


Careers

Industries that lead the development of aerospace, automotive, civil and construction, defense, electronics, infrastructure, and power generation projects have identified that systems engineering management skills are the scarcest in the sector and are a rare commodity in today's recruitment environment.
Last updated Sep 2019
About the School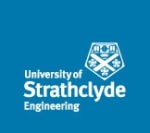 Our Faculty of Engineering is the biggest in Scotland. We're also one of the largest, best equipped engineering faculties in the UK.
Our Faculty of Engineering is the biggest in Scotland. We're also one of the largest, best equipped engineering faculties in the UK.
Read less