MSc/PG Dip/PG Cert in Sustainable Engineering: Architecture and Ecology
Home ›
MSc ›
MSc/PG Dip/PG Cert in Sustainable Engineering: Architecture and Ecology
Program Description
Why this course?

This course will provide you with a critical understanding of the relationship between architecture and ecology. You'll look at both from a theoretical perspective. This will be done by instructional modules taken at Strathclyde in Glasgow during the first three months of study. The practical demonstration of this relationship will be through project work at the urban laboratory Arcosanti in Arizona.
The Cosanti Foundation, established by Dr. Paolo Soleri in 1964, is an education-based architecture and urban design not-for-profit organization located in Scottsdale, Arizona, USA. The Foundation established the world-renowned Arcosanti project in 1970 as an urban laboratory focused on researching alternatives to urban sprawl, based on Soleri's work on ecological architecture, and his proposals for the design of future cities.
This is a unique opportunity to study your Master's degree while living and working at Arcosanti, helping to research, design and construct an alternative to urban sprawl, joining thousands of people who, since Arcosanti's launch in 1970, have already been part of "one of the most important urban experiments in our lifetime" (Newsweek).


Duration
MSc: 12 months full-time;
PgDip: 9 months full-time;
PgCert: 6 months full-time


Work placement

You'll work and study at the urban laboratory of Arcosanti in Arizona for three months, with the option to remain there for a further three months to complete an individual project.


Major projects

This course is delivered in collaboration with The Cosanti Foundation who have over 40 years' experience teaching architecture and ecology. Foundation staff will deliver the Arcology instructional module and oversee the group projects. You can also be involved with Arizona State University and the ECOSA Institute. Both are based in Arizona and have extensive experience in teaching architecture and ecology specific to the Arizona climate.
Guest lecturers

Throughout Semester 1, you'll have lectures by a number of experts in the fields of architecture and ecology, covering both theory and practice.


Facilities

We're a modern university with great support for students including a large campus library and IT facilities. The Department of Architecture also has an on-site library with an extensive collection of architecture and urban design books and journals. You'll also be provided with individual desk space within a postgraduate research hub with access to printing facilities.
When at Arcosanti, you'll have room and board in addition to a dedicated working space equipped with printing and scanning facilities and site-wide Wi-Fi.


Course content

Semester 1
Sustainability
Ecology & the Built Environment
Urban Theory
Energy Resources & Policy
Design Management
Information Management
Project Management

Semester 2
Entry requirements
an Honours degree in architecture, engineering or related subject
Consideration will also be given to candidates with other relevant professional qualifications in a discipline related to the built environment and/or professional experience.

English language requirements for international students

For candidates whose first language is not English, documentary evidence of an appropriate level of competency of written and spoken English must be provided. The minimum standards are an IELTS minimum overall band score of 6.5 (no individual test score below 5.5). Applicants with slightly lower scores have the opportunity to attend the University's Pre-Sessional English classes to bring them up to the required level.
Open Access

Alternative qualifications or professional experience may be considered by the course leader (home students only), depending on the module chosen.
Pre-Masters preparation course

The Pre-Masters Programme is a preparation course for international students (non-EU/UK) who do not meet the entry requirements for a Masters degree at University of Strathclyde. The Pre-Masters programme provides progression to a number of degree options.
To find out more about the courses and opportunities on offer, visit International Study Centre and discuss your education future. You can also complete the online application form. To ask a question please fill in the inquiry form and talk to one of our multi-lingual Student Enrolment Advisers today.
Last updated Sep 2019
About the School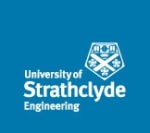 Our Faculty of Engineering is the biggest in Scotland. We're also one of the largest, best equipped engineering faculties in the UK.
Our Faculty of Engineering is the biggest in Scotland. We're also one of the largest, best equipped engineering faculties in the UK.
Read less