Program Description
The ever-changing external climate we now find ourselves in has changed how organisations work and their decision-making process. Systems Thinking has become critical to success; organisations need to focus on their systems and the need for adaptability and resilience like never before. This course will help you develop your knowledge and application of systems thinking to support organisational viability and the development of appropriate governance and decision-making processes for organisations.
Overview
Start date: September 2021
Duration: Up to three years part-time;
Delivery: Coursework, written examinations, oral examinations, portfolio and an individual thesis
Qualification: MSc
Study type: Part-time
Campus: Cranfield campus
Who is it for?
Launching in 2021, the Systems Thinking Practice MSc aims to enhance the knowledge and understanding of those in positions in their mid-career decision-making roles or part of strategy development.
The broad purpose of the Systems Thinking Practitioner occupation is to support decision-makers in strategic and leadership roles to understand and address complex and sometimes even 'multi-layered' problems through the provision of expert systemic analysis.
This apprenticeship standard has been approved for delivery by the Institute for Apprenticeships and Technical Education. However, starts on the apprenticeship will only be possible once a suitable end-point assessment organisation (EPAO) has given an 'in principle' commitment to the Education and Skills Funding Agency (ESFA) to deliver assessments on this apprenticeship standard. Once the 'in principle' commitment has been approved by ESFA, funding for apprentice starts will be permitted and this message will be removed.
Course details
Our education philosophy is led by the basic principles of:
Practice- and research-led teaching through a course team that are active practitioners and researchers;
Technology-enhanced learning to maximise student engagement and available time in order to maximise the student experience;
Learning through a mixture of formative and summative feedback and assessment using a variety of methods.
The course is taught through a blend of on-site and remote methods. Three modules are taught as residential modules, combining face-to-face lecturing, workshops and group work. Two modules begin with a short residential period and then continue to completion in the workplace. Four of the core modules are taught through our learning portal providing flexibility to the student. Two modules begin on-site but are then completed through practice in the workplace, with remote mentoring by Cranfield academic staff.
Full use will be made of blended learning, combining distance learning material via the VLE with online and onsite workshops. A wide variety of remote learning methods and materials will be used across the course. This is structured around a core of online lecture material and supporting text, with additional multimedia methods employed to maximise student learning time and approaches. This may include audio podcasts and audio-visual multimedia-based resources.
Course delivery
Coursework, written examinations, oral examinations, portfolio and, for the MSc only, an individual thesis
Modules
Keeping our courses up-to-date and current requires constant innovation and change. The modules we offer reflect the needs of business and industry and the research interests of our staff and, as a result, may change or be withdrawn due to research developments, legislation changes or for a variety of other reasons. Changes may also be designed to improve the student learning experience or to respond to feedback from students, external examiners, accreditation bodies and industrial advisory panels.
To give you a taster, we have listed the compulsory and elective (where applicable) modules which are currently affiliated with this course. All modules are indicative only and may be subject to change for your year of entry.
Compulsory modules
All the modules in the following list need to be taken as part of this course:
Fundamentals of Systems Thinking
Introduction to Systems Methods
Dialogue and Collaboration
Systems Practice
Systems Leadership and Organisational Behaviour
Formal Representation of Systems
Complex Systems
Systems Research Methods
Systems Thinking Development and Exploitation
Philosophy and Theory of Systems Thinking
Architecting Enterprises
Systems Thinking for Social Change
Systems Thinking Thesis
Your career
The primary opportunity for graduates is to complete their studies and continue upwards on their career within their current organisation, and have a much greater awareness and expertise in Systems Thinking. The course also aims to ensure that graduates are better prepared to tackle the current and emerging demands of the increasingly complex demands of the world we live and in.
How to apply
Applicants may be invited to attend an interview. Applicants based outside of the UK may be interviewed either by telephone or video conference.
Entry requirements
A first or second class honours degree or equivalent in science, engineering or mathematics. Alternatively, a lesser qualification together with appropriate work experience may be acceptable.
English language
If you are an international student you will need to provide evidence that you have achieved a satisfactory test result in an English qualification. The minimum standard expected from a number of accepted courses are as follows:
IELTS Academic - 7
TOEFL - 92
Pearson PTE Academic - 65
Cambridge English Scale - 180
Cambridge English: Advanced - C
Cambridge English: Proficiency - C
Trinity College London Integrated Skills in English III - minimum overall score of pass
In addition to these minimum scores, you are also expected to achieve a balanced score across all elements of the test. We reserve the right to reject any test score if any one element of the test score is too low.
We can only accept tests taken within two years of your registration date (with the exception of Cambridge English tests which have no expiry date).
Students requiring a Tier 4 (General) visa must ensure they can meet the English language requirements set out by UK Visas and Immigration (UKVI) and we recommend booking an IELTS for UKVI test.
Security clearance for Shrivenham
Some Cranfield University courses are delivered at the Defence Academy of the United Kingdom, Shrivenham which is a Ministry of Defence (MoD) site. All applicants to courses that are wholly or partially delivered at Shrivenham must complete the BPSS (HMG Baseline Personnel Security Standard V4 April 2014) prior to registration on the course or must already hold security clearance to this level or higher.
Last updated Sep 2020
About the School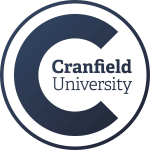 Cranfield's distinctive expertise is in our deep understanding of technology and management and how these work together to benefit the world.
Cranfield's distinctive expertise is in our deep understanding of technology and management and how these work together to benefit the world.
Read less