MSc in Supply Chain Management
Home ›
MSc ›
MSc in Supply Chain Management
Program Description
Supply chain management is at the core of every business model and strategy of organizations. Companies like Apple, Amazon, Samsung, Toyota or Ikea have built their competitive advantage by making supply chain the main part of their business models. They have created value and innovations for their customers by orchestrating their logistics and supply in an efficient and collaborative manner.
Our MSc in Supply Chain Management is a 10-month program preparing students to understand the complexity and importance of logistics and supply chain management in a globalized context. Students will acquire core concepts, processes and strategies for managing global supply chains. They will learn how to organize, monitor and synchronize intra and inter-organizational processes and how to create value from the logistic and supply chain.
Our MSc offers students a true multi-cultural and international experience on our campus-based in Montpellier, South of France.
Business projects and visits throughout the year will pace the academic experience and give students the opportunity to gain valuable work and real-life experience.
Students will have the chance to participate in different seminars, workshops and meeting, where companies come to our campus to meet their future managers and high-quality interns. Our career center and alumni network are also providing students with a full range of workshops and tools to enhance their career.
Key points
Duration: 10 months
Intake: once a year in September
Mode: Full time
Credits: 90 ECTS
Language: entirely taught in English
Location: Montpellier Business School campus
Tuition fees: 13 900 €
Requirements
A Bachelor degree or equivalent
English test: a minimum score of TOEFL 80/120 or TOEIC 785/990 or IELTS 6/9 or M.B.S. English test B2 (free)
Relevant professional goals
Admission Process
You will have to complete the online application form (which can be saved and completed over time)
Selected applicants will be scheduled for admission interviews via videoconference or at Montpellier Business School
Requested documents
Copy of passport
One passport photograph
Curriculum vitae/resume
Copies of highest diploma obtained
Copies of transcripts of records from the past three years. Please provide an English translation of your documents if they are written in other languages than French and English
Proof of English Language Proficiency: minimum score of TOEFL 80/120, IELTS 6/9 or TOEIC 785/990 or Montpellier Business School English test (free) B2. Candidates with previous English studies are exempted.
Organization
Courses and business projects: Academic year from September to June
MSc Thesis: September to August
Graduation: December
Courses modules
Fundamentals of management (24 ECTS):
Lean Management
Strategic management
Operations and Supply Chain Management
Advanced Innovation Management
Agile Project Management
Digital Change
Soft Skills Development
Supply Chain Management (15 ECTS):
Global Supply Chain
Purchasing and Supply Chain
Sustainable Supply Chain
Business projects (21 ECTS):
StratMe'up
Entrepreneurial Project
MSc Thesis (30 ECTS)
Students profile
Bachelor degree or higher
English proficiency: IELTS 6/9, B2
Higher level in mathematics and statistics
Career
Supply Chain Manager
Project Manager
Production Scheduler
Supply Chain Coordinator
Logistics Supplier Manager
Operational Planning Coordinator
Supply Chain Consultant
Logistics Coordinator
Last updated July 2019
About the School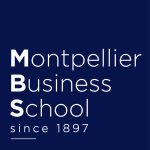 Founded in 1897, Montpellier Business School developed high level study programs accessible through an International Entrance Exam, in a tradition of quality and innovation. The school is internationa ... Read More
Founded in 1897, Montpellier Business School developed high level study programs accessible through an International Entrance Exam, in a tradition of quality and innovation. The school is internationally-oriented with professionalising teachings.
Read less