Program Description
Our College of Business is Among the Top 5% Worldwide
Our master's program is the oldest and most established in Connecticut. It is one of the oldest business school-based programs in the world, with a track record of turning out industry leaders for over 30 years.
The program is focused on training industry leaders to work in all facets of the sport and entertainment industry, with alumni working as league commissioners, facility managers, box office managers, and account executives. Our program has earned significant praise from alumni and industry professionals, including being ranked one of the best in the world by Sport Business International Magazine.
The master's degree in Sport Management offers a hands-on, experiential education-based, 10-course, 30-credit hour program designed to prepare students for a successful career within the industry. The faculty works closely with the students in regards to internships and various opportunities to learn from experienced industry professionals. Students within the program can learn from industry mentors who will help build and/or expand their experience, knowledge, and network. Over the years, we have brought experienced sports professionals to campus, including ESPN's Chris Berman, Major League Baseball Commissioner Bud Selig, New York Yankees General Manager Brian Cashman, Former NBA Player, and sport analyst Jalen Rose, NFL sport agent Joe Linta, and many more industry leaders. Besides numerous guest speakers, facility tours, and faculty-led industry research projects, we have three full-time faculty members, each with strong industry experience and reputations, who are there during and after your studies to help you as needed.
Program Highlights
Mentor Program connects students with industry mentors
Executive-in-Residence Program
Special hiring opportunities with Octagon and New York Yankees
Over 50 industry guest speakers every year
Field trips to various facilities/companies
Combination of both live and online classes allows the program to be completed in one year*
Curriculum
At least 30 graduate credits are required for completion.
Concentrations
Business Analytics (STEM)*
Collegiate Athletic Administration
General
Required Courses
SMGT 6600 Sport Business Toolkit
SMGT 6610 Strategic Sport Management
SMGT 6611 Sport Industry Marketing, Promotion, and Public Relations
SMGT 6612 Sports Law
SMGT 6617 Managing Sport Finances
SMGT 6694 Internship
Electives
ENGL 6659 Writing and Speaking for Professionals
SMGT 6613 Sports Facility Management
SMGT 6618 Major Policy Issues in Intercollegiate Athletics
SMGT 6620 Professional Sport Management
SMGT 6621 Applied Collegiate Fitness and Athletics
SMGT 6622 Sport Facility Development/Construction
SMGT 6623 Sport Business Development and Sustainability
SMGT 6624 Sports Economics
SMGT 6625 Sport Analytics
SMGT 6626 Strategic Event Management
SMGT 6690 Research Project
Course Format
On-Campus: 15-week (full semester term) format on Orange Campus, most courses are held in the evening
Online: Highly interactive 7.5-week mini-term (MT) format
Hybrid: an 8-week combination of on-campus and online
Time to Completion
The degree can be completed in as little as 12 months*. The courses are designed so that a student can take four classes in the fall, four classes in the spring, and two in the summer to graduate in one year. Of course, students can take fewer classes and graduate following a more relaxed schedule. Each sport management class is offered only once a year. Besides regular classes, special electives are regularly offered, based on interest.
*The 36-credit hour Business Analytics concentration can be completed in 1.5 years. Students must complete the six required courses listed on the right and six business analytics classes.
Scholarships
We offer two types of scholarships/assistantship to our international master's students.
Dean's scholarship provides up to 50% tuition assistance during their enrollment.
Provost Assistantship offers 75% tuition assistance and the opportunity to work for an academic department up to 20 hours per week during their enrollment.
Last updated Apr 2020
About the School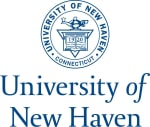 Founded on the Yale campus in 1920, the University of New Haven is a private, coeducational university situated on the coast of southern New England. It's a diverse and vibrant community of 7,000 stud ... Read More
Founded on the Yale campus in 1920, the University of New Haven is a private, coeducational university situated on the coast of southern New England. It's a diverse and vibrant community of 7,000 students, with campuses across the country and around the world.
Read less
Accreditations