MSc in Shipping Management
Home ›
MSc ›
MSc in Shipping Management
Program Description
MSc in Shipping Management
More than 90% of the World's trade is transported by ships.
Shipping is one of the most important sectors of the global economy. As a globally competitive industry, it is not influenced by the current situation in the Greek economy.
The MSc in Shipping Management is designed to develop professionals equipped with the skills, knowledge, and expertise required for a successful career in the demanding and highly competitive world of Shipping.
The program provides students with a holistic and in-depth knowledge of the most important issues in modern commercial shipping. Students will gain solid foundations of ship management, maritime economics, ship technology, chartering, maritime law, insurance, risk and strategic management, which are particularly relevant for companies in this sector.
Full Time and Part Time mode: The program commences every September and is offered on a full-time (12 months) and part-time (24 months) basis. All courses -for full-time and part-time participants- are held in the evening.

The MSc in Shipping is designed for:
Recent graduates looking for a career in the shipping industry
Shipping professionals who wish to enrich their know-how and improve their professional status
Officers of the Merchant Marine serving both at sea & onshore
Members of family businesses preparing to take on increasing responsibility in their companies
Young professionals with the determination to enter the shipping industry
Highlights of the Program
A generic shipping program: Rather than being a specialized shipping program, the MSc in Shipping Management provides a thorough and deep understanding of all the major theories and practices that can be encountered in a modern shipping company. Holistic knowledge of the operations of a shipping company is of primary importance for those who want to start their careers in shipping.
Academic rigor with practical know-how: The program balances academic rigor with practical experience in order to serve the needs of tomorrow's ship managers in the most effective ways. Specialized shipping workshops will be delivered by distinguished industry speakers providing in-depth insight into the cutting edge of shipping practice.
Ideal location: The program is offered in Greece, a country with a long-standing tradition in shipping. Greek ship-owners control more than 16% of the world merchant fleet and hold a leading position in the global maritime shipping market. More than seven hundred Greek shipping companies are situated in Piraeus and the surrounding areas.
Links to the industry: the program is strongly supported by the Greek shipping community. Students will benefit from the close links between ALBA and the Greek Shipping community.
Through the MSc in Shipping Management Program, you will:
Acquire in-depth knowledge of the concepts and the processes involved in the management of a shipping company
Become familiar with technical terms and particularities of ocean-going vessels
Be able to identify and discuss legal issues which arise in international transport transactions
Become up to date with the latest trends and issues in the shipping industry and be able to evaluate their impact on it
Understand the sources of risk that modern shipping companies face and identify the range of company strategies available in the context of industry constraints
Develop a global viewpoint and acritical way of thinking
The MSc in Shipping Management Applicant Profile
In order to apply for the MSc in Shipping Management candidates should have a good honors degree in any discipline. Students with no economic background may be advised to attend a preparatory course in economics. In addition, since English is the language of instruction, it is essential that all participants have an excellent command of the English language and to be currently employed (valid for the part-time program only).
Candidates to be considered for this Program must submit the following documents:
ALBA application form, including a recent photograph in jpeg format (or two photos in print)
Two letters of recommendation
Official transcripts as well as certified copies of degrees from each undergraduate, graduate or professional degree earned. Applicants, who cannot obtain an official transcript in a reasonable time, may send a photocopy of unofficial transcripts as a temporary substitute in order to expedite the evaluation process
Proof of competence in the English language. Candidates are required to either hold the Proficiency or take the TOEFL (100 minimum score-ALBA code 0942), or the IELTS(7.0 minimum score) unless their Bachelor's degree has been awarded from an English speaking academic institution
Three Essays
A minimum GMAT score of 550 is expected
Receipt of the non-refundable application fee's [€60] deposit
Applications with one or more missing documents will not be processed until these documents are received. Admission to the Program is decided by the Admissions Committee on the basis of the qualifications and the applicant's personality and commitment.
Tuition Fees for the current entry year: €12,500 paid in installments. Special scholarships up to 40% on tuition fees and a fixed rate of 400€/month (in a furnished apartment - all bills included) for accommodation for International students.
Deadline for the Next Round of Admissions: End of May
ALBA accepts applications all year round & candidates are encouraged to apply as soon as possible. However, applications received after the beginning of the program will not be reviewed for the current intake, but will certainly be reviewed for next year's intake.
Scholarships
Scholarships are available for international students. If you would like to see whether you are eligible please fill out this form website.
Last updated Dec 2019
About the School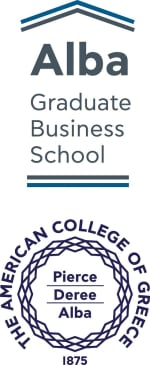 ALBA Graduate Business School at The American College of Greece was founded in 1992 and operates under the auspices of the business community, an association of corporations and institutional organiza ... Read More
ALBA Graduate Business School at The American College of Greece was founded in 1992 and operates under the auspices of the business community, an association of corporations and institutional organizations, currently numbering more than 90 members.
Read less