Read more about this program on the school's website
Program Description
About
Robotics is one of the most discussed topics in recent years; robots are becoming ubiquitous in industrial environments as well as in everyday life. However, as the adoption of robotic technology progressively rises, the skill shortage in robotic engineers will also widen accordingly. This Robotics MSc course will offer students the opportunity to gain practical robot programming experience.
Who is it for?
As the demand for robotics engineer is increasing this course has been developed for graduates to equip themselves with the skills and knowledge required for associated careers. This course is suitable for those with essential engineering mathematics knowledge and basic computer programming skills.
A unique experience of the breadth of the field of robotics providing students with not only a broad understanding of their uses and applications in modern society but also the fundamental science behind them.
Why this course?
Robotics technologies are being increasingly adopted across various industries, these include automotive, oil and gas, aerospace and energy as well as potential significant future growth in the service robot domain. This course will improve the employment prospects of students by providing them with relevant theoretical knowledge and practical skills to become robotics engineers and experts in robotics, to meet the rising global demands. It is unique in its focus on human aspects supported by practical applications.
This masters course provides insight into multiple application domains for intelligent and autonomous robot systems including industry, hazardous environments, health care, domestic/assistive robotics and autonomous vehicles.
We are very well located for visiting part-time students from all over the world and offer a range of library and support facilities to support your studies. This enables students from all over the world to complete this qualification whilst balancing work/life commitments. This MSc programme benefits from a wide range of cultural backgrounds which significantly enhances the learning experience for both staff and students.
Course details
Eight one-week assessed modules, a group project and an individual project. Students are also supported in their learning and personal development through exposure to; industry seminars, group poster session, group discussions, group presentations, video demonstrations, case studies, laboratory experiments, coursework and project work. Students will receive hands-on experience with our range of conventional and collaborative robots located in the Aerospace Integration Research Centre - supporting practice workshops, student group projects and individual projects. You will participate in a study tour carried out at ABB Robotics in Milton Keynes where you will spend up to a week at our industrial partner ABB Robotics' training centre receiving practical robot training.
The new MSc in Robotics will use standard teaching and assessment methods as well as technology-enhanced teaching (TET) methods such as a Virtual Learning Environment (VLE) to support different learning styles. Theories and fundamentals of robotics will be taught in both lecture and workshop formats where videos and technology demonstrators will be used as teaching aids. For example, a collaborative robot will be used in the teaching of Human-Robot Interaction and Virtual Reality technology will be used in teaching Digital Robotics. Lecture videos will be available on VLE to provide an interactive learning experience. Students will receive hands-on experience on programming industrial robots initially in a robot simulation lab, which follows by a practical robot-programming workshop using real industrial robot supported by ABB Robotics. The use of robotics technology will enable students to see robot engineering phenomena first-hand where they can test engineering principles and theories with real devices.
Compulsory modules
All the modules in the following list need to be taken as part of this course:
Fundamentals of Robotics
Robotics Control
Artificial Intelligence and Machine Learning for Robotics
Programming Methods for Robotics
Human-Robot Interaction
Machine Vision for Robotics
Autonomy in Robotic Systems
Psychology, Ethics and Standards
Entry requirements
A first or second class UK Honours degree (or equivalent), in Aeronautics/ Aerospace Engineering, Mechanical Engineering, Electrical/ Electronic Engineering, Pure mathematics, Computer Science, Software Engineering, Mechatronic Engineering, Information Technology, or be applying as part of a recognised double-degree programme with their home EU institution. Applications from candidates with lesser qualifications but with considerable relevant work experience will be considered.
Applicants who do not fulfil the standard entry requirements can apply for the Pre-Masters programme, successful completion of which will qualify them for entry to this course for the second year of study.
Last updated Jan 2020
About the School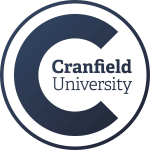 Cranfield's distinctive expertise is in our deep understanding of technology and management and how these work together to benefit the world.
Cranfield's distinctive expertise is in our deep understanding of technology and management and how these work together to benefit the world.
Read less