MSc in Remote Sensing & Geospatial Sciences
Home ›
MSc ›
MSc in Remote Sensing & Geospatial Sciences
Read more about this program on the school's website
Program Description
Read more about how BU is tackling the coronavirus crisis here
Study with renowned faculty in a world-class program.
With an MSc in Remote Sensing & Geospatial Sciences, your career options are endless. Private, public, and nonprofit sectors demand professionals with advanced technical skills who can organize and analyze spatial data sets. From governmental planning, defense, and transportation departments; to environmental, resource management, and public safety agencies; to consulting firms, research labs, and academia, your skills are in demand. In Boston University's internationally recognized master's program, the world's most respected and influential remote sensing and geospatial faculty will educate you in both the underlying theory and the application of remote sensing, spatial analytical methods, digital cartography, and geographic information systems.
The Remote Sensing & Geospatial Sciences master's program welcomes students with diverse natural science and social science backgrounds.
Learning Outcomes
Demonstrate advanced knowledge of the theory of remote sensing and GIS including sensor systems, basic radiative transfer, cartographic projections and display, and spatial databases, and of fundamental concepts in geospatial analysis and modeling techniques.
Quantitatively analyze data to evaluate scientific hypotheses and arguments in remote sensing and geographic information science.
Communicate effectively, both verbally and in writing, advanced concepts in remote sensing and geographic information systems.
Demonstrate an understanding of the broader impacts and applications of remote sensing and GIS for natural sciences, social sciences, and for society at large.
Apply a range of geospatial analysis techniques using remote sensing and GIS tools toward solving quantitative problems in one or more core disciplinary areas such as geography, ecology, environmental sciences, bio-geosciences, urban planning, or natural resources management.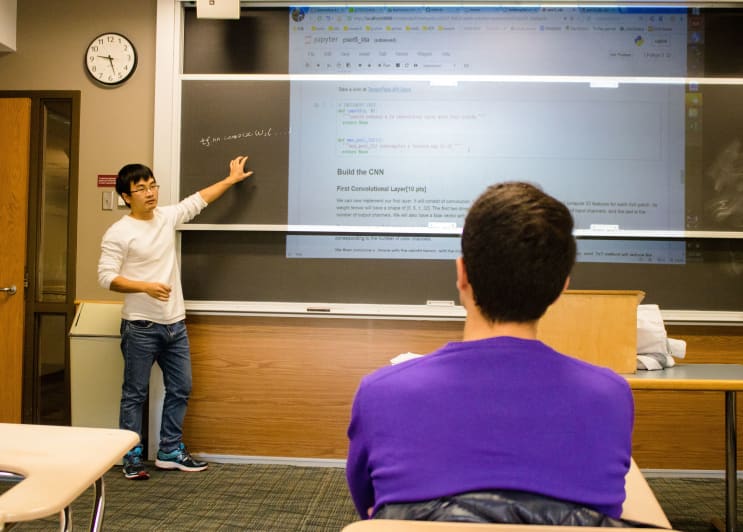 Career Paths
Environmental Consulting
Consultants utilize their skills and expertise to provide specialized knowledge for clients who need to solve specific problems. They can work as independent contractors or in large firms and typically work on a variety of projects for both private and public clients. A consultant might assist the EPA in formulating rules for power plant operations, help a rural community government determine how to manage water resources, analyze the impacts of a toxic waste site, develop environmental impact assessments for private firms or help an energy firm better predict future electricity demand. Our alumni work at consulting firms such as:
The Cadmus Group
McKinsey and Company
EBI Consulting
Booz Allen Hamilton
ERM
Synapse Energy Economics
Nonprofits and NGOs
Alumni at nonprofit organizations and other non-governmental organizations work to address environmental and sustainability challenges from the local to the global levels. These organizations aim to fill gaps left by private firms and governments to solve otherwise unmet needs. Our alumni have built careers at some notable organizations such as:
The World Bank
Earthwatch Institute
The Nature Conservancy
Union of Concerned Scientists
Natural Resources Defense Council
Global Brigades
Government
Many of our alumni have found positions working in government at all levels both as researchers and policymakers. Our alumni have shaped environmental policy and helped answer pressing environmental questions with governmental bodies including:
US Environmental Protection Agency
US General Services Administration
Louisville Sustainability Council
New Jersey Water Supply Authority
Office of the Governor, Commonwealth of Massachusetts
New York City Emergency Management Department
Maryland Transit Administration
Industry
Many of our alumni have gone on to work at both small and large private firms that conduct a wide range of business. Some of these firms provide specialized geospatial, environmental, or energy services but many of our alumni have found the skills and knowledge gained in the Department of Earth and Environment to be valuable in private firms that do work in areas as diverse as finance and digital media.
Chevron
EnerNOC
Spotify
Green Century Capital Management
CLEAResult
National Grid
Digital Globe
Apple
Ceres, Inc.
Application Requirements
Application checklist:
Application
Personal Statement
Three (3) letters of recommendation
Transcripts (all institutions of higher education you have attended)
Test scores (GREs for every applicant, TOEFL scores for international students)
Last updated Jun 2020
About the School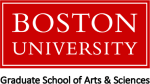 Welcome! Arts & Sciences is Boston University's largest academic division, the heart of a world-class research university. Our faculty in the Graduate School of Arts & Sciences are among the w ... Read More
Welcome! Arts & Sciences is Boston University's largest academic division, the heart of a world-class research university. Our faculty in the Graduate School of Arts & Sciences are among the world's most respected professors, researchers, and professionals in their disciplines. Our alumni are leading innovation and research and making an impact in their fields. Our campus is Boston, a city vibrant with history, culture, and diversity, and teeming with potential for connections and careers.
Read less