MSc in Psychology of Childhood Adversity
Home ›
MSc ›
MSc in Psychology of Childhood Adversity
Program Description
Overview
The programme provides advanced study of topics in developmental psychology, with a specific focus on development in the context of adversity.
Childhood adversity refers to factors extrinsic to the child such as growing up in contexts of parental psychopathology, economic deprivation and community conflict. Psychological, educational and behavioural outcomes of adversity will be explored as well as the predictors, mediators and moderators of outcome.
We address questions such as:
What aspects of childhood adversity impact of child and adolescent development?
How do intrinsic (eg child's personality) and extrinsic (eg parenting) factors interact to moderate outcomes of adversity?
What programmes and interventions can help children growing up in adversity and how can they be best designed and implemented?
Psychology Of Childhood Adversity Highlights
Please note: Applications for this course, received after 30th June may not be accepted. A deposit will be required to secure a place.
Internationally Renowned Experts
The School has a long-standing reputation for research and practice in developmental psychology and currently offers two professional Doctorates in applied areas of psychology (clinical and educational).
Student Experience
We are the only MSc to focus exclusively on the study of childhood adversity, and thus our students are exposed to up to date advances in our understanding of the effects on child adversity on human development. Working with supervisors from the Childhood Adversity Research Group our students have the opportunity to get involved in ongoing research projects exploring various aspects of childhood adversity.
Course Details
The programme consists of compulsory and optional modules and a dissertation (MSc route only). Students take half the taught modules in semester 1, and half in semester 2. Teaching time is usually over 2 days (Tuesday/Wednesday).
Modules are likely to include the following:
Childhood Adversity (20 credits)
Improving Outcomes with Evidence-Based Interventions (20 credits)
Principles of Qualitative Research Methods and Data Analyses (10 credits)
Quantitative Data Analysis 1 (10 credits) and 2 (10 credits)
Research Design and Professional Skills (10 credits)
Theoretical Perspectives on Child and Adolescent Development (20 credits)
Quantitative Data Analyses 1 (10 credits) and 2 (10 credits)
Psychological Methods in Developmental Research (10 credits)
Dissertation (60 credits)
Teaching Times
Teaching takes place in the morning and afternoon, usually over 2 days (Tuesday/Wednesday). The course may include additional workshops outside normal teaching hours.
Career Prospects
Introduction
The programme is designed to prepare graduate students for more advanced research in developmental psychology, for professional training in psychology or related disciplines, and/or for employment in children's voluntary or statutory services. It will also provide graduates with the research skills and knowledge to carry out a PhD in developmental psychology and/or in childhood studies, and to pursue an academic career.
Queen's postgraduates reap exceptional benefits. Unique initiatives, such as Degree Plus and Researcher Plus bolster our commitment to employability, while innovative leadership and executive programmes alongside sterling integration with business experts help our students gain key leadership positions both nationally and internationally.
Learning and Teaching
Teaching will take the form of lectures, seminars and workshops. The seminars are an opportunity for class discussion and provide an opportunity for peer learning. Workshops are an opportunity for training in specialist software (eg SPSS) and learning key psychological skills (eg psychometric testing).
Assessment
Assessments associated with the course are outlined below:
Dissertation
Coursework assignments
Class tests
Entrance requirements
Graduate
Normally a 2.1 Honours degree or above in Psychology or an acceptable related discipline, or an equivalent qualification acceptable to the University.
Applicants with relevant work experience will be considered on a case-by-case basis.
The University's Recognition of Prior Learning Policy provides guidance on the assessment of experiential learning (RPEL).
International Students
For information on international qualification equivalents, please check the specific information for your country.
English Language Requirements
Evidence of an IELTS* score of 6.5, with not less than 5.5 in any component, or an equivalent qualification acceptable to the University is required. *Taken within the last 2 years.
International students wishing to apply to Queen's University Belfast (and for whom English is not their first language), must be able to demonstrate their proficiency in English in order to benefit fully from their course of study or research. Non-EEA nationals must also satisfy UK Visas and Immigration (UKVI) immigration requirements for the English language for visa purposes.
If you need to improve your English language skills before you enter this degree programme, INTO Queen's University Belfast offers a range of English language courses. These intensive and flexible courses are designed to improve your English ability for admission to this degree.
Academic English: an intensive English language and study skills course for successful university study at degree level.
Pre-sessional English: a short intensive academic English course for students starting a degree programme at Queen's University Belfast and who need to improve their English.
Last updated Feb 2020
About the School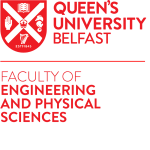 The Faculty of Engineering and Physical Sciences spans disciplines that impact lives today and will shape our future. Our international mix of staff and students make up a vibrant community that is ho ... Read More
The Faculty of Engineering and Physical Sciences spans disciplines that impact lives today and will shape our future. Our international mix of staff and students make up a vibrant community that is home to some of the most innovative and globally significant research and teaching. It works where industry and research meet, providing the platform to spin out research into commercial opportunities and engage with industry on cutting-edge research with real-world projects such as the work with Wrightbus to produce the cleanest hybrid bus technology that powers the London Routemaster, or the pioneering work in The Institute of Electronics, Communications and Information Technology, securing our digital future through their Centre for Secure Information Technologies.
Read less