MSc in Psychological Science
Home ›
MSc ›
MSc in Psychological Science
Program Description
Overview
An intensive one year Master's course with accreditation from the British Psychological Society, enabling you to pursue a career in this area even if your background is in another discipline.
Why This Course?
This conversion course will appeal to you if you do not already have a psychology degree.
It is approved and accredited by the British Psychological Society, (it confers the Graduate Basis for Chartered Membership), which means you'll have the essential knowledge to undertake professional training.
If you're from overseas, this is your passport to practise in the UK.
This intensive programme means with focused work and preparation, you will get a fully-accredited course in the space of 12 rewarding months.
Who Are You?
You might be:
a recent graduate,
someone who's been in work for a while and wants to change direction.
You'll be fascinated by how psychology underpins everything we do and aids our understanding of behaviour – not just of people, but of animals too.
Please note that the MSc Psychological Science (Conversion) programme is intended for students who have completed a degree in a subject other than Psychology, to undertake an intensive foundational course and achieve a Psychology qualification which is accredited by the British Psychological Society (BPS) and entails Graduate Membership of the BPS. It is not an advanced specialism degree in Psychology, but rather covers the core areas of Psychology and associated research skills as required for BPS accreditation.
Psychological Science Highlights
Please note: Applications for this course, received after 30th June may not be accepted. A deposit will be required to secure a place.
World-Class Facilities
The School has specialised facilities for human experimental psychology, movement and perception, individual differences, social psychology, child development, psychophysiology and animal behaviour.
Internationally Renowned Experts
Research in the School has been judged to be 'world-leading' and 'outstanding' by the 2014 Research Excellence Framework (REF).
Course Content
The course is tailored towards analysing data in the real world.
You'll learn methodological analysis skills and the core principles of psychology:
Psychobiology
Developmental
Social
Individual differences
Cognitive psychology.
You'll learn everything from Freudian principles to how the brain works.
Your research project will take place over the summer.
Course Details
The programme will provide a contemporary curriculum which covers the core topics in psychology, using a variety of teaching methods and assessments that is informed by current research, scholarship and application.
The programme will develop a critical awareness of issues in the scientific and applied areas of psychology and the methodological skills to critically examine and interrogate the discipline of psychology in all its facets.
Teaching Times
Teaching takes place in the morning and some afternoons; there are between 15-20 contact teaching hours per week.
Career Prospects
Introduction
The degree confers eligibility for the Graduate Basis for Chartered Membership (GBC) of the British Psychological Society and many graduates will go on to complete training in one of the 7 registered professions of psychology as well as undertaking many other jobs, (management, HR, analysts) where a psychology degree is of benefit.
Queen's postgraduates reap exceptional benefits. Unique initiatives, such as Degree Plus and Researcher Plus bolster our commitment to employability, while innovative leadership and executive programmes alongside sterling integration with business experts help our students gain key leadership positions both nationally and internationally.
Employment after the Course
Where could you be in five years time?
You might have your eye on a career in clinical or educational psychology.
The qualification you'll gain allows you to go on and undertake training to qualify as a professional psychologist, e.g. clinical, educational, forensic, etc.
Or you could return to your existing job with a valuable qualification and a greater understanding of what underpins the world around you.
But the applications of this course are far-reaching. We at Queen's created a spin-out company, Adoreboard, which analyses customer data to help brands understand how people feel about them online.
Learning and Teaching
People
Your tutors are experts in their subject areas and are active researchers in those subjects. They have used various aspects of psychology in the real world, so you'll be getting a practical as well as a theoretical flavour.
The Environment
You'll work on your thesis as part of a research team. We're moving away from individual supervision into more of a team approach, with post-doctoral and postgraduate students all working together, mimicking project work in the real-world employment situations.
Assessment
Assessments associated with the course are outlined below:
Coursework essays
Exams
Multiple-choice questions
Practical lab work
Group work
Presentations
Literature review
Independent thesis report
Entrance requirements
Graduate
Normally a 2.1 Honours degree or above in any subject or an equivalent qualification acceptable to the University.
This is a very popular course and applicants are advised to apply as early as possible, since it may be necessary to implement an application cut-off date.
In such circumstances, applications will be considered in date order, with priority given to those submitted earliest and prior to the cut-off date. Please note: a non-refundable deposit (which will be deducted from tuition fees) of £400 is required.
International Students
For information on international qualification equivalents, please check the specific information for your country.
English Language Requirements
Evidence of an IELTS* score of 6.5, with not less than 5.5 in any component, or an equivalent qualification acceptable to the University is required. *Taken within the last 2 years.
International students wishing to apply to Queen's University Belfast (and for whom English is not their first language), must be able to demonstrate their proficiency in English in order to benefit fully from their course of study or research. Non-EEA nationals must also satisfy UK Visas and Immigration (UKVI) immigration requirements for the English language for visa purposes.
If you need to improve your English language skills before you enter this degree programme, INTO Queen's University Belfast offers a range of English language courses. These intensive and flexible courses are designed to improve your English ability for admission to this degree.
Academic English: an intensive English language and study skills course for successful university study at degree level
Pre-sessional English: a short intensive academic English course for students starting a degree programme at Queen's University Belfast and who need to improve their English.
Foundation: International Students – Graduate Diploma Programmes INTO Queen's offers a range of academic and English language programmes to help prepare international students for study at Queen's University. You will learn from experienced teachers in a dedicated international study centre on campus and will have full access to the University's world-class facilities. These programmes are designed for international students who do not meet the required academic and English language requirements for direct entry.
Last updated Mar 2020
About the School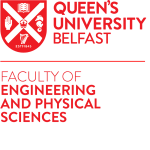 The Faculty of Engineering and Physical Sciences spans disciplines that impact lives today and will shape our future. Our international mix of staff and students make up a vibrant community that is ho ... Read More
The Faculty of Engineering and Physical Sciences spans disciplines that impact lives today and will shape our future. Our international mix of staff and students make up a vibrant community that is home to some of the most innovative and globally significant research and teaching. It works where industry and research meet, providing the platform to spin out research into commercial opportunities and engage with industry on cutting-edge research with real-world projects such as the work with Wrightbus to produce the cleanest hybrid bus technology that powers the London Routemaster, or the pioneering work in The Institute of Electronics, Communications and Information Technology, securing our digital future through their Centre for Secure Information Technologies.
Read less