MSc in Process and Bioprocess Engineering - Track in Project Management for Environmental and Energy Engineering (PM3E)
Home ›
MSc ›
MSc in Process and Bioprocess Engineering - Track in Project Management for Environmental and Energy Engineering (PM3E)
Program Description
The objective of the Master of Science is to form project leaders or supervisors capable of managing complex engineering projects in the domain of the environment and energy conversion systems within an international context. PM3E offers a balanced program of management skills and engineering techniques for environmental and energy projects. The technical part of the course concentrates on technology and process engineering as well as process modeling, simulation, and control. A significant part of the program is also devoted to social sciences for project managers.
A 2 years integrated program (starting in September): 3 academic semesters (lectures in English) and a 6-month internship in industry or in a research laboratory.
The program aims to give
A strong scientific background and technical knowledge in environmental and energy processes.
Good know-how in process modeling and simulation.
Cross-disciplinary management skills essential to set up and pilot projects in an international context.
A significant grounding of social sciences for engineers.

Course Structure
Scientific and technical modules:
Transfer Phenomena
Introduction to Energy & Environmental issues
Environment and process engineering
Incineration and Waste Minimization
Air and soil remediation
Water Treatment Processes
Water strategies and innovation
Process modeling, simulation, and control
Thermodynamics for Energy systems
Renewables
Energy systems
Energy efficiency and services
Energy networks
Energy modeling and Optimization
Social Science and Management modules:
Project management,
Energy management
Company visits, Scientific seminars, Technical projects, Generic methods for Engineers, French language & culture
Professional coaching (a Student-centered process of reflection on competencies and professional objectives)
6-month MSc thesis in Industry or research lab
Fall 2020 intake: first semester online

Job Opportunities
After completion of the program, PM3E graduates find career opportunities in close connection with industry, in fields such as:
Energy production and exploitation: Oil and gas, power generation and distribution, renewable energies.
Eco-industries: Water and air treatment, waste management and recycling, pollution reduction and remediation.
Steel and chemical production.
Building and civil sectors, etc.
The main employers are major industrial groups operating worldwide as well as leading companies in France or abroad. Public or private agencies and inter-governmental organizations working for sustainable industrial development are also potential employers.
PM3E graduates have the possibility of doing a Ph.D. and pursuing a career in research and development.

Target Jobs
Is involved in projects of construction or improvement of industrial units, design, and optimization of clean manufacturing processes, pollution, waste and water treatment facilities, energy conversion and distribution systems.
Exploitation or production engineer
Runs and manages an industrial production unit at different levels technical, financial, human, regulatory); coordinates and implements environmental management activities of the firm.
Business or consultant engineer
Assesses new markets and develops new activities for firms at an international level, carries out audits and consultancy for the industry, especially for sustainability and transfer of new technologies.
Designs, carry-out experimental studies, develops models and simulates innovative processes applied to air, water, waste treatments or energy production.

Application Procedure
A committee consisting of professors is charged with selecting the applicants, based on the following criteria:
C.V./Resume
Motivation letter
Applicant's previous grades, scores, and recommendations
English level
Working or training experience
Description of the professional plans after the PM3E program
Reference letters
Please upload the required documents for PM3E application on the dedicated online platform: https://pm3e.imt-atlantique.fr
Fall 2020 application deadline has been extended to June 15th, 2020.

Costs
Participation cost: 12000€/year

Scholarships
Special rates for:
European students from the Erasmus zone (6000 €/year)
EU Graduate students from our partner universities(3000 €/year)
EU students met at Education fairs (5400 €/year)
Excellent EU applications or recommended EU applications(2600 €/year)
Non-EU students graduated from our partner universities (6500 €/year)
Non-EU students met at Education fairs (9600 €/year)
Non-EU Excellent applications or recommended applications (6000 to 9000 €/year)
Double-Degree students
Last updated May 2020
About the School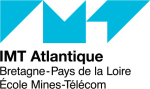 IMT Atlantique is one of the best Graduate Engineering Schools in France. This institute of higher education and research was created through the merger of Telecom Bretagne and École des Mines Nantes ... Read More
IMT Atlantique is one of the best Graduate Engineering Schools in France. This institute of higher education and research was created through the merger of Telecom Bretagne and École des Mines Nantes in January 2017. Its goal is to combine digital technology, energy, and environment in order to transform society and industry, through education, research and innovation. It is located on 3 campuses in the Western part of France: Brest, Nantes and Rennes.
Read less