Program Description
MSc in Plant Biotechnology: STEM – Designated Degree
Immerse yourself into the biotechnology sector with a degree in Plant Biotechnology. Enjoy the charged atmosphere of scientific discoveries for which the University of Illinois is globally recognized while you complete your non-thesis Master's degree in just 18 months.
Along with biotechnology-related disciplines, you will learn how the commercialization process works. This program provides opportunities to help you connect with industry partners, helping you learn about the directions and needs of biotechnology enterprises.
Tailor Your Degree to Your Professional Goals
Work with your advisor, Dr. Juvik, to create a customized set of courses that match your interests and individual career goals.
Access courses and faculty performing industry-relevant research in
plant breeding
plant and environmental physiology
bioinformatics
regression and statistical analysis
Diverse Career Opportunities
The merging of biotechnology-focused education with business knowledge and professional skills will prepare you for diverse entry points into agricultural and environmental enterprises.
Career opportunities span industry, not-for-profit, and government organizations. Potential career areas you might enter include
product development and marketing
government and public relations
design and implementation of regulatory strategies
market analysis and feasibility studies
plant genetics and breeding
application of new customer support models
technology transfer and intellectual property ventures
Plant Biotechnology graduates have been employed by companies such as: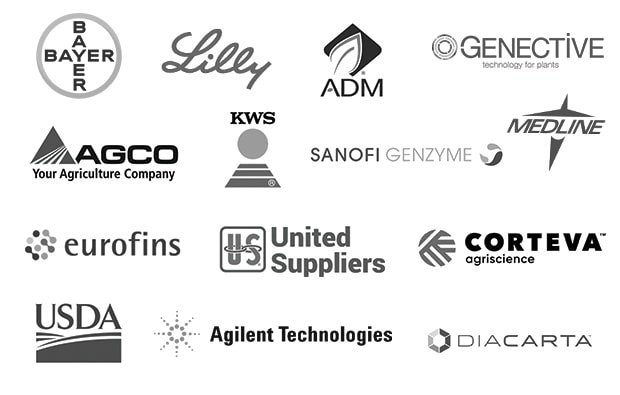 Plant Biotechnology + Business Sets You Apart
The integrated business courses, professional development seminars, and required internships make your Master's program different than a traditional master's. Plus, your cross-disciplinary industry seminars offer you the opportunity to interact with industry and government leaders.
By the end of your program, you will be able to
design a comprehensive marketing strategy
manage the flow of products and services
execute project plans within time and budget
understand and discuss regulatory policies
assess financial risks, statements, valuation, and capital budgets
examine organizational behavior, structures, effectiveness, and more!
Program Requirements
Bachelor's degree from a regionally accredited U.S. institution or a comparable degree from a recognized institution abroad
Grade point average of 3.0 or higher (4.0 scale) for the last 60 hours of undergraduate work and for any graduate work
Graduate Record Examination (GRE)
Test of English as a Foreign Language (TOEFL) or International English Language Testing System (IELTS) for non-native speakers of English
Three (3) letters of recommendation
For additional information or to discuss your learning and career objectives, contact plant biotechnology major advisor Dr. Jack Juvik at juvik@illinois.edu; (217) 3333 - 1966.
Last updated Aug 2019
About the School
The Illinois Professional Science Master's (PSM) offers M.S. degree programs combining scientific knowledge and business know-how. The programs are full-time, do not require a thesis, and are complete ... Read More
The Illinois Professional Science Master's (PSM) offers M.S. degree programs combining scientific knowledge and business know-how. The programs are full-time, do not require a thesis, and are completed in 18-months -- three semesters and one summer term. The Illinois PSM is designed for those who want careers in science-based settings in positions that combine science with management and leadership responsibilities. Programs have solid core graduate-level curricula, integrated with business courses such as management and marketing, accounting and finance, and project management.
Read less