MSc in Organisational Psychology
Home ›
MSc ›
MSc in Organisational Psychology
Program Description
Our MSc Organisational Psychology course provides you with the necessary skills and knowledge to apply psychological principles, theories and methods to work organisations. The course develops your understanding of psychology as well as equipping you with practical skills for working as a psychologist within organisations.
The course at Alliance Manchester Business School:
Is fully accredited by the British Psychological Society, providing the basis for achieving Chartered Psychologist status
Covers the seven core areas of organisational psychology, giving you a broad basis for future practice
Includes Test User: Occupational - Ability and Personality (Level A and B) qualifications for psychometric testing at work, enabling you to enrol on the British Psychological Society's Register of Qualifications in Test Use
Is delivered by research-active staff, who draw on their expertise to engage you with the most up-to-date psychological research and methods
Develops commercial awareness and business skills necessary in a competitive work environment
The course runs over one year (two years for part-time students) and comprises two taught semesters plus a research dissertation. The taught modules use a variety of teaching methods, including lectures, group work, case studies and practical exercises, and are assessed using a range of techniques, including examinations, essays, applied coursework and presentations.
Special features
MSc Organisational Psychology course was re-accredited by the British Psychological Society (BPS) for a further six years, with no conditions. We are only one of 20 schools in the UK to be accredited by the BPS to offer the Masters course that allows students to become a Chartered Occupational Psychologist.
The BPS advises students always to choose a BPS accredited course to maximise their future options.
Entry requirements:
We normally look for a UK undergraduate degree in Psychology with first or upper second class honours or the overseas equivalent. To be admitted to this British Psychological Society (BPS) accredited programme, your first degree must be recognised by the BPS as providing the Graduate Basis for Chartered Membership (GBC) of the BPS.
You must have GBC or membership of the British Psychological Society (BPS). You need to submit a letter from your institution stating your eligibility for GBC. Alternatively, please submit proof of your membership.
If you are not eligible for GBC, you might wish to consider our MSc Business Psychology course.
When assessing your academic record, we take into account your grade average and grade profile, references, and the standing of the institution where you studied your qualification.
Course units details
The course provides psychology graduates who are intending to become Chartered Occupational Psychologists with the theoretical knowledge and practical skills required by the Division of Occupational Psychology of the British Psychological Society (BPS), in the following seven required areas:
Psychological Assessment at Work
Learning, Training and Development
Leadership, Engagement and Motivation
Well-Being and Work
Work Design, Organisational Change and Development
Research Design, Advanced Data Gathering and Analytical Techniques
Applying Psychology to Work and Organisations
(All taught course units are 15 credits)
Semester 1
Selection and Assessment in Organisations
Research Skills for Professional Practice 1
Professional Skills for Organisational and Business Psychologists
Training, Support and Development
Semester 2
Managing People and Organisations
Work Design, Performance and Well-Being
Research Skills for Professional Practice 2
Relationships at Work
Summer period
Dissertation (60 credits)
Apply what you have learned in the taught part of the course Normally consists of a literature review followed by a piece of work based on qualitative or quantitative research.
Examples of recent dissertation topics:
Customers pay our wages: a diary study examining how to optimise customer interaction and employee well-being in the service sector
Client verbal aggression: an examination of emotional labour and associated outcomes for employees in the legal sector
Effects of job stressors, organisational commitment and individual attributes on Malaysian Chinese primary school teachers' burnout
Corporate psychopathy: the truth behind the hype
Improving safety using a combination of transformational and transactional leadership: a longitudinal study
Creativity in the workplace: a self-report measure and unanticipated costs
Leader effectiveness and leader-member relations: the role of interpersonal emotion regulation, follower attributions and leader empathy
Coursework and assessment
Assessment across the course units varies and includes a combination of examinations, report, coursework, practical assessments and presentations. A dissertation of around 15,000 words is normally undertaken.
Last updated Oct 2020
About the School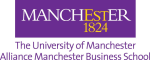 Alliance Manchester Business School is one of the UK's first two business schools, set up in 1965), and is now the largest campus-based business and management school in the UK. Manchester is recognis ... Read More
Alliance Manchester Business School is one of the UK's first two business schools, set up in 1965), and is now the largest campus-based business and management school in the UK. Manchester is recognised for its original thinkers: our long and proud history of research excellence continues the spirit of innovation and achievement for which the city is renowned.
Read less