MSc in Nuclear Engineering - Track in Nuclear Technologies for Medical Applications
Home ›
MSc ›
MSc in Nuclear Engineering - Track in Nuclear Technologies for Medical Applications
Program Description
Nuclear Technologies for Medical Applications. This specialty develops fundamental scientific, technical and industrial knowledge of the different nuclear technologies used in the medical field. It has a particular focus on the safety and radioprotection, to be considered in the management of a large project in this field.

Objectives
Acquire the basic scientific knowledge relative to nuclear technologies, necessary for understanding their utility and danger in medical applications.
Develop competencies in beams production and qualification.
Master the operational techniques and strategies for the management of a project in nuclear medicine. Implement appropriate solutions through projects in/with industry.
Develop competencies in radioprotection and nuclear waste management in the medical environment.
Build contacts with a large number of international key players in the field.
Develop an awareness of societal considerations related to nuclear medicine.

Course Structure
The Master of Science starts in September and is divided into 4 semesters:
MSc year 1: 2 academic semesters in Nantes campus- Fall 2020 intake: first semester online
MSc year 2: 1 academic semester for specialization taught in French in Nantes campus + 6 months Master Thesis in industry or research laboratory.

Scientific and technical modules:
Physics of Ionizing Radiation
Introduction to Nuclear modeling
Introduction to Neutron physics
Radioprotection
Physico-Chemistry of Environment
Introduction to Nuclear Technology
Nuclear Reactions and Radiations
Mathematical Tools and Computer Simulation
Dosimetry
Medical Imaging Techniques

Management modules:
Nuclear: Management, Safety, and Society
Energy mix and energetic transition
Environmental Management and Strategy of sustainability
Company visits, scientific seminars, technical projects, generic methods for Engineers, French language & culture

Professional coaching (a Student-centered process of reflection on competencies and professional objectives)
6-month MSc thesis in Industry or research lab

Job Opportunities
Project engineer related to medical installations.
Safety engineer in medical installations.
Operation engineer of medical installations (radiology equipment, accelerators, etc).
Research scientist and development engineer for medical installations.

Application Procedure
A committee consisting of professors is charged with selecting the applicants, based on the following criteria:
C.V./Resume
Motivation letter
Applicant's previous scientific background and scores
English level (French language skills might be required for application to this specialization in medical nuclear in view of the 3rd semester taught in French)
Working or training experience
Description of the professional plans after the SNEAM program
Reference letters
Please upload the required documents for SNEAM application on the dedicated online platform: https://ne.imt-atlantique.fr
Fall 2020 application deadline has been extended to June 15th, 2020.

Costs
Participation cost: 12000 €/year

Scholarships
Special rates for:
European students from the Erasmus zone (6000 €/year)
EU Graduate students from our partner universities(3000 €/year)
EU students met at Education fairs (5400 €/year)
Excellent EU applications or recommended EU applications(2600 €/year)
Non-EU students graduated from our partner universities (6500 €/year)
Non-EU students met at Education fairs (9600 €/year)
Non-EU Excellent applications or recommended applications (6000 to 9000 €/year)
Double-Degree students
Possible Industrial sponsorship.
Last updated May 2020
About the School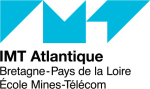 IMT Atlantique is one of the best Graduate Engineering Schools in France. This institute of higher education and research was created through the merger of Telecom Bretagne and École des Mines Nantes ... Read More
IMT Atlantique is one of the best Graduate Engineering Schools in France. This institute of higher education and research was created through the merger of Telecom Bretagne and École des Mines Nantes in January 2017. Its goal is to combine digital technology, energy, and environment in order to transform society and industry, through education, research and innovation. It is located on 3 campuses in the Western part of France: Brest, Nantes and Rennes.
Read less