MSc in Microbiology and Physicochemistry for food and wine Processes (MP2)
Home ›
MSc ›
Biology ›
MSc in Microbiology and Physicochemistry for food and wine Processes (MP2)
Read more about this program on the school's website
Program Description
MP2 is a 2 year, course-based, full-time international research Master's Degree focused on Microbiology and physico-chemistry applied to food and wine processes. This master aims at training future researchers and managers of the food and wine science and industry.
Program description
You will have strong international mobility. One semester will be out of France in the first year and another one is possible during the second year. The modules below are indicative of those offered in this program. This list is based on the current organization and may change year to year in response to new needs in the food industry.
Curriculum
Future career prospects
This Master's Degree aims at providing students with job-relevant competencies and skills for a career as a research project leader in academic laboratories, research institutes or R&D departments of international companies. The expertise will be in the field of microbiology and microbiological processes, chemistry, and physical chemistry applied to food and wine science. Students will be encouraged to perform a Ph.D. after this master degree.
Entry requirements
Applicants must hold a Bachelor's Degree or equivalent (180 ECTS) in biology, food science, chemistry, physical chemistry or engineering science. Those having completed a Master's Degree or equivalent (240 ECTS) related to biology, chemistry or physical chemistry can apply directly to the 2nd year.
Candidates for whom English is not their mother tongue or who haven't done their studies in English will have to give a certificate to attest of their English level. The following tests will be accepted as a certification of the required English level:
CECRL: level B2 minimum
TOEFL: 87 points minimum
TOEIC: 785 points minimum
BULATS: 60 points minimum
First Certificate English of Cambridge
Bright Language Test: level 3 minimum
Such a document is not necessary for candidates for whom English is their mother tongue, or who have validated a minimum of one semester in English during their Bachelor of Science. However, in both cases, the candidates must absolutely mention it in their application file.
Once the application file is considered as "complete", several criteria will be taken into account for the selection:
The university level (grades).
A strong interest in the sector adds value to your file. This interest can be shown by experience in this field (internship, project, and experiences) and/or explained in the cover letter. This will be even more important if you are planning to take your studies back or change your field of study.
The professional project.
Application procedure
Students with French diploma should apply from April 24th to May 20th 2020 via e-candidat
IMPORTANT:
All other applications should been made through the UBFC application portal from February 2020 to June 19th 2020 no matter if you are from a European country, a Campus France country, or any other country worldwide. Application should NOT be made on Campus France website since our university is not connected to Campus France platform. Candidates will be asked to upload the application form and supporting documents assembled in a unique PDF file. The electronic application form and the detailed list of supporting documents will be provided after first email contact (see above).
Once selected only :
students coming from a Campus France country : you will be required to make your visa application on the « Etudes en France » website following the 3rd option « I am accepted ». Download here the guide with the instructions for Campus France procedure to follow
students coming from any other country : you need to contact the closest French Embassy
non European student, living in a European country : you will need to contact the French Embassy located close to your place of residence.
Countries with a Campus France office :
Algeria, Argentina, Benin, Brazil, Burkina Faso, Burundi, Cameroon, Chile, China, Colombia, Comoros, Democratic Republic of the Congo, Djibouti, Egypt, Gabon, Haiti, India, Indonesia, Iran, Ivory Coast, Japan, Kuwait, Lebanon, Madagascar, Mali, Mauritania, Mauritius, Mexico, Morocco, Nigeria, Peru, Republic of Chad, Republic of the Congo, Republic of Guinea (Guinea-Conakry), Russia, Senegal, Singapore, South Korea, Taiwan, Togo, Tunisia, Turkey, USA, Vietnam.
Grants
A recent reform has been implemented in France's higher education system: starting from 2019, international students who are not citizen of a country inside European economic area or Switzerland who register for the first time in a French higher education course will have to pay specific fees (equivalent to one third of the real cost of the formation). These amounts equal to 3770€ for a Master or Ph.D.
Fellowship grants are awarded each year to high-quality foreign students, by the University of Bourgogne-Franche-Comté (25 grants in 2018). They can also have access to a wide range of funding programs (Grants from French embassies, AUF bursaries, etc.).
Foreign students (outside of EU) will have to justify a minimum of financial resources to obtain their VISA: at least 615€ for every month spent in France (10 months).
Last updated Feb 2020
About the School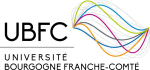 Université Bourgogne Franche-Comté (UBFC) is a public university federating 7 Higher Education and Research (HER) Institutions operating in the Bourgogne - Franche-Comté (BFC) Region. Its strategic go ... Read More
Université Bourgogne Franche-Comté (UBFC) is a public university federating 7 Higher Education and Research (HER) Institutions operating in the Bourgogne - Franche-Comté (BFC) Region. Its strategic goals are to foster Excellence and Internationalization of BFC Higher Education and Research; increase attractiveness for national & international Students, Professors & Researchers; develop Innovation, Transfer and socioeconomic Partnerships.
Read less