MSc in Mechatronics Engineering
Home ›
MSc ›
MSc in Mechatronics Engineering
Program Description
Mechatronics is the design methodology of systems based on multidisciplinary engineering approaches. Most modern systems such as consumer products, manufacturing machines, or even exotic measurement devices must be designed to comply with several constraints at the same time, including complex behavior, mechanical and electronic precision, low cost, low power consumption, environmental friendliness, networked operation, smart interaction with users and work in uncertain environments. Their design requires engineers who are fluent in such disciplines as electronics, mechanics, computers, control, and other areas like optics and material science.
Mechatronics program at Sabanci University aims to educate creative individuals who can apply ideas from all such disciplines to design today's complex systems. The approach is supported by a curriculum seamlessly integrating the diverse disciplines, while being hands-on and research oriented from the undergraduate education, utilizing our comprehensive research infrastruture used for the industrial projects and fundamental research conducted by the program members.
Mission
The mission of the Mechatronics Engineering Program at Sabancı University is to educate our graduates with a solid multidisciplinary technical foundation, a broad intellectual background, a diverse set of engineering skills, and proficiency in Turkish and English, while instilling in them self-confidence, critical and creative thinking ability, collaboration skills, social awareness, professional ethics and a motivation for life-long learning, to prepare them for a diverse and competitive career.
Master's and PhD programs are built on a core foundation in a design that facilitates mobility between the two programs.
Master's Program in Mechatronics Engineering
Diploma Area Advisor:
The goal of the graduate education in Mechatronics is to integrate basic engineering disciplines into a meaningful program for educating graduates who are conversant with all of the relevant technologies needed to create modern and smart products. The future mechatronics engineer is able to work across the boundaries of constituent disciplines (mechanical engineering, electrical engineering, and computer science) to identify and use the appropriate combination of technologies that provide the best solutions.
Major topics of interest include:
Engineering design methods
Precision engineering and design
Monitoring, modeling and control of manufacturing processes
System dynamics and intelligent control
Industrial control systems
Mobile robotic systems
Embedded system design
Real-time systems design
Power electronics and electric drives
Micro systems design and applications
Sensors and actuators
Modeling and design of environmentally friendly sustainable energy systems
Modeling, design and applications of thermal and fluidic systems
Admission Requirements
Applications for graduate programs are evaluated by the respective Admission Jury along with individual program entries. Admission is finalized by the approval of the related Graduate School Board upon the recommendation of the Jury and announced to the applicants.
Applicants may be called for written exams and interviews. All written exams and interviews are held in English.
Periods for application are announced in Academic Calendar
Your registration will be done upon the approval of Turkish Higher Education Council regarding the equivalence of the last graduated higher institution and the course of study.
Required Documents
Online Application Form: Candidates can apply more than one program via online application form. Separate forms is to be filled for each applied program. Print-out of Completed Application Form should be added to the Application Package. Applicants can either submit the application package including the required documents in person or can send via post to Student Resources. Separate application package is to be submitted for each applied program. All the application documents become property of Sabancı University. It is suggested to keep the original reports of TOEFL, GRE and ALES scores for you, and apply with the copies of those exams.
Official Transcript: Sealed and taken from Student Resources/Affairs of the applicant's university indicating the courses and grades taken.
Two Letters of Recommendation: These should be either submitted online or posted in a sealed envelope. After you complete your online application, an email will be send automatically to your recommenders which you enter to Recommenders part. Recommenders can click the link to write the recommendation letters or give letters in a closed envelope signed and stamped.
One Photograph: If you have already added one photograph to your online application, you do not need to send it.
Result for Graduate Program Entrance Exam: Any of the following science test results baring the min. scores and which are within the validity period: ALES: Numerical ALES min. score 65; GRE : 153 (Scores on the Current Scale); GAT: Accumulative Percentile : %60 (for international student). Photocopies are acceptable for application, but original copies should be submitted during admission. Graduate Program Entrance Exam Results must have been taken no more than: ALES 3 years, GRE 5 years and GAT 2 years.
English Proficiency Exam Result: As the language of instruction at Sabancı University is English, any of the following English Proficiency Exam results baring the min. scores and which are within the validity period: TOEFL: Min. score 80 in Internet-based test; KPDS: Min. score 67; ÜDS: Min. score 67; YDS: Min. score 67; e-YDS: Min. score 67. Photocopies are acceptable for application, but original copies should be submitted during admission. The TOEFL must have been taken no more than 2 years, KPDS, ÜDS, e-YDS and YDS must have been taken no more than 3 years prior to the application to Sabancı University
Statement of Purpose
Degree Requirements: An undergraduate degree is required in order to apply for all graduate (master's and Ph.D.) degree programs. It is possible to apply for PhD programs with only undergraduate or undergraduate + master's degrees. Holders of all major degrees are eligible to apply. An applicant should have an undergraduate or graduate diploma in order to be admitted to a graduate program and a graduate diploma for a doctorate program. Applicants must complete their previous degree programs by the admission period at the latest.
Last updated Feb 2020
About the School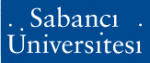 With science, technology, and social structures advancing day by day, the world needs more qualified individuals who possess the knowledge and skills required to pursue a career anywhere in the world. ... Read More
With science, technology, and social structures advancing day by day, the world needs more qualified individuals who possess the knowledge and skills required to pursue a career anywhere in the world. Aware of this pressing issue, in 1994 the Sabancı Group decided to establish a "world university" led by the Sabancı Foundation. The seeds of Sabancı University, the Sabancı Group's most comprehensive social responsibility project in the field of education, were sown in the summer of 1995, at a search conference. Right now, Sabancı University is the highest ranked Turkish university in THE World University rankings and only one of the two Turkish universities that rank in the top 500. Sabancı Holding is a strategic portfolio company that focuses on creating value add with the Group's ecosystem and prioritizes a high-performance culture. Sabancı Group companies currently operate in 12 countries. Sabancı Group has 70 companies and 60.000 employees. These enterprises collectively have also contributed significantly to the development of Turkey's economy. Sabancı Holding's own shares, as well as the shares of its 11 subsidiaries, are listed on Borsa Istanbul (BIST) and constitute 8.1% of total market capitalization of Turkish equity market.
Read less