MSc in Materials Science and Engineering
Home ›
MSc ›
MSc in Materials Science and Engineering
Program Description
Overview
The primary mission of the course is to develop a strong technical understanding of materials science and engineering, preparing you for a career in either materials-related industry or in academic research. Technical lecture information will be consolidated, using data analysis and problem-solving classes, to build critical investigative capability, badly needed in the workplace. Project management skills will also be honed through taught material, research projects and industrial placements, where appropriate.
Materials Science And Engineering Highlights
Professional Accreditations
The course will seek relevant professional accreditation once the first year of the course has been delivered.
World-Class Facilities
The programme is supported by well-equipped laboratories, digital network and computing facilities, library access and lecture rooms. The interdisciplinary nature of the subject means that you will experience materials-related activity in a number of different environments across the Faculty of Engineering and Physical Sciences, in which both fundamental and applied research is done.
"Understanding and controlling the properties of materials is crucial for driving technology forward. This has always been the case: throughout human history, societal developments have relied on the materials used from stone to bronze, to iron and finally to silicon ages. This course will take graduates who have been educated in the physical sciences or engineering and build their knowledge of the fundamental and applied aspects of materials science to the point where they are prepared for employment in materials-related manufacturing or research and development."

Prof Marty Gregg, Course Director for MSc in Materials Science and Engineering
Course Structure
The MSc is primarily intended as a conversion course, for those with primary degrees in the conventional physical sciences (Chemistry and Physics for example) or engineering. Equally, however, it may be used as part of a continuing professional development programme for those already employed in the materials-related industry. The course content gives technical coverage across a wide variety of materials topics.
Research Project
A major component in the MSc will be the successful completion of a materials-related research project and, for those undertaking a professional internship, a successfully completed work-placement in a materials-related industry.
Topics covered
Microstructure and microstructural development;
Mechanical properties of materials;
Functional properties of materials;
Manufacturing and processing;
Polymers and composites;
Materials selection;
Materials characterisation;
Project management and data handling.
Career Prospects
Advanced technology materials-related manufacturing companies are economically extremely significant to both Northern Ireland and the Republic of Ireland. Multinationals, such as Intel, Bombardier, Seagate, Thales and Kyocera have major research, development and production facilities on the island. Such companies employ many thousands and are all keen to ensure a steady stream of technically informed, problem-solving graduates to augment their workforces. Advanced, specialist understanding (beyond BSc level) of how materials properties underpin existing and new commercial activities is key to maintaining the health of these companies and their presence on the island in the future.
Equally, materials-based industries act as major employers throughout the rest of the world, so there is no limitation to career location.
Careers in materials-related research in both academia and industry may be pursued.
Employment after the Course
Examples of employment: Research or Production Engineer; Technical Management; Academic Researcher; Technical Consultant.
Learning and Teaching
Dry Practicals
Associated with each lecture is a "dry" practical. These are sessions in which data analysis or problem-solving challenges can be undertaken. Each class will be designed to reinforce concepts, ideas or techniques explained theoretically in lectures. This will allow students to apply the knowledge gained through "active" learning.
Lectures
Formal dissemination of technical information by expert academic staff forms a key part of the learning and teaching process. Often, the delivery of concepts, ideas and techniques are given in a dense format needing significant individual post-lecture study and reflection.
Self-directed study
This is an essential part of life as a Queen's student when important private reading, engagement with e-learning resources, reflection on feedback to date and assignment research and preparation work is carried out.
Assessment
A combination of class tests, assignment assessment, assessment of each student problem-solving / data analysis portfolio and a dissertation thesis based on a three-month research project.
Entrance requirements
Graduate
Normally a 2.2 Honours degree in a relevant physical sciences or engineering discipline, or an equivalent qualification acceptable to the University.
Applicants who do not meet the above academic requirements but hold relevant professional qualifications or can demonstrate appropriate and relevant experience will be considered on a case-by-case basis.
The University's Recognition of Prior Learning Policy provides guidance on the assessment of experiential learning (RPEL).
International Students
For information on international qualification equivalents, please check the specific information for your country.
English Language Requirements
Evidence of an IELTS* score of 6.0, with not less than 5.5 in any component, or an equivalent qualification acceptable to the University is required. *Taken within the last 2 years.
International students wishing to apply to Queen's University Belfast (and for whom English is not their first language), must be able to demonstrate their proficiency in English in order to benefit fully from their course of study or research. Non-EEA nationals must also satisfy UK Visas and Immigration (UKVI) immigration requirements for the English language for visa purposes.
If you need to improve your English language skills before you enter this degree programme, INTO Queen's University Belfast offers a range of English language courses. These intensive and flexible courses are designed to improve your English ability for admission to this degree.
Academic English: an intensive English language and study skills course for successful university study at degree level
Pre-sessional English: a short intensive academic English course for students starting a degree programme at Queen's University Belfast and who need to improve their English.
Last updated Jul 2019
About the School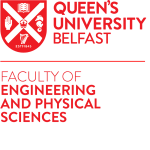 The Faculty of Engineering and Physical Sciences spans disciplines that impact lives today and will shape our future. Our international mix of staff and students make up a vibrant community that is ho ... Read More
The Faculty of Engineering and Physical Sciences spans disciplines that impact lives today and will shape our future. Our international mix of staff and students make up a vibrant community that is home to some of the most innovative and globally significant research and teaching. It works where industry and research meet, providing the platform to spin out research into commercial opportunities and engage with industry on cutting-edge research with real-world projects such as the work with Wrightbus to produce the cleanest hybrid bus technology that powers the London Routemaster, or the pioneering work in The Institute of Electronics, Communications and Information Technology, securing our digital future through their Centre for Secure Information Technologies.
Read less