Program Description
What is special about this course?
There are real challenges for leaders and managers with organisations looking to achieve more while controlling and cutting costs. Leaders need to take on greater responsibility to drive innovation and creativity within their teams, finding new solutions and new ways of working.
If you are already a graduate and have recently taken up a leadership position in an organisation - or are about to do so - you will no doubt be considering whether there is anything else you could be doing to develop and improve your leadership and management skills, especially if you wish to take a more proactive role.
This flexible and high-quality masters programme is designed to help you develop and enhance your leadership skills and knowledge through a structured online learning programme that is highly flexible and delivered by experienced practitioners.
An online induction is held in early September and mid-January each year (depending on your start date) which will introduce you to the online learning environment.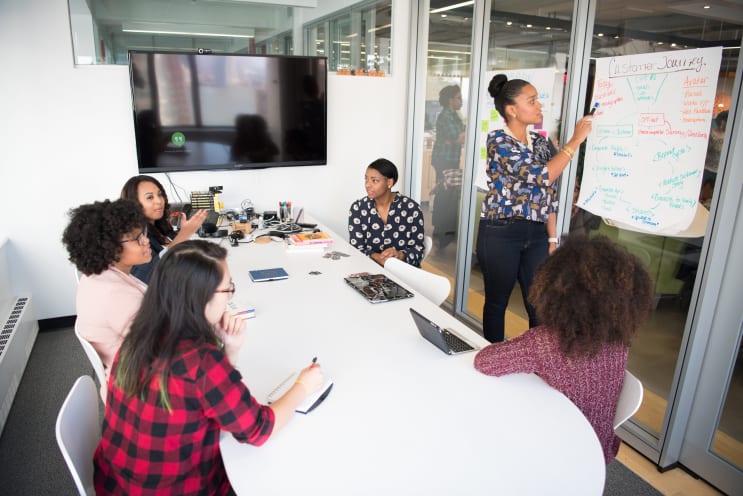 Christina Morillo / Pexels
Special features
Gives you the skills to become a more effective leader
Enables you to work proactively, creatively and collaboratively
You will undertake a major piece of advanced independent work within the area of leadership and management at a strategic level
The course is available to study part-time and online through the university's virtual learning environment (VLE),
enabling you to fit your study around your personal and professional commitments
You can choose to study individual modules for continuing professional development (CPD) or work towards the PgCert, PgDip, or full masters degree
Are you ready..?
We have developed a self-assessment tool which allows you to assess your suitability for studying at Masters level and provides you with a better understanding of the underpinning knowledge and skills you should possess prior to starting on the programme.
Use the self-assessment service
(This will take you to a login page where you will create an account using your email address. This information will only be used for tracking, informing you of your progress, and also resetting your password.)
Work your way through the statements and abilities to receive your results. This should take you around 10 minutes. Results are presented as a spidergram/radar chart. You can review a range of resources related to each of the 12 abilities. You can download all of these or dip in. Once you have had a look at some of the resources, then please complete this very short questionnaire.
Entry requirements
A 2:2 honours degree or above
An ordinary degree will also be considered, along with appropriate professional experience
Candidates with no formal qualifications, who can demonstrate their abilities and engage in continuing professional development, will be considered
You must also be in employment (paid or voluntary), and able to draw upon your working experience in order to complete assignments
*Funding support notice*
Postgraduate Loans (SAAS) (Scottish domiciled and EU students)
Loans for tuition fees are available from SAAS for eligible Scotland domiciled and EU students, and loans for living costs for eligible Scottish students.
Access routes
PgCert Health Leadership and Management (for entry to the PgDip)
CMI Executive Diploma
BA (Hons) Business and Management or any other honours programme with the relevant professional experience
What can I do on completion of my course?
Once you have successfully completed your Leadership and Management course, you will have all the skills, knowledge and experience you need to seek senior management/leadership positions in the public, private and voluntary sectors.
With improved confidence, you will be better equipped to make decisions at the senior level, feel comfortable taking part in high-level meetings and have increased motivation to further your career.
Last updated Jul 2020
About the School
The University of the Highlands and Islands is an integrated university encompassing both further and higher education.
The University of the Highlands and Islands is an integrated university encompassing both further and higher education.
Read less
Perth ,
Shetland ,
Scalloway ,
Kirkwall ,
Thurso ,
Stornoway ,
Dingwall ,
Inverness ,
Elgin ,
Kilbeg ,
Fort William ,
Oban ,
Dungooley
+ 12 More
Less