MSc in Instructional Design, Development and Evaluation
Home ›
MSc ›
MSc in Instructional Design, Development and Evaluation
Program Description
Overview
The M.S. in Instructional Design, Development and Evaluation prepares students to identify and evaluate learning and performance problems and to design, develop, implement, evaluate, and manage appropriate instructional solutions to these problems. Students develop competencies to conduct instructional analysis, make appropriate design decisions, develop instructional materials, implement and evaluate instructional programs, and assess learning. The curriculum includes courses that blend soft technologies (thinking models and theories, strategic planning, IDD&E processes, interpersonal communications, and software) with hard technologies. Through practical projects, students develop competencies to design, create, implement and evaluate non-technology and technology-supported instructional solutions for a variety of educational and professional settings. IDD&E prepares professional practitioners through in-depth study, participation in real-world projects, and small group collaboration.
This degree can lead to career opportunities including instructional designer, training development director, multimedia materials designer, e-learning coordinator, project manager, project evaluator and quality assessment specialist.
Requirements
This program requires 30 credits including 10 required core courses. They are designed to develop your skills and knowledge in all of the defined instructional design competencies as validated by the International Board for Standards for Training, Performance, and Instruction (ibstpi).
The following courses make up the curriculum for the IDD&E Master's degree:
IDE 552 Digital Media Production
IDE 611 Technologies for Instructional Settings
IDE 621 Principles of Instruction and Learning
IDE 631 Instructional Design & Development I
IDE 632 Instructional Design & Development II
IDE 641 Techniques in Educational Evaluation
IDE 712 Analysis for Human Performance Technology Decisions
IDE 737 Advanced Instructional Design (capstone course)
IDE 761 Strategies in Educational Project Management
IDE 772 Educational Technology in International Settings
The program culminated with a portfolio presentation of completed work to IDD&E faculty.
What do I need to Apply?
Bachelor's degree from an accredited college or university
Undergraduate grade point average of 3.0 or better is recommended. However, in reviewing applications, all elements are carefully considered: references, educational record, test scores, honors, work experience, and statement of academic goals.
Application Materials
Graduate Application
Statement of Goals
Three Letters of Recommendation
Official Degree Bearing Transcript
TOEFL for International Applicants
Applications will not be considered for admission until all of the above materials have been submitted online for review. Once an applicant has been admitted, an application for financial assistance is considered.
What is the Application Deadline?
Applications are considered on a rolling basis. Those who wish to apply for a School of Education Scholarship should apply by January 15 for the following fall semester. Applications are considered for Fall, Spring or Summer start dates. Scholarship application questions can be directed to Angela Flanagan at 315-443-4754.
For general information about graduate admissions and study, please contact Speranza Migliore at gradrcrt@syr.edu or 315-443-2505.
Program Contact
Lisa Battalino, Office Coordinator
259 Huntington Hall
(315) 443-3703
Last updated Jun 2018
About the School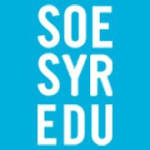 The mission of the Syracuse University School of Education is to prepare thoughtful and socially just leaders who bridge scholarship and practice. Through collaborative partnerships and multifaceted i ... Read More
The mission of the Syracuse University School of Education is to prepare thoughtful and socially just leaders who bridge scholarship and practice. Through collaborative partnerships and multifaceted inclusive approaches, we enhance student learning and success, physical activity and health, and mental health and wellbeing across communities.
Read less