MSc in Information Technologies - Track in Data Science (DS)
Home ›
MSc ›
MSc in Information Technologies - Track in Data Science (DS)
Program Description
This MSc program is aimed at future experts in the design of high-performance support systems for data mining, knowledge extraction, and decision aiding.
This Masters program also offers a gateway to Ph.D. studies.
The Master of Science in IT - specialization in Data Science lasts 2 years referred to as M1 and M2. Both M1 and M2 are organized on our Brest campus. This master is accredited by the French Ministry of Higher Education and Research and fully complies with the EHEA system.
Environment
In the last few decades, companies have accumulated overwhelming amounts of data, be it textual (reports, emails, phone call transcripts, etc.), numeric (sales figures, meteorological data, etc.) or binary (images, audio, sensor data, etc.). Using statistical "data mining" methods, one can detect tendencies, hidden patterns, and knowledge nuggets, and use them to make strategic decisions. This process is of crucial importance in all sectors of activity, and in particular for business, science, politics, security, healthcare, etc.
Competencies Acquired
Thanks to IMT Atlantique's expertise in postgraduate education and research, high-level competencies are acquired not only in technical/scientific fields but also in team working, written and oral communication, innovation and project management.
Last but not least, the French language is also one of the competencies acquired, beneficial for working in France and other French-speaking countries or for French companies abroad.
Course Structure
This is a full-time, two-year course divided into four semesters.
The 1st semester is a common core given in English in Brest.
From the 2nd semester, students can focus on Intelligent Decision Systems (IDS) in Brest or in Statistical Decision Engineering (SDE) in Vannes.
First semester (in Brest)
Basics of computer science
Mathematics & signal processing
Introduction to data science
Networking fundamentals
Bibliographical study
Intercultural workshops
French language (6 hours per week)
Second semester (IDS)
Software & data engineering
Computer science fundamentals
Mathematics and Information theory
An engineering project in working groups of 5 or 6, focused on acquiring project management experience and applying knowledge acquired in coursework
French language (3 hours per week)
Second semester (SDE)
Data mining and machine learning
Duration modeling and survival analysis
Decision support systems and data warehouse
Projects and consulting
French language
Third semester (IDS)
Frequentist Statistics and Probabilistic
Graphical Networks
Information systems applied to decision support
Knowledge engineering
Data, text and Web mining
Decision Aiding
Project in decision support systems
French language (3 hours per week)
During the third semester, the following state-of-the-art software tools are used: SAS, RapidMiner, R, Weka, Diviz, GATE, Python NLTK, and others.
Third semester (SDE)
Complex data modeling
Support vector machine (SVM)
Insurance statistics and analytical marketing
Deep learning and artificial intelligence
Geographic information systems (GIS)
Project in statistical decision engineering
Fourth semester
This semester is spent carrying out a development or research project in an industrial or academic laboratory in France or abroad.
Upon completion of the four semesters, students defend their Master Thesis.

Job Opportunities
Data Miner/Analyst
Analytics Manager
R&D Engineer
Consulting Expert
Decision Support System Designer
Software developer
Business analyst
Researcher and Academic

Admission Requirements
The entry requirements include a first- class Bachelor's degree or a four-year degree in one of the academic topics offered by the Master's course. Candidates have to show an outstanding academic record for their application to be considered.

Costs
Tuition fees for the full 2-year program:
€10,200
€5,200 (Europe and Erasmus zone)
Possible partial fee waivers

Scholarships
Scholarships are available depending on academic record and country of origin (companies, governments, embassies, etc.). It should be mentioned that internships are paid and cover living expenses during the last semester.
Last updated Sep 2019
About the School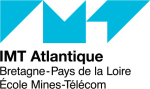 IMT Atlantique is one of the best Graduate Engineering Schools in France. This institute of higher education and research was created through the merger of Telecom Bretagne and École des Mines Nantes ... Read More
IMT Atlantique is one of the best Graduate Engineering Schools in France. This institute of higher education and research was created through the merger of Telecom Bretagne and École des Mines Nantes in January 2017. Its goal is to combine digital technology, energy, and environment in order to transform society and industry, through education, research and innovation. It is located on 3 campuses in the Western part of France: Brest, Nantes and Rennes.
Read less