MSc in Information Technologies - Track in Communication Systems and Network Engineering (CSNE)
Home ›
MSc ›
MSc in Information Technologies - Track in Communication Systems and Network Engineering (CSNE)
Program Description
This MSc program is aimed at future experts for the design and/or administration of high-performance telecommunication networks. This requires a wide range of knowledge including wireless, wired and optical transmission systems, digital communications, network architectures and project management of complex systems. Certain aspects of computer Professionals are therefore multi-field engineers rather than narrowly focused specialists.
This Masters program also offers a gateway to Ph.D. studies.
The Master of Science in IT - specialization in Communication System and Network Engineering lasts 2 years referred to as M1 and M2. Both M1 and M2 are organized on our Brest campus. This master is accredited by the French Ministry of Higher Education and Research and fully complies with the EHEA system.

Environment
Information technologies have led to the new era of communication which in turn has rapidly changed many aspects of society from individual behaviors to the global economy. Numerous services have become very common such as calling and sending emails from almost everywhere, purchasing online, watching digital TV through ADSL connections or via satellite digital broadcast, traveling using GPS, etc. All these applications necessarily rely on fixed and mobile networks that are based on sophisticated telecommunication systems and complex infrastructures.

Competencies Acquired
Thanks to Telecom Bretagne's expertise in postgraduate education and research, high-level competencies are acquired not only in technical/scientific fields but also in team working, written and oral communication, innovation and project management.
Last but not least, the French language is also one of the new competencies beneficial for working in France and other French-speaking countries or for French companies abroad.

Course Structure
This is a full-time, two-year course divided into four semesters:
First semester
Networking fundamentals
Introduction to data science
Basics of computer science
Mathematics & signal processing
Bibliographical study
Intercultural workshops
Intensive French language courses (6 hours per week)
Second semester
Networks: architectures, protocols, IP networks, mobile networks
Computer science: software engineering and object-oriented programming, databases and information systems
An engineering project in working groups of 5 or 6, focused on acquiring project management experience and applying the knowledge acquired in coursework
French language (3 hours per week)
Third semester
Architecture and traffic engineering principles for telecom operators' networks
Wireless transmission systems
Architectures and services for fixed and mobile networks
Network planning, dimensioning and deployment strategies
Architectures and multimedia services
Complex project management
Project in communication system engineering
French language (3 hours per week)
Fourth semester
This semester is spent carrying out a development or research project in an industrial or academic laboratory in France or abroad.
Upon completion of the four semesters, students defend their Master Thesis.

Job Opportunities
Telecommunications project leader
Communication system designer
Network architect
R&D engineer
Sales engineer
Consulting expert
Researcher and Academic

Admission Requirements
The entry requirements include a first-class Bachelor's degree or a four-year degree in one of the academic topics offered by the Master's course. Candidates have to show an outstanding academic record for their application to be considered.

Costs
Tuition fees for the full 2-year program:
€10,200
€5,200 (Europe and Erasmus zone)
Possible partial fee waivers

Scholarships
Scholarships are available depending on academic record and country of origin (companies, governments, embassies, etc.). It should be mentioned that internships are paid and cover living expenses during the last semester.
Last updated Sep 2019
About the School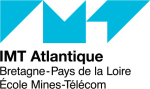 IMT Atlantique is one of the best Graduate Engineering Schools in France. This institute of higher education and research was created through the merger of Telecom Bretagne and École des Mines Nantes ... Read More
IMT Atlantique is one of the best Graduate Engineering Schools in France. This institute of higher education and research was created through the merger of Telecom Bretagne and École des Mines Nantes in January 2017. Its goal is to combine digital technology, energy, and environment in order to transform society and industry, through education, research and innovation. It is located on 3 campuses in the Western part of France: Brest, Nantes and Rennes.
Read less