Read more about this program on the school's website
Program Description
Combining up-to-the-minute theory with practical application, our Masters in Finance will prepare you for a great number of career options.This Masters programme has been devised to give you the opportunity to tailor your learnings to your career aspirations.The programme allows you to mix different areas of finance or specialise in:
Corporate Finance
Energy Markets
Finance & Investment
Programme overview
The practical, theoretical and numerical skills learnt through the programme, as well as the global perspective that will be gained through classroom learning and discussion, will leave you well qualified for a range of finance-related professions. We expect graduates to take up positions with companies like the Big 4, with investment and commercial banks; market and consumer research centres; fund management firms; energy utilities and consultancies; as well as with public sector departments responsible for the finance sector, energy and climate-change policy.
Programme structure
You will take four core courses in the first term (Sep-Dec) and one more in the second term (Jan-May). In the second term, you will also be able to choose to specialise either in Corporate Finance, Energy Markets, or Investment. Alternatively, you can choose a mixture of electives without specialising. The final dissertation is written over the summer term (June-Aug) and is overseen by an academic supervisor. The course is structured to allow you to gain a strong foundation in finance, whilst allowing you to specialise and tailor your studies towards your chosen career path through the choices you make for your second Semester.
Knowledge exchange
The School's location in the UK's second largest financial centre allows students on the Masters to learn from visiting speakers with extensive experience in a variety of areas from Corporate Finance to Investment, such as the CEO of Scottish Financial Enterprise and the Managing Director of the Securities and Investment Institute. Students may also enrol in a student consultancy project, a competitive process where the selected candidates will work closely with companies or businesses to further extend their knowledge of a specific area of expertise. Often, clients may ask you to write a report that may feed into your final dissertation.
Industry links
Our Master's degree benefits from its close partnership with the internationally leading Credit Research Centre, which conducts applied research relevant to all industry stakeholders and the School is also a recognised partner institute by the Chartered Financial Analysis Institute (CFA). This combined with industry engagement through student projects, organised corporate visits amongst other things allows our graduates to develop skills that can be applied to practical challenges faced by organisations and thus allow them to go on to have careers in globally recognised firms such as Pricewaterhouse Coopers (PwC), EY, Standard Life Investments.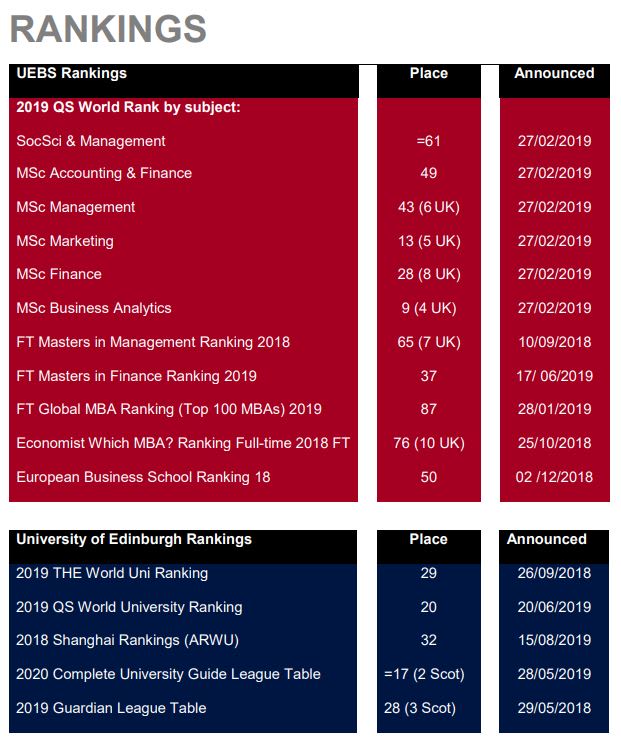 Learning outcomes
The programme enables students to analyse financial statements and to show the links between accounting statements, valuation methods and investment analysis.
Knowledge and understanding
Students will gain knowledge of global financial markets and the finance and investment industry – how different organisations interact, their roles, and factors behind success or failure. Students will learn how to estimate the fair value of an investment, to test assumptions and sensitivities, and to compare different investments.
Students will gain an understanding of the role of different asset classes, their behaviour in isolation and in relation to other asset classes, and an understanding of how portfolios of investments can be constructed and analysed.
Intellectual skills
Students will develop:
Critical analysis skills – an ability to assimilate new knowledge in the field of accounting and finance as well as the capacity to provide critical analysis of the field.
Research skills – an ability to identify and define pertinent research questions, to review the relevant literature, to define a proper methodology and to conduct research in the context of data analysis or experiments.
Discipline - a major difficulty in investment is removing emotion from the decision-making process. Study into behavioural finance shows that the desire of investors to follow consensus, and the ease with which they can misinterpret data, are obstacles to sound decision making. The programme will seek to imbue students with the discipline required to make good investment decisions.
Analytical and numerical skills - an ability to analyse and solve valuation and investment problems, to handle large volumes of numerical data and extract and manipulate relevant data in a meaningful manner.
Professional/subject-specific/practical skills
Students will develop:
An understanding of accounting, investment and risk management tools and databases such as Datastream, Reuters 3000Xtra, ThomsonOne Banker, CRSP, COMPUSTAT, London Share Price Database and WRDS.
An ability to: analyse and interpret financial data (such as financial statements), and to evaluate earnings quality and firm performance through individual and collaborative projects.
An understanding of analytical and problem-solving methods through the use of techniques such as discounted cash flow analysis.
Transferable skills
These include enhanced numerical skills and fluency in spreadsheet use and the ability to communicate challenging material both orally and in writing.
Entry requirements
Entrance to our MSc programmes is strongly competitive. You can increase your chances of a successful application by exceeding the minimum programme requirements.
Academic requirements
You will need a UK first-class or 2:1 honours degree in one of the subjects below, or an equivalent overseas qualification.
Academic background
An undergraduate degree in accounting, finance or a related discipline is normally required.
Degrees in quantitative disciplines (e.g. economics or mathematics) or business studies will be considered if you can demonstrate a strong background in accounting and finance throughout your degree.
Supporting your application
You should be able to demonstrate some evidence of mathematical ability.
Relevant work experience is not required but may increase your chances of acceptance.
Relevant professional qualifications will be considered.
Preference will be given to those with grades above the minimum requirements due to strong competition for places on this programme.
Applications from current undergraduates
Final year undergraduate students are welcome to apply, so long as your studies will be completed prior to the MSc programme commencement date.
Last updated Aug 2019
About the School
At the heart of a university with a 400 year heritage that is consistently rated one of the world's best, and centrally located in one of Europe's most stunning business and cultural capitals the Univ ... Read More
At the heart of a university with a 400 year heritage that is consistently rated one of the world's best, and centrally located in one of Europe's most stunning business and cultural capitals the University of Edinburgh Business School offers an experience that few can rival.
Read less