Program Description
Why this course?
In today's unpredictable financial markets, strategic financial decisions and policies frequently need to be considered in relation to various legal requirements and constraints.
Business people increasingly need to have an understanding of the financial and accounting principles which underpin and inform the legal regulation of financial institutions, financial instruments and financial markets.
Consequently, finance graduates who also have a strong legal knowledge will be very attractive to a range of financial institutions and other organisations, both in the UK and overseas.
This joint masters programme between the Department of Accounting & Finance and the Law School addresses this skills gap in the global market by introducing students to both the legal aspects of regulation of international finance as well as to principles of accounting and finance.
You'll study
The programme comprises both core and optional classes in finance and law.
It aims to provide students with a number of key learning outcomes:
To understand the core elements of financial theory and corporate financial theory.*
To understand key elements in financial law and regulation including the private law in respect of the structuring of individual transactions and the public law relevant to regulation of financial markets and institutions from the perspective of UK, EU and international law.*
* Students will have the option of developing skills in various specialist areas in finance or business and commercial law.
The programme also facilitates the development of various cognitive skills and non-subject specific skills.
You'll learn the ability to:
reason systematically
critically analyse and evaluate arguments
utilise quantitative techniques
work on an independent and group basis
structure and resolve problems
take decisions in complex situations
exercise judgement in taking decisions in the absence of complete information and understanding
use software packages; and, communicate and present ideas effectively
Major projects
Students are required to complete two academic research projects – one in finance and one in law.
Facilities
Strathclyde Business School has undergone a £23.2 million transformation to locate departments in a single business quarter and provide state-of-the-art teaching facilities for our staff and students. The major refurbishment includes two new 100-seat lecture theatres, tutorial rooms for up to 40 people and smaller break-out rooms.
All postgraduate finance students will gain substantial exposure to appropriate databases including Datastream, SDC Platinum, and Bloomberg, as part of their studies.
Course awards
This newly offered programme shares several common elements with our world-class programme MSc in Finance, currently ranked 28th in the world by Financial Times. About two-thirds of the syllabus are in common with MSc in Finance programme and students will be studying several classes together with the students of MSc in Finance programme.
Guest lectures
To enhance the learning experience and allow students exposure and engagement with industry, an ongoing series of guest lecturers from relevant professions and organisations will be on offer.
Entry requirements
UK students are required to have a good honours degree (2.1 preferred) or equivalent in economics, accounting, business studies, maths, statistics, computing, or related subjects, or an equivalent professional qualification.
Overseas students' qualifications will be judged on an equivalent basis.
Careers
The international market for graduates in finance continues to expand, but the opportunities for employment with the better known financial institutions remain competitive.
The employability of those finance graduates who can also demonstrate a good knowledge of the law will be enhanced, and prove to be very attractive to those organisations, financial institutions and law firms, involved in financial decision making and the resolution of financial issues.
Last updated Sep 2019
About the School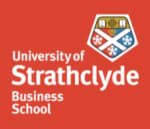 Strathclyde Business School(SBS)is a pioneering, internationally renowned academic organisation that shapes anddevelops the business minds of tomorrow. Strathclyde is one of a small percentage worldwi ... Read More
Strathclyde Business School(SBS)is a pioneering, internationally renowned academic organisation that shapes anddevelops the business minds of tomorrow. Strathclyde is one of a small percentage worldwide to be triple accredited, holding accreditation from the international bodies, AMBA, AACSB and EQUIS.
Read less
Glasgow ,
Athens ,
Zürich ,
Singapore ,
Dar es Salaam ,
Manama ,
Kuala Lumpur ,
Petaling Jaya ,
Muscat ,
Muscat ,
Dubai ,
Abu Dhabi ,
Milan ,
Munich ,
Beijing ,
Toulouse
+ 15 More
Less