Program Description
About the course
The course is delivered at University Centre Myerscough and awarded by the University of Central Lancashire.
The MSc Equine Science develops a systematic understanding and a critical awareness of current issues at the forefront of equine science. Enhancing the student's understanding of techniques applicable to research and scholarship in equine science, the course encourages the original application of knowledge to address complex issues.
This MSc Equine Science, awarded by the University of Central Lancashire, recognises the multidiscipline approach of the subjects. The course aims to extend the student's existing expertise to the full range of skills and knowledge required to inform and lead industry developments. The MSc will encourage debate and critical evaluation of industry practices and research within this field. The course will enable students to reflect on current issues and develop problem-solving skills which encourage originality of thought.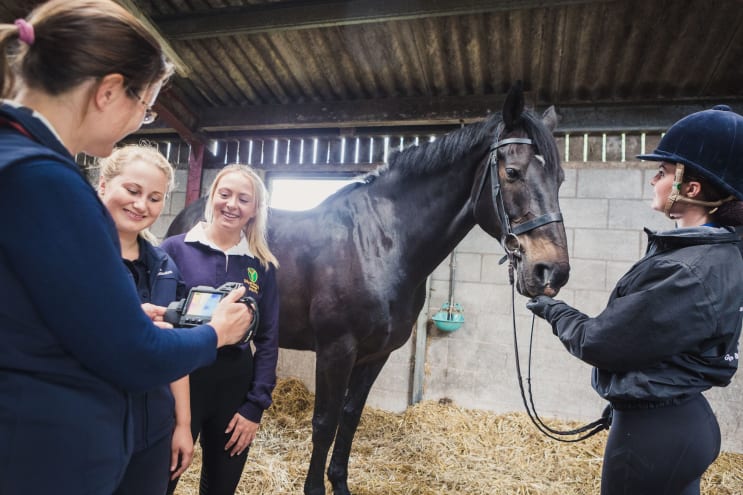 Entry requirements
Applications are sought from individuals possessing a minimum of Lower Second Class (2.2) Honours Degree (or equivalent) in related subjects such as Equine Science, Equine Management, Equitation Science, Animal Science and Biology. Candidates not possessing an Honours Degree at the above grade but with relevant professional qualifications and experience will be welcomed. All non-standard applicants will be interviewed to assess suitability for the course.
Career experience with evidence of study skills may also be considered. Consideration will be given to non-traditional qualifications and relevant work experience. Applicants are encouraged to produce evidence of their potential to benefit from the course. Applicants who believe they may be eligible for Accreditation of Prior Experience/Learning (APE/L) for certain modules will be considered on an individual basis. Applicants whose first language is not English will be required to have an English qualification to IELTS 6 or equivalent.
Learning and assessment
Learning Environment:
This course makes the most of the extensive equestrian facilities on site including a wide range of horses, large indoor and outdoor arenas and specialist therapy and research equipment. Students will also have access to specialist IT hardware and software as well as to Myerscough's virtual learning environment. Learning activities on the course are diverse, including lectures, seminars, tutorials and workshops. Students will be expected to undertake an extensive independent study and research to support lectures, seminars and assessments.
Assessment:
Students will face a variety of assessments, including written reports, essays, literature reviews, examinations, dissertation, research proposal and presentations.
Additional Information:
Study trips are organised to supplement the learning in specific modules. Examples include veterinary centres, laboratories, race yards and competition training yards. Students are also strongly encouraged to attend research conferences, including Myerscough's Annual Research Conference. Guest speakers also visit.
What work experience can I get?
There is no formal work placement on this course.
Other Opportunities
Students are encouraged and supported to submit their research to relevant journals or conferences, subject to the successful application for scholarship funding or self-funding.
Careers
The course prepares students to enter a diverse range of equine careers, including some within the following areas of the equine and associated industries:
Research
Commercial
Nutrition
Pharmaceuticals
Laboratory staff
Welfare
Educations
Breeding
Media
Government organisations
Special requirements
Extra Costs:
Additional costs for items that are essential for the course include:
Jodhpurs (plain navy or black), Riding Hat, Hair Net, Gloves - £90
Laboratory Coat - £10
College Polo Shirt, Sweatshirt and Jacket (or plain navy or black) - £80
Strong Boots or Wellingtons for Yard Work - £30
Additional costs for opportunities and items that are optional for the course include:
If Riding: Long and Short Whip, Non-Suede Gaiters, White Shirt and Tie - £75
If Jumping; Body Protector - £70
Field Trips and Visits (including possible overseas trips) - £400
Last updated Jan 2019
About the School

Myerscough is one of the UK's largest land-based and sports colleges, offering degrees in more than 20 exciting subjects. We work in partnership with the University of Central Lancashire and are among ... Read More
Myerscough is one of the UK's largest land-based and sports colleges, offering degrees in more than 20 exciting subjects. We work in partnership with the University of Central Lancashire and are amongst the top UK institutions in the sector for student satisfaction - helped by exceptional resources and a unique countryside location. Our QAA Higher Education Review puts us amongst the top institutions in the country for quality learning opportunities and good practice teaching. We are very proud that 97% of Myerscough degree students progress to further study or employment.
Read less