MSc in Environmental Engineering (campus attendance & distance learning options)
Home ›
MSc ›
MSc in Environmental Engineering (campus attendance & distance learning options)
Program Description
MSc in Environmental Engineering
Closely aligned with industry's demands, this course meets the needs of:
urban regeneration
environmental protection
infrastructure investment portfolios in Scotland and worldwide
A distinctive feature of this course is its highly topical nature. Glasgow has been undergoing extensive urban regeneration. This included building on land that's been contaminated in the past. You'll have challenging 'real world' issues to study close to the University.
This MSc provides the knowledge and skills to equip you for a career in either environmental engineering or science.
You'll study
You'll follow a curriculum of five core classes and a wide range of optional classes. Each class is taught for two to three hours per week over eight to 12 weeks.
Following successful completion of the taught component, you'll undertake a dissertation from June to August. In addition to the dissertation topics proposed by course leaders and industrial partners, you may propose topics that can be of relevance to your employer.
For the part-time study, the modules can be taken over two years (attending classes typically one day per week) with the dissertation completed in Year 2 or 3.
Work Placement
As part of the class Independent Study in Collaboration with Industry, you can apply to work with industry projects.
Facilities
Our laboratory facilities are well-equipped for a wide range of environmental measurements. High-technological instrumentation and space are available to investigate:
environmental microbiology and molecular biology
environmental and analytical chemistry
air pollution monitoring
soil mechanics and quality
ecotoxicology
Course content
Compulsory classes
Environmental Chemistry
Principles of Environmental Microbiology
Research Protocols for Science & Engineering
Site Investigation & Risk Assessment
Waste Management & Landfill Design
Elective classes
Choose seven from this list:
Air Pollution, Climate Change & Human Health
Contaminated Land
Environmental Impact Assessment
Environmental Law
Environmental Pollution Management
Fundamentals of Environmental Forensics
Geographical Information Systems (GIS)
Global Water Policy
Hydrogeology
Pollution and Rehabilitation of Degraded Ecosystems
Water & Environmental Management
Independent Study in Collaboration with Industry
Water & Wastewater Treatment Design
Entry requirements
First or upper second-class Honours degree from a UK university (or equivalent overseas qualification) in engineering, earth sciences, environmental management or a background in the chemical, physical, biological or mathematical sciences.
Students with a lower Second-class Honours degree will be considered with relevant experience.
You'll need two supportive academic references and/or appropriate professional experience or achievements.
For candidates whose first language is not English, minimum standards of English proficiency are an IELTS score of 6.5 (no individual test score below 5.5). Applicants with slightly lower scores have the opportunity to attend the University's Pre-Sessional English classes to bring them up to the required level.
English Language Requirement
IELTs 6.5 or equivalent
Last updated Sep 2019
About the School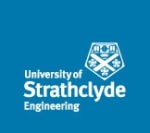 Our Faculty of Engineering is the biggest in Scotland. We're also one of the largest, best equipped engineering faculties in the UK.
Our Faculty of Engineering is the biggest in Scotland. We're also one of the largest, best equipped engineering faculties in the UK.
Read less