MSc in Entrepreneurship - New Business
Home ›
Master ›
MSc in Entrepreneurship - New Business
Program Description
Introduction:
The MSc in Entrepreneurship- New Business links contemporary theory and practice and is designed for students who intend to start and run high impact, innovative businesses. In the current global economic environment, there is a pressing need for students to learn how to manage in dynamic, uncertain and entrepreneurial environments. This course will provide students with the essential knowledge, competencies and reflective skills necessary for a rewarding career in today's dynamic and challenging environments, also merits for its single-minded focus on giving the student knowledge, skills, and network to start up a business successfully. This course is suitable for graduates from all backgrounds and will provide with the management skills, entrepreneurial qualities, and networking opportunities to enable the student to start and run businesses effectively and imaginatively.
In summary, this course is suitable for anyone who:
Wishes to start a business now. This course helps the students with the development of their idea.
Wishes to do a business carrier in any organization by learning the skills of researching and developing business ideas.
Master Degree Curriculum in Entrepreneurship - New Business
The Master of Entrepreneurship - New Business requires completion of 32 credits, with 14 credits in the core courses, 10 credits in the specialty courses, 4 credits in the elective. The program requires completion of a thesis of 4 credits. Admitted students with a different undergraduate degree are also required to complete a few credits of leveling courses which prepare such students for success in the Master of Entrepreneurship- New Business, these courses do not count toward the degree.
A minimum GPA of 14 over 20 must be maintained for graduation. Students must write and defend a final thesis. The curriculum is intended to be completed in four semesters. This program is taught in English
Leveling Courses (not applicable to the degree)
The Master in Entrepreneurship- New Business assumes a B.Sc. degree in related fields. After admission, any student holding any other undergraduate will be required to complete the leveling courses, determined by the advisory board of the program, that is designed to provide a background for the Master courses. These leveling courses are not counted for graduate credit towards the Master degree.
Leveling Courses: 9 courses may be required, 18 credits at most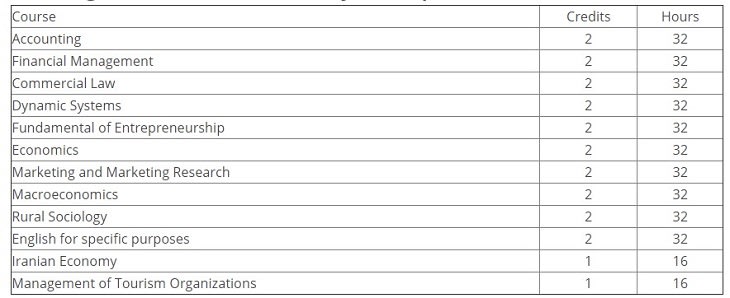 Core Courses: 7 courses required, 14 credits
The core curriculum is designed to provide students with a deep and broad foundation that serves throughout their career.

Specialty courses: 5 courses required; 10 credits
The purpose of this component of the curriculum is to provide each student with the opportunity to acquire knowledge and capabilities in New Business which extend the fundamentals developed in the core courses to more advanced and specialized areas of Entrepreneurship.
Elective courses: 2 courses required, 4 credits

Thesis: 4 credits
The research work for the thesis is supervised by one of the department members. The thesis must be written and defended within the second calendar years after admission into the Master program. The Thesis Committee will consist of a Chair and at least two other academic referees.
Last updated Mar 2018
About the School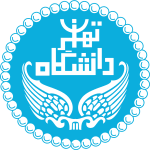 Kish International Campus was established in 2007 in order to facilitate the enrolment of foreign students.
Kish International Campus was established in 2007 in order to facilitate the enrolment of foreign students.
Read less