MSc in Entrepreneurship, Innovation & Technology
Home ›
MSc ›
MSc in Entrepreneurship, Innovation & Technology
Program Description
Why this course?
According to Wired magazine, some of the most dynamic and exciting career opportunities can currently be found in the startup and small business sectors. An increasing number of graduates are choosing to work for innovative entrepreneurial ventures rather than pursue more traditional graduate jobs. The Strathclyde MSc in Entrepreneurship, Innovation & Technology places graduates ahead of the curve when it comes to possessing the skills and knowledge required to make an impact in this fast-moving and rapidly evolving jobs market.
Delivered over a 12-month period, the MSc Entrepreneurship, Innovation & Technology is a highly practical, career-focused programme that addresses the global demand for talented entrepreneurs and those working for entrepreneurial ventures.
The ethos of the course is that rigorous cutting-edge theoretical knowledge must be combined with a special focus on developing the practical skills required to engage successfully in entrepreneurial activity. As a student on the course, you'll be embedded in one of Europe's leading technological universities and will have deep engagement with a dynamic innovation ecosystem.
Through a unique virtual incubation programme, in conjunction with the University of Waterloo in Canada, you'll gain direct exposure to Canada's world-leading Technology Triangle.
What you'll study
The programme involves a mix of theory and practical tool-based modules alongside a unique set of innovative 'lab' sessions that focus on developing specialist hard and soft skills.
The degree is split into three sections that are reflective of a real-world startup scenario:
Ideation: In semester one, you'll focus on creativity, opportunity recognition and data analysis skills
Road Testing: In semester two, attention will turn to establishing a new venture and ensuring the market viability of a prototype product/service
Commercialisation: In the final semester, you'll work on a detailed innovative project in collaboration with Waterloo University, Canada, to simulate bringing a product to market.
Major projects
The MSc Entrepreneurship, Innovation & Technology degree contains a unique 60 credit hands-on project that is run in partnership with the University of Waterloo. During this project, you'll work on an innovation challenge and will apply the tools and techniques you've practiced over the previous year. Using Waterloo's Virtual Incubation Platform, you'll pitch to experienced venture capitalists and other potential investors in the UK and Canadian ecosystems.
Student Competitions
You'll be expected to participate in national and international entrepreneurship and innovation prizes. Strathclyde University has a strong track record of success in various prestigious competitions and there are considerable free support networks in place to help students with their entries.
The Hunter Centre for Entrepreneurship will provide a special university prize award for the best project.
Strathclyde Entrepreneurial Network
The University of Strathclyde is home to the Strathclyde Entrepreneurial Network, a global support network for current students and graduates. The network has supported many internationally successful student and graduate businesses and yours could be next!
Entry requirements
First or second class Honours degree, or equivalent, in any subject.
There's no requirement for prior work experience.
English language requirements
For applicants whose first language isn't English, an IELTS minimum overall band score of 6.5 (with no individual test score below 5.5) is required.
Careers
Graduates from the MSc Entrepreneurship, Innovation& Technology are expected to find employment in a variety of exciting roles. This may involve:
establishing a startup
working in an entrepreneurial ecosystem support role
taking over a family business
working for a high-growth SME
Last updated Sep 2019
About the School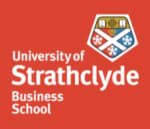 Strathclyde Business School(SBS)is a pioneering, internationally renowned academic organisation that shapes anddevelops the business minds of tomorrow. Strathclyde is one of a small percentage worldwi ... Read More
Strathclyde Business School(SBS)is a pioneering, internationally renowned academic organisation that shapes anddevelops the business minds of tomorrow. Strathclyde is one of a small percentage worldwide to be triple accredited, holding accreditation from the international bodies, AMBA, AACSB and EQUIS.
Read less
Glasgow ,
Athens ,
Zürich ,
Singapore ,
Dar es Salaam ,
Manama ,
Kuala Lumpur ,
Petaling Jaya ,
Muscat ,
Muscat ,
Dubai ,
Abu Dhabi ,
Milan ,
Munich ,
Beijing ,
Toulouse
+ 15 More
Less