MSc in Engineering Systems and Management
Home ›
MSc ›
MSc in Engineering Systems and Management
Program Description
The degree of Master of Science in Engineering Systems and Management (M.Sc. in ESM) is awarded for successfully completing the requirements of a program of study, which includes taught courses as well as a written thesis. The thesis is an independent investigation of specialized areas within the general field of Engineering Systems and associated disciplines. The M.Sc. in ESM is an interdisciplinary program that brings together experts in engineering, design, economics, management, and policy to teach and undertake research into large-scale complex systems and contribute to the process of discovery and knowledge creation through the conduct of original research.
The mission of the Master of Science in Engineering Systems and Management Program at KUST is to create corporate and government leaders that can effectively deal with global energy and sustainability challenges that involve large scale systems. The M.Sc. in ESM graduates are trained in strategy, industrial operations, operations research, and systems thinking. As such, they will be ideally positioned to take leadership positions in the private or public sector and guide research and implementation of advanced technologies and optimize the operations and design of complex systems. Research may be undertaken in several topics corresponding to the areas of focus identified by the University.
Objectives
The Master of Science in Engineering Systems and Management program will meet its overarching goals. These goals (objectives) are the same ones that were accredited by CAA in 2010, as the ones to educate its graduates professionally and ethically to be valuable professionals in the UAE and internationally with disciplinary preparation that imparts the following:
Ability to identify and respond to complex engineering systems problems (involving technical and socioeconomic components).
Ability to apply advanced systems analysis tools in a multi-disciplinary setting in order to bound, plan, analyze, design and implement solutions to engineering systems problems, while advancing professionally and be recognized as leaders in their chosen fields.
Understanding of the complex interactions between the engineering system solutions and their implications on larger scale (regional, national, global) technological, economic, societal and environmental systems with a view on long-term sustainability.
An understanding of the value of technical and scientific scholarship, service to society, leadership and life-long learning required to further their career aspirations in support of the needs of the community.
Student learning outcomes
Stemming from the overarching goals, the M.Sc. in the ESM program aims to fulfill the following set of outcomes:
Successfully apply appropriate combinations of advanced concepts of engineering, economics, system theory, management and policy to identify, formulate and address engineering systems problems, and acquire knowledge of contemporary issues in the field of engineering systems and management.
Successfully use advanced system analysis, operations research methodology, data management, and design tools (e.g. optimization, simulation, architecture, statistical analysis, surveys, applied principles and heuristics, etc.) to design, develop, implement, integrate and improve systems and processes, and make educated objective decisions.
Understand and apply the relationships between the management tasks of planning, organization, leadership, control, and the human element in production, research, and service organizations along with an understanding of and dealing with the stochastic nature of organizational systems.
Assess the direct and indirect impact of engineering solutions on sustainable development (e.g., economic, environmental, and social factors) with a focus on engineering systems contemporary issues such as energy and health care delivery systems, while developing an aptitude for continuous improvement.
Use appropriate advanced methods to design, conduct and analyze experimental studies and manage data for engineering systems with a strong sociotechnical component.
Communicate effectively in written and oral form, both, individually and as a member of a multidisciplinary team, while conducting research, documenting and defending the research results.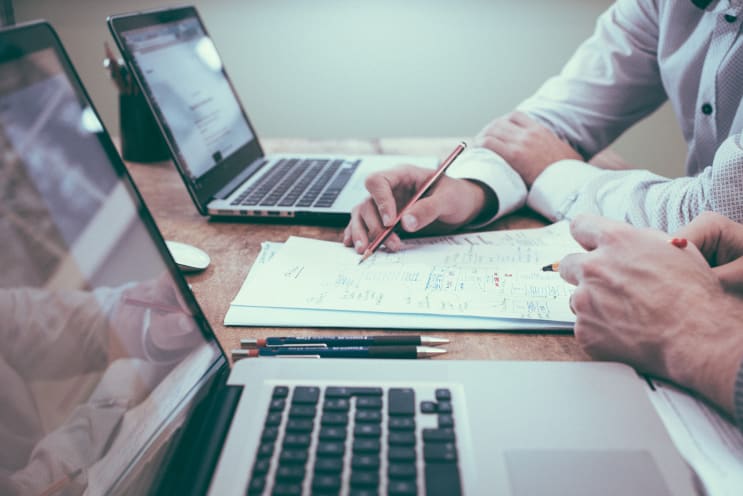 Helloquence / Unsplash
Overall structure and requirements
The M.Sc. in Engineering Systems and Management (ESM) program consists of a minimum of 36 credit hours. The required program credits are distributed as follows: 12 credits of Program Core courses, 12 credits of elective courses, and 12 credits of ESM Master's Thesis work. A student may organize the selection of the elective courses and the master's thesis topic to follow a specialization track within the broad field of ESM. In such cases, the track will be noted on the student's transcript. The table below presents a summary of the M.Sc. in ESM degree program structure and requirements. All the M.Sc. in ESM program courses, with the exception of the Seminar in Research Methods and the Master's Thesis, have a credit rating of three credits each.
Summary of M.Sc. in ESM Degree Program Structure and Requirements
| | |
| --- | --- |
| Category | Credits Required |
| Program Core | 12 |
| Seminar in Research Methods | 0 |
| Technical Electives | 12 |
| ESM Master's Thesis | 12 |
| Total | 36 |
Admission requirements
Completion of a Bachelor's degree in a relevant discipline with a minimum Cumulative Grade Point Average (CGPA) of 3.0 out of 4.0, or equivalent (e.g. upper second-class honors in a UK-style degree, from a reputable accredited institution).
A minimum level of English proficiency in the form of either:

iBT TOEFL (internet-based test) score of 91 or equivalent, or
Overall academic IELTS score of 6.5, or
1550 EmSAT English score.

A minimum quantitative score of 150 in the general Graduate Record Examination (GRE) is required for admission to all programs, with the exception of Master of Engineering in Health, Safety and Environment Engineering and the Master of Arts in International and Civil Security, where a minimum threshold is not set. Applicants for all programs should attempt all three sections of the GRE.
A minimum of two referee recommendations (provided via online form).
Statement of purpose (500-1,000 words).
Admission interview.
Last updated May 2020
About the School
The internationally top-ranked Khalifa University is the one university in the UAE with the research and academic programs that address the entire range of strategic, scientific and industrial challen ... Read More
The internationally top-ranked Khalifa University is the one university in the UAE with the research and academic programs that address the entire range of strategic, scientific and industrial challenges facing the UAE's knowledge economy transformation and our rapidly evolving world. Its world-class faculty and state-of-the-art research facilities provide an unparalleled learning experience to students from the UAE and abroad. The university brings together the best in science, engineering and medicine in the UAE, to offer specialized degrees that can take promising high school graduates all the way to top-rated doctorate degree holders.
Read less