Program Description
MSc in Economics and Business - Specialization in Marketing
A top-notch distinctive programme to prepare you for future marketing challenges
Our distinctive Marketing programme brings you the latest insights and newest techniques in economics and marketing. It's evidence-based and covers everything from target market selection, segmentation and positioning to quantification of marketing effectiveness. In an age where accountability matters, and where your ability to use data and your flexibility to use new media to reach consumers is crucial, obtaining a marketing degree at ESE will put you ahead of other graduates.
In several courses and electives you address marketing issues in theory and practice in preparation of the challenging interactive seminars. Topics vary from branding to marketing analytics, innovation, neuromarketing, and global marketing strategy. A thesis completes the programme: your prelude to a successful career.
Be at the forefront of a marketing revolution
The marketing department of the Erasmus School of Economics is arguably the top marketing science group in Europe (by all measures). The department has trained more current and former top executives than any other marketing group in the Netherlands, because of the intellectual rigor and the practical experience you gain during the programme. This is where you start.
Careers
After graduation you have a broad set of options to start your career. Graduates find themselves working in a variety of industries and countries. Our curriculum is designed to develop expertise in three key areas: product & brand management, marketing analytics, sales & account management. Throughout the programme you develop the marketing and leadership skills to realise your goals over your entire career, whether it be in a marketing job, as a consultant, entrepreneur or executive manager.
Examples of multinational companies that typically hire our graduates:
product/brand manager in a variety of industries (e.g.: Philips, Unilever, Nestlé, Pfizer, IBM, Microsoft)
marketing analytics expert or market researcher in consulting firms (e.g., McKinsey, BCG, VODW) and in multinationals (e.g., Google, KPN)
sales & account manager in companies, such as P&G, Unilever, ABN-Amro
a start-up entrepreneur who develops new products that cater to consumer needs
"It's here, the next generation of marketers is educated"
Curriculum
The Master's specialisation in Marketing consists of core courses, seminars, electives and a Master's thesis distributed over five blocks of eight weeks.
Three core courses of 4 credits each will introduce you to a wide range of topics that are essential to become an all-round marketeer, and that provide a solid background for the seminars.
Seminars are the most important component of the Master's specialisation. For these intensive courses, active participation and strong commitment is a prerequisite. Students are expected to present excerpts of literature or case applications, ask questions, express doubts, and share ideas in class discussions. The seminar in block 2 (12 credits) involves a marketing strategy simulation game to teach students about market research and its connection with marketing strategy decision-making.
In block 3 you can choose a seminar that you like in order to specialise in a topic of your interest (e.g., marketing analytics, global marketing).
In block 4 students choose two electives (4 credits) taught by the Marketing Department and one other Economics and Business Master's course (4 credits).
Erasmus Research & Business Support (ERBS) offers job market preparation sessions in block 5. Among other things, these sessions ensure that you have an accurate view of the labour market, knowledge of selection instruments that are used by many organizations to judge the qualities of candidates, insight into your own strengths and weaknesses, how to prepare for interviews, and how to evaluate job offers and negotiate. The sessions provide a realistic view and approach of the job market, thus giving students the tools to get hired for their perfect job.
While you have to start early December, the last two blocks of the programme are especially devoted to the Master's thesis. The thesis is written individually under close supervision of one of our academic staff members. 
Testimonials
Paul Standaart
'This study gave me the best possible preparation for working in the marketing field'
Marketing at the Erasmus School of Economics
The master programme of Marketing at the Erasmus School of Economics gave me a solid foundation of knowledge about different aspects of the Marketing field. The combination of theory and models, combined with practical cases, gave me very helpful insights into the marketing field. It really helped me to apply theoretical knowledge into practice. This hands on experience prepared my very well for my current job. Especially the course Sales and Account Management was heavy in gaining experience and was directly helpful as working as a junior marketer in a large international company.
Broadening your studies
Next to the official curriculum study association MaEUR offers a broad range of activities to develop your social and soft skills even further. I was part of the committee that organised the International Research Project where we went to Dublin, London, Munich and Berlin with a group of students while doing research for an investment company.
During this experience I definitely profited from the knowledge the master taught me. However, every research is different and you always have to adjust in order to get the best results. This became very clear when we needed to manage all stakeholders' expectations and their interests. The experience was highly relevant and helped me during my career as well. Because I was so inspired by this project, I spend my last year at the Marketing Master as president of MaEUR. That experience definitely broadened my horizon and I learned even more!
Career
Currently I am a National Account Manager at Beiersdorf. It is a sales position, so I am responsible for creating new business opportunities and building foundations for future collaborations for Beiersdorf. My job requires me to keep close contact with buyers of several big accounts and to see how we can grow the businesses together in mutually beneficial deals. Before my current job, I worked at Mondelez International where I fulfilled several marketing roles; in my last job at Mondelez, I was responsible for the marketing of Côte d'Or tablets in the whole Benelux. This included creating new Marketing plans, analysing of the market and portfolio and to translate strategy into 360° activation.
Lidia Lüttin
'This master enabled me to think practically and see which issues real marketers face.'
Why choose marketing
In my experience, you really need to learn how to work with data if you want to become a marketer of a tech brand. Besides the creative part, a lot of marketing now is based on data, so you need to be able to read, analyse and interpret the numbers and make a plan based on that. Initially, marketing seems to cost money, but with data you can prove a positive return on investment. So if you're interested in data, marketing is a very interesting study choice.
Marketing at the Erasmus School of Economics
What I liked about studying Marketing at the Erasmus School of Economics is that we had a lot of cases regarding real world companies. This enabled me to think practically and see which issues real marketers face. I said before that being able to deal with data is important, so this is also emphasized in the study, along with marketing research. I never liked statistics before, but after the program, I now quite like it. I think those two elements are the main characteristics and strong points of the Marketing program of the ESE.
Furthermore, there are many international students and the group is not excessively large. I did my bachelors in Germany where we had classes of 800 people, while at the ESE I actually knew everyone in my year. Also, it was always possible to talk to professors and discuss issues with them, which made the experience personal.
How my study has helped me in my career
Currently, I am the Chief Marketing Officer of Bynder. Bynder is not really well known among students yet, but we're working on that! Bynder develops software that allows marketers to create, find and use their marketing conference. When I joined Bynder after my studies, it was still a tech start-up with only 5 employees and I was the first marketer. Now, Bynder is in the scale-up phase and already has over 200 employees. I am responsible for a marketing department of 22 people who are busy with creating leads, promotions, brand building etcetera. It is a really cool job! Our clients are brand managers and marketers of other firms, so I really need to know how a marketer thinks. The master definitely prepared me well for this!
Paul Schuilwerve
'This master provided a solid footing from which I have benefitted during my career'
Why choose marketing
As a marketer you should have as an intrinsic value the need to put the customer centre stage. This is important in any marketing career, whether this is in the area of consumer-, capital goods or the service industry. This requires skills in areas such as marketing research, management and strategy. Furthermore to be successful, the marketer needs to be a good communicator, team player and effective in collaboration with other stakeholders in an organisation.
Marketing at Erasmus School of Economics
The Master's degree in Business Economics with a specialisation in Marketing has been extremely useful during my career. It has provided a solid footing from which I have benefitted during my career. In my day-to-day work various elements of the programme continue to be used. This has been a benefit in building our client business, making assessments and decisions on risks and rewards. I continue to find marketing to be inspirational and find fulfilment when customers are satisfied about the products and services we are able to provide. Having the customer centre stage in whatever business we are in remains a fundamental principle.
How my study has helped me in my career
Looking back, the CBV Michigan MBA Summer Course was probably an experience that had a significant influence on the career steps that I made. During the exchange programme at Michigan State University, company visits were made to sponsors of the programme, such as Proctor & Gamble, NCR, Kodak and ABN AMRO/LaSalle. The visit to LaSalle Bank in Chicago demonstrated that marketing was embraced within the banking sector with presentations on product-life cycles and client segmentation. At that time in the Netherlands, marketing within the financial industry was still at an infant stage. In hindsight, the visit to the trading pits at the Chicago Board of Trade and the luncheon on the 99th floor of the SEARS Tower (now known as Willis Tower) and the advice to read Anthony Sampson "The Money Lenders", have made an important impact on the career choice I made.
During my career I have always kept a passion for marketing and advertising and this has helped in building a strong franchise with high-quality market recognition for the bank. Awards that were won in this period included a number of times Best Commodity Bank. My marketing background has also been an important asset in the directorships for companies such as Singapore Flyer, International Chamber of Commerce Netherlands, Netherlands Council for Trade Promotion (NCH) and Fenedex.


Cost & Fees
€2.060 EEA/EU students*
€14.700 NON-EEA/EU students**
*This is the statutory tuition fee for Dutch students, students from another country within the European Economic Area (EEA), the European Union (EU), Switzerland and Suriname who meet the statutory conditions.
**This is the institutional tuition fee for students for whom the statutory tuition fee does not apply. You have to pay the institutional fee if you:
don't have a EU-, EEA, Swiss or Surinamese nationality
have finished a Dutch programme and want to follow another programme on the same level
Last updated Jan 2020
About the School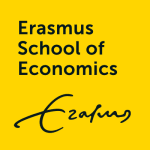 Based in Rotterdam, the economic and logistics centre of Europe, Erasmus School of Economics is one of the world's leading academic institutions. The school has a long-standing tradition of high-quali ... Read More
Based in Rotterdam, the economic and logistics centre of Europe, Erasmus School of Economics is one of the world's leading academic institutions. The school has a long-standing tradition of high-quality education and research.
Read less