Program Description
The MSc in Digital Management is one of Montpellier Business school's programs in which you can foster your professional skills and find a way to stand out from the crowd. It provides the specialist tools and techniques to increase your strengths in the international arena.
It is a unique program that gives an opportunity to the students to understand the impact of digital on leadership and organization, master new models of creating and distributing value and agile methods of project management and performance. The modules include digital strategy, applied big data (a one-week case on company data), agile project management (expecting delivering, dates and estimated budget), change management, digitization of business processes and web marketing. Throughout the year, students will also foster the "entrepreneurial spirit" alongside with the open-innovation techniques adapted to large groups to spread the "start-up" spirit.
With an original pedagogical approach, which will involve the participants from diverse profiles and put them together on common projects, where each of them will bring their experience and competence to generate the "know-how" to work together. Creativity and innovation are essential for the success of any digital transformation project and the sustainability of both public and private organizations.
French courses are provided during the academic year and cultural and company visits are organized during the program.
Through one year of training, you will meet professional experts and develop solid know-how ready to confront the challenges of your future career (with serenity).
Key points
Duration: 18 months including 4-6 months of internship or professional experience
Intake: once a year in September
Mode: Full time
472 hours from October to May
From June to December: Master Thesis and 4-6 months minimum of professional experience: internship or job in France or abroad
Credits: 90 ECTS
Language: entirely taught in English
Certified by the label "Conférence des Grandes Ecoles"
Location: Montpellier Business School campus
Tuition fees: 13 900 €
Requirements
A Bachelor degree or equivalent
English test: a minimum score of TOEFL 80/120 or TOEIC 785/990 or IELTS 6/9 or M.B.S. English test B2 (free)
Relevant professional goals
Admission process
You will have to complete the online application form (which can be saved and completed over time)
Selected applicants will be scheduled for admission interviews via videoconference or at Montpellier Business School
Requested documents
Copy of passport
One passport photograph
Curriculum vitae/resume
Copies of highest diploma obtained
Copies of transcripts of records from the past three years. Please provide an English translation of your documents if they are written in other languages than French and English
Proof of English Language Proficiency: minimum score of TOEFL 80/120, IELTS 6/9 or TOEIC 785/990 or Montpellier Business School English test (free) B2. Candidates with previous English studies are exempted.
Calendar
Online registration: From October 8th, 2018 to July 2019
Deadline for registration :

July 1st, 2019 for non-EU applicants
July 31st, 2019 for EU applicants
Job opportunities
Digital Project Manager, Digital Manager, Digital Strategy Consultant, E-marketing and e-business manager, Digital and social media director, Director of Web agency, Web Contractor, Digital transformation consultant, Digital design project manager, Digital business analysis, etc..
Why choose this program?
Top level faculty
An innovative pedagogical method
A truly international environment
An excellent employability rate for our M.B.S. graduates: 70% of students from our programs are hired BEFORE they even graduate
Unrivaled networking opportunities
An AACSB, EPAS and AMBA accredited School
Program courses (1rst and 2nd semester)
Module 1: Direction and Management In Digital Environments
Integration, team building and behaviour focus
In this course, students will learn to analyse complex workplace situations from conflict resolution to motivational team dynamics and how to implement strategic solutions.
The impact of digital on financial companies
Retail banking and insurance must embark on a vast process of digital transformation to adapt to the new characteristics of their market. Four areas are concerned: optimizing the customer experience, redesigning business processes, modifying internal operating modes and transforming the business model.
Organizational behavior and change management
This course is designed to empower students to use complex diagnostic models, familiarise them with the theories behind these models, identify key issues related to organizational change, and develop change management programs.
Module 2: Strategy, Operation and Digital Processes
Strategic management
A good strategy is the key to the performance of a company.
Through case studies, students will learn in this course to analyze a situation related to the digital revolution and to reflect on possible strategic choices to be implemented.
Innovation management
The goal is to develop the innovation skills in student business models and prepare them to become innovative managers by giving them an understanding of how to be innovative. Elements are supported by relevant examples of the academic literature or the professional world.
Lean management and digital transformation
Technological advances have created opportunities that did not exist a decade ago and it is clear that new developments will occur at an ever faster pace. The objective of this course examines the extent to which successful companies are benefiting from operational excellence and digital advantage. It aims to provide a compelling picture of each of these elements (process improvement, business digitalization and management of both) to help companies eliminate waste and improve processes and services.
Agile project management
In this course, students will take ownership of agile project management methods and Scrum principles by focusing on the role of the beneficiaries. Students learn how to develop a vision of the project, then the resulting roadmap, identifying user roles and writing user reports. Other topics include stakeholder identification, organization, team development, planning, communication, quality, risk and change management.
Digital change
The course focus on the main issues that a company must address in order to successfully complete its digital transformation, including the organizational and cultural aspects that often lead to such transformations. We discuss how these transformations require managers to acquire a good technical culture to enable them to make organizational, management and marketing decisions.
Information technology and value creation
The role of digital in the creation of new forms of organizations, the transformation of existing work practices and the change in the way we communicate with others have implications at different levels and can create different sources of value if they are managed appropriately. This course provides concepts, frameworks and tools to understand the potential impact of information technology on business value.
Module 3: Creativity and Entrepreneurship Innovation Management
Design thinking
It is a subject applicable to all disciplines of management.
This course allows students to take ownership of Design Thinking methodologies to produce pragmatic solutions and ideas for innovative products and services. Following this course, participants will learn how to apply a Design Thinking model to solve or eliminate a real-life problem by developing innovative and creative ideas from imagination to prototyping.
Module 4: Data and Analytics
Statistics
This course aims to develop the quantitative skills that can be mobilized in the professional world and in particular for the analysis of Big Data. Students need to collect, process, analyze and use quantitative data to make decisions, present and argue them.
Big data and analytics
This course aims to make students aware of the questions and techniques related to the use of big data. Through examples of classroom implementation, students will learn several ways to analyze the relationships between variables.
Module 5: Digital Marketing Management
Digital marketing
Students will acquire the skills necessary to define a digital marketing strategy, analyze the web ecosystem, manage and pilot an e-commerce project, develop, animate and federate a community on social networks, pilot an online marketing campaign, measure And analyze performance indicators (S.E.O.s.). Specifically, at the end of the course, students will be able to define KPIs, measure multi-channel performance, achieve strategic objectives, monitor, measure and analyze a marketing approach on the web, monitor strategy (competitive, e-reputation, etc.), to understand new trends and to identify opportunities for innovation.
Last updated July 2019
About the School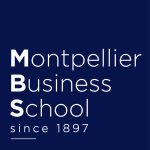 Founded in 1897, Montpellier Business School developed high level study programs accessible through an International Entrance Exam, in a tradition of quality and innovation. The school is internationa ... Read More
Founded in 1897, Montpellier Business School developed high level study programs accessible through an International Entrance Exam, in a tradition of quality and innovation. The school is internationally-oriented with professionalising teachings.
Read less