MSc in Data Science and Business Analytics
Program Description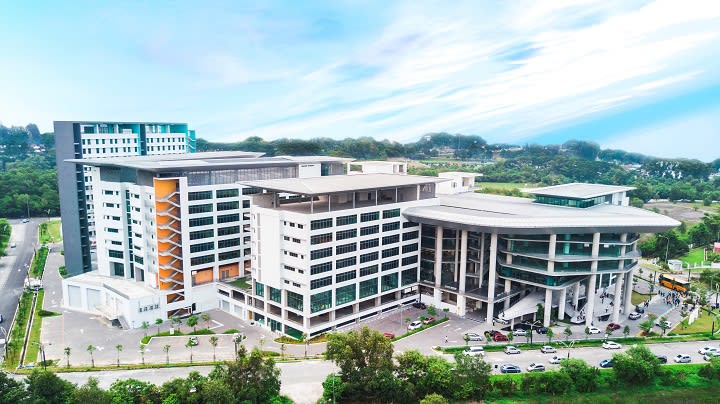 This programme is designed to provide students with the knowledge and applied skills in data science, big data analytics and business intelligence. It aims to develop analytical and investigative knowledge and skills using data science tools and techniques and to enhance data science knowledge and critical interpretation skills. Students will understand the impact of data science upon modern processes and businesses, be able to identify and implement specific tools, practices, features and techniques to enhance the analysis of data.


Duration:
Full-time (12 months)
Part-time (24+ months)
Degree Award:
APU, Malaysia
Intake:
Full-time: 09 April 2018/27 November 2018
Part-time: 03 September 2018/12 January 2019
Admission Requirements
Bachelor's degree in a relevant field with minimum CGPA of 2.75 or equivalent as acceptable by the Senate; OR
Bachelor's degree or equivalent in a relevant field but for CGPA below 2.75; can be accepted provided that the candidates must have five years working experience in relevant field.
Graduates of equivalent qualifications who have several years of relevant industry experience.
Evidence of satisfactory English language skills is required for candidates where English is not their first language, such as IELTS 6.0 or above or TOEFL 550 or above.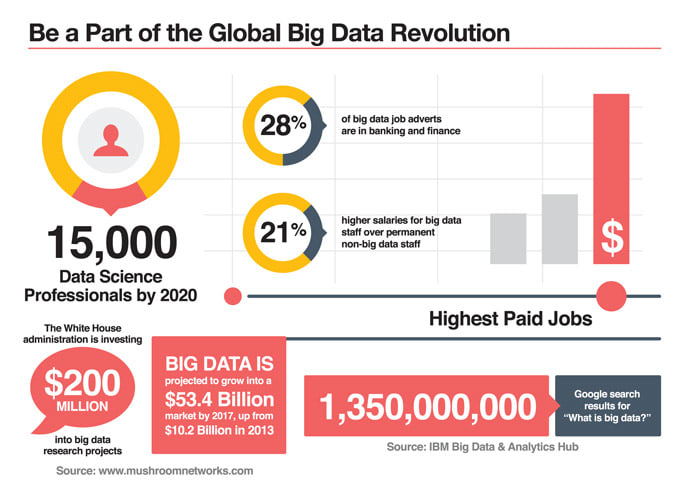 Graduates will be equipped with knowledge, skills and experience in three major dimensions: Strategic and Commercial application, "hands-on" ICT skills and Statistics & Analytics. The programme is not merely analytics-oriented but develops the ability to use analytics to drive key success metrics related to yield management and revenue generation in practically any business domain. There is a tremendous requirement for Data Scientists and Big Data Specialists worldwide now and in the future, with hundreds of thousands of new job opportunities emerging globally. In Malaysia alone, by the year 2020, this need is expected to reach at least 15,000 professionals.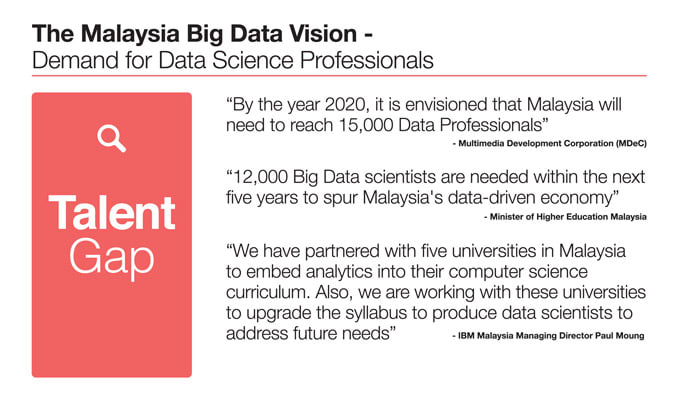 The Benefits of This Programme
On successful completion of this programme, you will be able to:
In addition to the degree award, a Joint Professional Certification will be offered by SAS Institute, USA.
30% of the curriculum will allow for mini industrial projects assessed as in-course work allowing for practical skills development in Data Analytics.
The curriculum covers a wide range of subject matter from Analytical Technologies, Exposure to tools such as R & SAS Modelers, Data Visualization, Customer/User Behavioural Studies, Forecasting Methods and to Presenting the Business Intelligence reports.
Industrial Final Semester Capstone Project from top IT firms such as Hilti Malaysia, IBM, Maxis, InfoPro, EMC, BIIT Consulting and Fusionex.
External Programme Annual Reviews by experts from University of South Australia (UniSA).
Programme Support by an Industry Advisory Panel involving data analytical experts from Petronas ICT, RedTone, SharePoint, CyberSecurity Malaysia, Maxis, IBM, Microsoft and Xtrategize.
Research opportunities via APU's Centre of Analytics – APCA.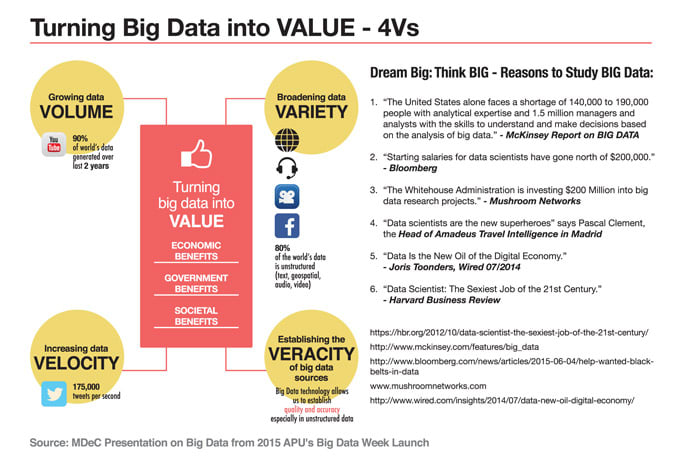 The programme has been carefully designed by APU with inputs and contents from our partners, comprising major technology and software solutions providers, university partners as well as industry organisations who use analytics for strategic and competitive advantage.
The strength of these partnerships ensures that the programme comprehensively addresses all key stakeholders - Technology providers, Employers, Government as well as Students - in its learning outcomes, curriculum content, delivery and assessment. Students also obtain certification jointly issued with industry partners, which would certainly give them a head start in the exciting world of Big Data.
Furthermore, APU is also poised to become a frontrunner in analytics research through the establishment of the Asia Pacific Centre of Analytics (APCA), through which research activities will be undertaken to challenge boundaries in the application of analytics.


Last updated Jan 2018
About the School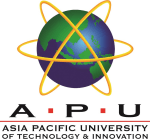 The Asia Pacific University of Technology & Innovation (APU) is amongst Malaysia's Premier Private Universities and is where a unique fusion of technology, innovation, and creativity works effecti ... Read More
The Asia Pacific University of Technology & Innovation (APU) is amongst Malaysia's Premier Private Universities and is where a unique fusion of technology, innovation, and creativity works effectively towards preparing graduates for significant roles in business and society globally. APU has earned an enviable reputation as an award-winning University through its achievements in winning a host of prestigious awards at national and international levels.
Read less