MSc in Construction and Project Management
Home ›
MSc ›
MSc in Construction and Project Management
Program Description
Overview
You'll learn to apply management methods to design, engineering and construction problems, and be able to be plan, monitor and control construction projects by integrating technical knowledge with leadership, commercial and managerial skills.
About You
You could be a civil engineer, an architect, a planner, a manager, a lawyer, or an archaeologist.
You could have been in work for a while already: some of our previous students have been many years into their career when they join us.
Or you may be a recent graduate, for example with a BEng. This Master's gives you the opportunity to acquire a management 'bolt-on' on top of your engineering degree.
What Will You Learn?
The course's primary focus is on project management, which will give you the chance to take your career forward in any industry, not just in construction.
We teach the principles of project management – the distinct discipline of working to agreed deadlines, starts and finishes on a given project.
What's Involved
In your first semester, you'll have the option to take a three-day study tour in London. You'll get an insight into how industrial companies work, who are always interested in Queen's graduates. Companies such as:
The McAvoy Group
JA Rattigan and Son
Keir
CrossRail and
Multiplex, who built Wembley Stadium. They value our students so much that they dedicated an entire day of the last study trip to addressing us, with every senior figure available to talk to us.
Please Note
Applications for this course, received after 30th June may not be accepted. A deposit will be required to secure a place.
Construction And Project Management Highlights
Our Joint Board of Moderators accreditation means that when you graduate, you have the chance to become a chartered engineer.
Professional Accreditations
MSc (Technical and non-technical) This degree is accredited as meeting the requirements for Further Learning for a Chartered Engineer (CEng) for candidates who have already acquired a partial CEng accredited undergraduate first degree. See www.jbm.org.uk for further information. The degree has been accredited by the following: The Royal Institution of Chartered Surveyors (RICS) Chartered Institute of Building (CIOB)
Course Details
Construction Economics and Facilities Management
Construction Law: Contract Law, Tort and Evidence, Dispute Resolution
Design Co-ordination
Procurement and Contract Administration
Project Management, Planning and Control
Research Methods for Managers
Strategic Management and International Construction
Individual Research Project (Dissertation)
For full-time students, the final four months of the programme (Semester 3) will be dedicated to an individual research project. Part-time students may arrange their programme, subject to timetabling and arrangement with the Programme Co-ordinator.
Students matriculating from the joint programme with other universities will be granted programme credit for four modules taken at that university.
Teaching Times
Semesters 1-2: Mon and Tues, 12 weeks/semester, lectures 1.00-7.30pm. Will include team-working for coursework preparation outside of lecture times, and may involve optional self-funded UK/International Study Tours.
Career Prospects
Introduction
Queen's postgraduates reap exceptional benefits. Unique initiatives, such as Degree Plus and Researcher Plus bolster our commitment to employability, while innovative leadership and executive programmes alongside sterling integration with business experts help our students gain key leadership positions both nationally and internationally.
Employment after the Course
Where could you be in five years time?
You could be anywhere in the world as a project manager – any of the major design, project management or construction consultants.
Countries such as India and Canada are investing heavily in their infrastructure – trillions of dollars in the next few years - and they need project managers like you to make it happen.
Learning and Teaching
A small core of tutors with decades of academic and industrial experience.
The Programme Director is Mr Ron Coates, he is a Chartered Engineer who worked in Construction Project Management for 38years across the UK and Ireland before joining the staff at QUB.
Here's what your predecessors liked about him:
"Ron Coates for his superlative use of anecdote"
Environment
You'll be taught in a class of around 50 if you're a full-time student, alongside students from places such as India, China, Vietnam and Egypt. Our teaching starts in the afternoon as we know some of you will need to take time off work to attend classes. You'll have the beautiful new Graduate School at your disposal as well as the facilities within the School.
Assessment
Assessments associated with the course are outlined below:
Assessment for module CIV7069 is carried out in January with all remaining taught modules assessed in May.
The overall ratio of coursework to unseen examinations is 50:50
Written dissertation/thesis is submitted and assessed at the end of September for all full-time MSc Students
PG Diploma students who achieve, at the first attempt, an MSc standard of performance in coursework and examinations, will be invited by the Board of Examiners to transfer to the MSc pathway.
MSc students who have achieved a minimum of 50 per cent in the compulsory modules and an average of 50 per cent or above overall in the taught programme, are required to undertake an individual research project and submit a dissertation in September. This dissertation must be passed at 50 per cent for the award of the MSc.
Students who achieve an overall average for their taught modules and dissertation in the range of 60 per cent to 69 per cent will be awarded a Commendation. Students who achieve an average of 65 per cent or above in the taught programme and 70 per cent or more for the dissertation, with an overall average of 70 per cent or more, will be awarded a Distinction.
Entrance requirements
Graduate
Normally a 2.2 Honours degree or above in a relevant Science, Engineering, Architecture, Management or Social Science discipline, or an equivalent qualification acceptable to the University.
Applicants who do not meet the above academic requirements but hold a relevant professional qualification and can demonstrate appropriate experience will be considered on a case-by-case basis.
The University's Recognition of Prior Learning Policy provides guidance on the assessment of experiential learning (RPEL).
International Students
For information on international qualification equivalents, please check the specific information for your country.
English Language Requirements
Evidence of an IELTS* score of 6.5, with not less than 5.5 in any component, or an equivalent qualification acceptable to the University is required.*Taken within the last 2 years.
International students wishing to apply to Queen's University Belfast (and for whom English is not their first language), must be able to demonstrate their proficiency in English in order to benefit fully from their course of study or research. Non-EEA nationals must also satisfy UK Visas and Immigration (UKVI) immigration requirements for the English language for visa purposes.
If you need to improve your English language skills before you enter this degree programme, INTO Queen's University Belfast offers a range of English language courses. These intensive and flexible courses are designed to improve your English ability for admission to this degree.
Academic English: an intensive English language and study skills course for successful university study at degree level.
Pre-sessional English: a short intensive academic English course for students starting a degree programme at Queen's University Belfast and who need to improve their English.
Last updated Jul 2019
About the School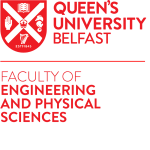 The Faculty of Engineering and Physical Sciences spans disciplines that impact lives today and will shape our future. Our international mix of staff and students make up a vibrant community that is ho ... Read More
The Faculty of Engineering and Physical Sciences spans disciplines that impact lives today and will shape our future. Our international mix of staff and students make up a vibrant community that is home to some of the most innovative and globally significant research and teaching. It works where industry and research meet, providing the platform to spin out research into commercial opportunities and engage with industry on cutting-edge research with real-world projects such as the work with Wrightbus to produce the cleanest hybrid bus technology that powers the London Routemaster, or the pioneering work in The Institute of Electronics, Communications and Information Technology, securing our digital future through their Centre for Secure Information Technologies.
Read less