Program Description
The computer science program provides you with an education beyond the fundamentals and explores advances in computational theory, programming languages, software systems, hardware integration, and information technology.
The graduate programs in Computer Science are interdisciplinary programs offered jointly by the Department of Electrical & Computer Engineering and the Department of Computer Science. You take courses in both departments on a wide variety of topics, ranging from the theoretical to the applied. If you have an undergraduate background with an appropriate computer science context, then feel free to apply and expand your knowledge.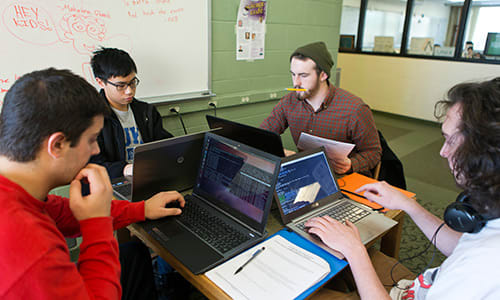 Curriculum
The MS of Computer Science is a 30 credit hour program. There is also a master's thesis that must be completed at the end of the program for successful advancement. The program can be completed in about two years.
Required Courses
In addition to the general requirements for the MS degree that are established by the University, students must satisfy the following set of requirements:
The program requires a minimum of 30 credit hours of graduate-level work. At least 20 credit hours must be earned in residence at Clarkson. Each student's program of study must be approved by an advisory committee.
Students who are not fully prepared to pursue graduate work in computer science may be required to take the course CS511 Foundations in Computer Science. In addition, students with very little or no background in computer science may be required to take undergraduate computer science courses, for which graduate credit will not be given.
Course and seminar work will comprise a minimum of 20 credit hours. To ensure some breadth in the program, four courses must satisfy the following:
Two foundation courses must be taken, as described below:

CS541 Introduction to Automata Theory and Formal Languages
CS547 Computer Algorithms

Two courses from the following set, in which each of these courses requires a substantial amount of programming:

CS544 Operating Systems
CS545 Compiler Construction
CS550 Software Design and Development
EE505 Computer Graphics
EE569 Software Design and Analysis
For those students who can demonstrate that they have successfully completed comparable graduate-level courses before coming to Clarkson, the advisory committee may waive the requirement to take these specific courses upon student request.

At least two restricted elective courses will be taken from the courses offered in computer science or computer engineering departments, as selected by the student and their advisor. Of these two restricted elective courses,

one must be a course that focuses on research topics in computer science, and
one must be a computer engineering course with relevant emphasis on computer science topics.
Students should consult with their advisors to identify courses in these categories.

Two seminar credits. To earn a seminar credit, students must enroll in a seminar course in computer science.
Thesis credit will comprise a maximum of 10 credit hours of the 30 credit hour minimum. All students must have a research advisor by the end of their first semester of study and must submit a research proposal to the Examination Committee by the end of the semester before they plan to graduate. The Examination Committee shall consist of a minimum of three faculty members.
All students must complete a thesis and defend it orally to their Examination Committee. Two copies of the completed thesis must be submitted to the University.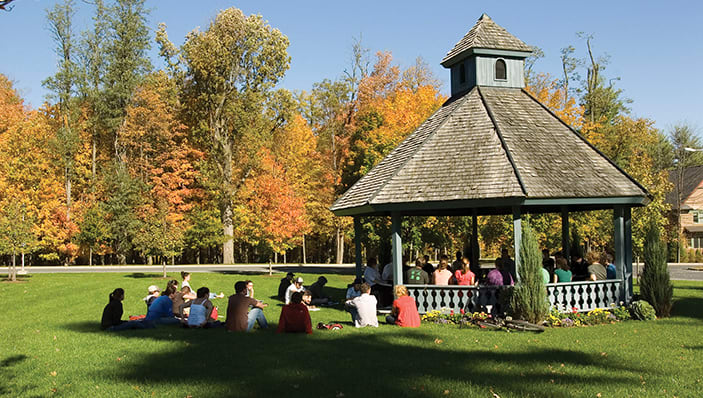 Admission Requirements
Prerequisites
A BS or equivalent degree in computer science or other closely related subjects. Admission to the computer science program depends upon Computer Science Graduate Committee approval.
A complete application file consists of the following items:
Application form.
Resume and statement of purpose.
Letters of recommendation — three letters required.
Official transcripts.
Test scores — GRE* and TOEFL/IELTS (if applicable).
*GRE may be waived for some applicants.
Supplemental information may be submitted if desired; this could include any other information that may help us evaluate your application.
Last updated Apr 2020
About the School
At Clarkson, innovation is impact. Students who choose Clarkson for graduate and professional programs come here with a purpose: to advance knowledge, to explore ideas that propel society, and to buil ... Read More
At Clarkson, innovation is impact. Students who choose Clarkson for graduate and professional programs come here with a purpose: to advance knowledge, to explore ideas that propel society, and to build meaningful careers.
Read less