MSc in Computer Science - Focus on Cyber Security
Home ›
MSc ›
MSc in Computer Science - Focus on Cyber Security
Program Description
Become an Information Security Expert
What is the biggest information technology trend of the 21st century? What do servers, sensitive customer data, company networks and the technologies of industry 4.0 have in common?
They are under constant attack by cybercriminals, viruses, and malware and need to be protected around the clock. The security of information and the analysis and management of such risks are more important than ever.
Our new Master's programme aims to educate a new generation of Information Security specialists who do not only possess profound IT knowledge but also know how to design and implement security systems and measures in different business environments.
Students receive a well-rounded Computer Science education that focuses on all aspects of information security, such as Security Technologies, IT Security Management, and Data Analysis.
Modules on current topics like Blockchain, DevOps and Cryptocurrencies and a range of hands-on projects complement the Master of Science curriculum and turn our graduates into experts that are in high demand.
Content, Objective and Course Structure
Our Computer Science students are more than just IT specialists. They know about relevant business processes as well as legal foundations of data security. They have the project management skills to plan security implementations and the communication skills to educate company staff about potential cybersecurity risks. With their business expertise and their range of soft skills, the Master students are managers that modern organizations are looking for.
Knowledge, methods, experience, and personality
Professional, social, methodological and practical skills: thanks to the newly developed curriculum, our study programme provides you with comprehensive skills. The international profile of our university and the intercultural character of our student body strengthen your personality. SRH offers you the ideal conditions to thrive in a multicultural world.
Modules
Programming
Security Technologies
Information Security Management Systems
Tools & Methods of Data Analysis
Penetration Testing
IT Service Management & DevOps
Software Development Process
Blockchain and Cryptocurrencies
IT Revision & Audit
Technology Project I
Technology Project II
Technology Project III
Company Project I
Company Project II
Company Project III
Business Game
International Commercial Law
Scientific Work
Internship
Thesis
Career Perspectives
Advance your career with a Master's degree
Computer Science graduates are qualified for demanding positions in IT management, IT governance and Information Security.
As Information Security Specialists they are able to take up employment in:
Public Institutions and Central Banks
Financial Institutions
Risk Analysis Companies
Consultancies
Pursue a doctor's degree
The degree in Computer Science prepares you for a leading position in a company, an academic career or a Ph.D.
NEW: Scholarships for Indian Students for the March 2019 intake
SRH Hochschule Berlin is launching a new scholarship scheme for Indian students who will start their Master's degree this upcoming March 2019 intake. The university is awarding a total of 10 merit-based scholarships for new students in the following programmes:
M.Sc. Computer Science - Focus on Cyber Security
M.Eng. Engineering and International Business – Focus on Renewable Energy, Water and Waste Management
Scholarship holders will benefit from 50% reduction in their monthly tuition fees. Application deadline is 30 November 2018.
Last updated Sep 2018
About the School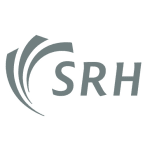 SRH Hochschule Berlin- being as international as its location - is state-approved and accredited by the scientific advisory council. You will study in the center of Berlin, at the Ernst-Reuter-Platz n ... Read More
SRH Hochschule Berlin- being as international as its location - is state-approved and accredited by the scientific advisory council. You will study in the center of Berlin, at the Ernst-Reuter-Platz named after the first governing mayor of Berlin.
Read less