MSc in Communications, Control & Digital Signal Processing
Home ›
MSc ›
MSc in Communications, Control & Digital Signal Processing
Program Description
MSc in Communications, Control & Digital Signal Processing
This full-time course covers the theoretical and practical aspects of communications theory and networks, fundamental control technology and digital signal processing (DSP). All these topics are critical to the information and communications age.
You'll gain an advanced knowledge of the principles of the communications, control and DSP domains. You'll also develop an understanding of the current and future developments and technologies within these three disciplines.
Along with full accreditation from the Institution for Engineering and Technology (IET), this course will enable you to capitalise on job opportunities across a range of sectors including:
control
telecommunications
signal processing
electronics
IT user companies
EDF Energy, Siemens and Texas Instruments are just some of the multinationals where our graduates have secured positions.
You'll study
You'll take two semesters of compulsory and optional taught classes. These are followed by a three-month research project in your chosen area. Opportunities exist to do the project through the department's competitive MSc industrial internships.
The internships are offered in collaboration with selected department industry partners including Selex ES, ScottishPower, SmarterGridSolutions. You'll address real-world engineering challenges facing the partner, with site visits, access and provision of relevant technical data and/or facilities provided, along with an industry mentor and academic supervisor.
Course content
Compulsory classes
(September to May)
Digital Signal Processing Principles
Information Transmission & Security
Control Principles
Assignment & Professional Studies
Elective classes
Choose at least two from this list
Communications Networks
Advanced Digital Signal Processing Principles
Embedded Systems Design
Image & Video Processing
Control Techniques
Summer (June to September)
MSc Research Project / Internship
Learning & teaching
We use a blend of teaching and learning methods including interactive lectures, problem-solving tutorials and practical project-based laboratories. Our technical and experimental officers are available to support and guide you on the individual subject material.
Each module comprises approximately five hours of direct teaching per week. To enhance your understanding of the technical and theoretical topics covered in these, you're expected to undertake a further five to six hours of self-study, using our web-based virtual learning environment (MyPlace), research journals and library facilities.
The teaching and learning methods used to ensure you'll develop not only technical engineering expertise but also communications, project management and leadership skills.
Industry engagement
Interaction with industry is provided through our internships, teaching seminars and networking events. The department delivers monthly seminars to support students' learning and career development.
Xilinx, Texas Instruments, MathWorks, and Selex ES are just a few examples of the industry partners you can engage with during your course.
Entry requirements
A first or good second-class UK Honours degree or equivalent overseas qualification in electronic, electrical or communications engineering, or a related subject from a recognised academic institution.
Candidates whose first language is not English or who have not undertaken their undergraduate course in the UK must possess a recent UKBA-recognised English qualification.
English Language Requirement
IELTS 6.5 or equivalent
Last updated Sep 2019
About the School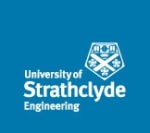 Our Faculty of Engineering is the biggest in Scotland. We're also one of the largest, best equipped engineering faculties in the UK.
Our Faculty of Engineering is the biggest in Scotland. We're also one of the largest, best equipped engineering faculties in the UK.
Read less