MSc in Cognitive Sciences and Technologies: From Neuron to Cognition
Home ›
MSc ›
MSc in Cognitive Sciences and Technologies: From Neuron to Cognition
Program Description
Programme Overview
Our Master's programme offers courses in cognitive psychology, cognitive neuroscience and neuro-modelling. Taken together these disciplines study how memories, emotions, cognition or consciousness actually work. Students attend lectures in English and practice in leading laboratories of Moscow and of our international partners. Leading scientists supervise students' practical training and writing of Master's thesis during the second year. The programme is carried out in close cooperation with the École Normale Supérieure and Aarhus University.
Cognitive psychology
Modern cognitive psychology is an experimental discipline that studies the origin and functioning of the mind, brain, and intelligence. Our Programme focuses on perception, control of attention and motor responses, the formation of mental representations, dynamics of memory retrieval, learning, cognitive development and cognitive breakdown, the mechanisms of reasoning, language, and problem-solving.
Cognitive neuroscience
An integration of psychology and neuroscience - Cognitive Neuroscience - examines neural systems underlying complex behaviours like emotions, language, attention, memory, etc. Methods employed in cognitive neuroscience include a wide range of experimental paradigms starting from psychophysics and cognitive psychology, neurology and psychiatry, and ending up with electrophysiological studies of neural systems and, increasingly, cognitive genomics and behavioural genetics. Recent breakthroughs in brain imaging technology allow cognitive neuroscientists to see a live human brain at work using state-of-the-art methods like functional magnetic resonance imaging (fMRI), magneto- and electroencephalography (MEG, EEG), brain navigated transcranial magnetic stimulation (nTMS), transcranial direct/alternating current stimulation (tDCS/tACS).
What are the advantages of our Master's programme comparing to similar ones?
We are the only English-language Master's programme in cognitive sciences in Russia. Our lecturers are active world-class scientists including the highly cited researchers in the fields of cognitive psychology, cognitive neuroscience, neuroeconomics, neurolinguistics and other interdisciplinary areas. Thanks to our international partners' laboratories students have an access to the whole range of neuroimaging techniques which provide a unique opportunity for the development of young researchers.
What will I study?
The Master's programme covers a wide range of cognitive psychology and cognitive neuroscience disciplines. Education starts with introductory courses in psychology, mathematics and neuroscience. Cognitive psychology track includes such disciplines as "Visual perception and attention", "Thinking and emotional modulation of cognition", and "Memory, learning and cognitive development". Students are also offered to study cognitive neuroscience disciplines such as "Neuroimaging techniques", "Behavioral genetics and neurogenetics", "Computational Neuroscience", and "Neuroeconomics". In addition, many optional courses are available, for example, "Practical course on non-invasive brain stimulation techniques and electroencephalography" and "Computational modelling".
Where will I work?
Research laboratories and international research centres.
Companies developing projects on optimization and evaluation of user's interfaces.
Universities and schools.
Projects on brain-computer interface development.
Clinical application – pre-surgery brain mapping.
Application Requirements
All applicants must provide the following documents:
Resume/CV,
Letter of motivation (500-1000 words),
Scans of diplomas and academic transcripts,
Two letters of recommendation (at least one from someone familiar with your academic work),
Internet or paper-based copies of your research papers, including diploma projects,
A scan of English proficiency exam results (IELTS or TOEFL).
Native speakers of English and students who have completed an entire degree exclusively in English do not need to submit proof of their English ability. All other applicants should submit test results no more than two years old.
The programme implies substantial amounts of coursework in English. All applicants must undergo the English Test at HSE or provide an English Language Proficiency Certificate.
Our minimum requirements:
IELTS Score of 6 or above
TOEFL IBT (Internet Based) Score of 80 or above
TOEFL PBT (Paper Based) Score of 500 or above
Last updated Feb 2020
About the School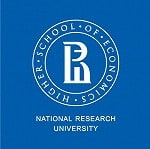 Consistently ranked as one of Russia's top three universities, the Higher School of Economics (HSE University) sets itself apart by its internationally-minded, research-driven approach to higher educa ... Read More
Consistently ranked as one of Russia's top three universities, the Higher School of Economics (HSE University) sets itself apart by its internationally-minded, research-driven approach to higher education. Based in the vibrant center of Moscow, with campuses in St. Petersburg, Nizhny Novgorod and Perm, HSE offers outstanding academics at all levels and includes more than 25 English-taught Master's programmes and 8 English-taught Bachelor's degree programmes.
Read less