MSc in Climate Change Finance & Investment
Home ›
MSc ›
MSc in Climate Change Finance & Investment
Read more about this program on the school's website
Program Description
Our MSc in Climate Change Finance & Investment is the world's first programme dedicated to professionals in the field of low climate change finance and investment. Designed to develop your understanding of how the challenges of climate change are driving trillions of pounds of new investment in a huge range of sectors, including energy production, housing and infrastructure, the programme will also prepare you to deliver this investment with advanced knowledge and skills.
Programme overview
Our programme will provide you with an understanding of climate change science and policy, their relationship to finance and investment, and the procedures and issues within the energy sector and carbon markets. It is dedicated to professionals in the field of low climate change finance and investment, focusing on business opportunities and financial flows driven by society's response to climate change. The MSc is fundamentally interdisciplinary in nature and therefore welcomes applicants from a wide range of backgrounds, including business, economics and science.
Programme structure
You will take four core courses in the first term (September-December) and three in the second term (January-May), including a group Carbon Consulting Project, which will foster vocational and teamwork skills. In the second term, you will also have the opportunity to take one option course, to enable you to specialise in an area relevant to your future career path. The final dissertation is written over the summer term (June-August) and is overseen by an academic supervisor.
Knowledge exchange
The School hosts the Centre for Business and Climate Change, a leading international centre for business and climate change education, research and public engagement, which is renowned for its high level of corporate engagement and knowledge transfer. The Centre attracts a number of high-profile visiting speakers whose knowledge and expertise you will benefit from, including the Chief Executives of Solar Century and Composite Energy.
Career opportunities
The explosion of climate change finance and investment has created a range of new types of businesses and careers. Graduates from this programme will typically pursue a career in carbon trading, carbon consulting, SRI investment or asset management, carbon entrepreneurship, climate change policy, or carbon accounting. The programme is also excellent preparation if you wish to conduct further research at PhD level.
Learning outcomes
The challenge of responding and adapting to climate change will drive trillions of dollars of new investment over the coming decades, with major changes required across the economy, in energy production and consumption, industry, buildings, transport, infrastructure, forests and agriculture. Delivering this investment will require greatly enhanced capacity in all aspects of climate change finance. The programme aims to provide graduates with an understanding of:
The current state of climate change science, greenhouse gas stabilization pathways and the principal mitigation and adaptation options.
Climate change policy responses at international, regional, national and local levels and the various types of regulatory response available to governments.
The relationship between climate change science, policy, carbon markets and other climate finance and investment.
What climate change finance means and the relationship between climate change finance and conventional finance.
Essentials of conventional finance and financing issues in the energy sector in particular.
The structure and dynamics of the major global, regional and national-level carbon markets, including voluntary carbon markets and the flexibility mechanisms of the Kyoto Protocol and its successor agreement(s).
Accounting for carbon at firm, project and product/supply chain level, carbon auditing, financial reporting and non-financial disclosure, benchmarking, taxation implications, and the ethics of carbon accounting.
The use of statistics for financial research.
An appreciation of the role that climate change finance plays in an organisation's strategy, finance and accounting decisions.
Entry requirements
Entrance to our MSc programmes is strongly competitive. You can increase your chances of a successful application by exceeding the minimum programme requirements.
Academic requirements
You will need a UK first-class or 2:1 honours degree in one of the subjects below, or an equivalent overseas qualification.
Academic background
An undergraduate degree in business, economics, engineering or social or physical science is normally required.
Supporting your application
Relevant work experience is not required but may increase your chances of acceptance. Preference will be given to those with grades above the minimum requirements due to strong competition for places on this programme.
Applications from current undergraduates
Final year undergraduate students are welcome to apply, so long as your studies will be completed prior to the MSc programme commencement date.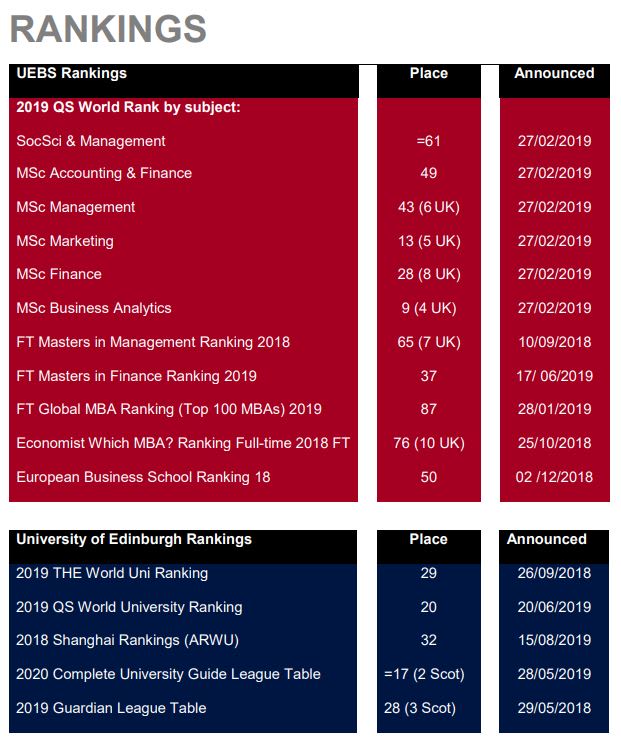 Last updated Sep 2020
About the School
At the heart of a university with a 400 year heritage that is consistently rated one of the world's best, and centrally located in one of Europe's most stunning business and cultural capitals the Univ ... Read More
At the heart of a university with a 400 year heritage that is consistently rated one of the world's best, and centrally located in one of Europe's most stunning business and cultural capitals the University of Edinburgh Business School offers an experience that few can rival.
Read less