MSc in City Planning and Design
Home ›
MSc ›
MSc in City Planning and Design
Program Description
Overview
In practice, there is a common tension between those developing and interpreting planning policy on the one hand, and the designers of cities on the other. This programme brings these groups together to engage in project-based learning. You will develop planning research, urban analysis and design skills before deciding whether to complete an urban design thesis or dissertation. Both of these options can be completed as work-based studies with opportunities for summer placements.
City Planning And Design Highlights
This course is unique having been driven by engagement with practice rather than adhering to traditional academic subject areas. The core skills that urban designers and planners need have been clearly defined and form the basis for the course.
Global Opportunities
There are fantastic opportunities to work with planning and urban design both locally and globally. Belfast is a city that is developing rapidly and this reflects wider confidence in urban regeneration and development at a national level. Many recent graduates are working in planning authorities and consultancies throughout the UK and Ireland with others working in the related fields of housing, natural heritage and renewable energy.
Professional Accreditations
Royal Institution of Chartered Surveyors (RICS) accredited as a standalone programme. Royal Town Planning Institute (RTPI) accredited if completed following an accredited undergraduate planning degree.
Internationally Renowned Experts
The members of staff responsible for delivering the MSc are from a variety of professional and research backgrounds. Staff expertise includes international development, sustainable development, development economics and planning policy and practice. Each member will give a different perspective within the course, such that both theoretical and applied elements will be fully developed and a rounded high-level education will result.
Student Experience
Significant emphasis is placed on the development of problem-solving skills during live projects in this programme. The option of work placement for the thesis module reflects the local confidence within the planning and urban design sector of the quality of QUB student work. Placements can be in planning offices, architectural practices or with related heritage, environmental or community sector groups. The environs of the university are extremely pleasant: Northern Ireland and Belfast have been highlighted by The Sunday Times in 2018 as the best places to live in the United Kingdom. Belfast and the Causeway Coast have been listed as the best regions to visit in the world by Lonely Planet in 2018. Moreover, the manner in which Northern Ireland is positioned after Brexit may make it the most convenient location in the UK for ready interaction with the EU.
"In an increasingly urbanising world, cities represent both the greatest social, environmental and economic challenges and opportunities for planners and urban designers alike to create more sustainable environments and just societies."

Dr Neil Galway, Programme Director for MSc City Planning and Design
Course Details
The MSc is designed to allow you to develop real-world project management skills through the completion of live design projects for local authority and community sector clients. You will also acquire urban and data analysis skills that you can use to develop strategic regeneration policies and design solutions. The course content gives theoretical and practical coverage across a wide variety of topics including:
Green infrastructure
The Inclusive City
Urban Technological Developments
Low carbon transition
Critical Heritage Perspectives
Cities and the e-economy
Planning the Urban-Rural dialectic
Demographic challenges
The future of urban housing
Health in future cities
Teaching Times
15 hours of teaching per week, spread across 5 days (Mon-Fri)
Career Prospects
Introduction
Our graduates end up in leading positions in central and local government and as well as in planning consultancies in the private sector. Some of them have gone on to lead significant environmental campaigns such as opposition to fracking; work with NGOs such as Friends of the Earth; and work with communities to make their neighbourhoods better, such as with disadvantaged groups.
Employment after the Course
Examples of employment: Urban Design and Planning practices, Research institutions, GIS companies, Housing organisations, Community Advocacy Groups, Environmental and Community sector NGOs.
Employment Links
Graduate employers include Belfast City Council, Department for Infrastructure and other public and private sector planning consultancies.
Learning and Teaching
Learning and teaching are split into the following:
IT Tutorials
Demonstrator-led IT skills tutorials to ensure students develop GIS and data visualisation skills such as proficiency in Photoshop, Illustrator and Sketch Up.
Project sessions
A key component to all group projects whereby tutors offer feedback on student ideas in small groups during the completion of live projects for professional clients.
Self-directed study
This is an essential part of life as a Queen's student when important private reading, engagement with e-learning resources, reflection on feedback to date and assignment research and preparation work is carried out.
Seminars
Student-led thematic presentations that address major global themes are a crucial part of this programme. Placing the emphasis to research and interpret relevant information on the student allows for the programme to incorporate and fulfil their interests.
Assessment
Assessments associated with the course are outlined below:
A combination of group reports, individual assignments, student presentations, portfolio submissions and role-play exercises with a thesis based on an independent research project over the third semester.
Facilities
The Planning Department has a devoted studio space along with several shared workshop facilities with 3D printers, plotters, laser cutters and traditional model-making equipment. In joining the larger School of the Natural and Built Environment in 2016, Planning students also have access to GIS labs.
Entrance requirements
Graduate
Normally a 2.2 Honours degree or equivalent qualification acceptable to the University in a relevant subject.
Applicants with qualifications below 2.2 Honours degree standard, or an equivalent qualification acceptable to the University, will be considered on a case-by-case basis if they can demonstrate appropriate acceptable experience.
The University's Recognition of Prior Learning Policy provides guidance on the assessment of experiential learning (RPEL).
International Students
For information on international qualification equivalents, please check the specific information for your country.
English Language Requirements
Evidence of an IELTS* score of 6.5, with not less than 5.5 in any component, or an equivalent qualification acceptable to the University is required. *Taken within the last 2 years.
International students wishing to apply to Queen's University Belfast (and for whom English is not their first language), must be able to demonstrate their proficiency in English in order to benefit fully from their course of study or research. Non-EEA nationals must also satisfy UK Visas and Immigration (UKVI) immigration requirements for the English language for visa purposes.
If you need to improve your English language skills before you enter this degree programme, INTO Queen's University Belfast offers a range of English language courses. These intensive and flexible courses are designed to improve your English ability for admission to this degree.
Academic English: an intensive English language and study skills course for successful university study at degree level.
Pre-sessional English: a short intensive academic English course for students starting a degree programme at Queen's University Belfast and who need to improve their English.
Last updated Jul 2019
About the School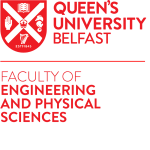 The Faculty of Engineering and Physical Sciences spans disciplines that impact lives today and will shape our future. Our international mix of staff and students make up a vibrant community that is ho ... Read More
The Faculty of Engineering and Physical Sciences spans disciplines that impact lives today and will shape our future. Our international mix of staff and students make up a vibrant community that is home to some of the most innovative and globally significant research and teaching. It works where industry and research meet, providing the platform to spin out research into commercial opportunities and engage with industry on cutting-edge research with real-world projects such as the work with Wrightbus to produce the cleanest hybrid bus technology that powers the London Routemaster, or the pioneering work in The Institute of Electronics, Communications and Information Technology, securing our digital future through their Centre for Secure Information Technologies.
Read less