Program Description
Why this course?
The MSc Business & Management (MBM) is a 12-month full-time programme. The MBM is accredited by the Association of MBAs (AMBA) as a Pre-Experience Masters in Management.
The degree provides you with a solid understanding of how organisations work. You'll enhance the skills and awareness needed to operate effectively in different types of organisations. The MBM is an excellent choice as a path into business management. It's also for those looking to gain a competitive edge in today's job market.
The programme has consistently featured in the Financial Times global masters in management ranking.
The MBM is designed to help you reach your potential as a manager or leader in the organisations of today and tomorrow. We place emphasis on self-development and self-discovery, not just classroom teaching.
You'll study
There are three areas of focus for study:
Understanding the Business – through a sequence of taught classes, you'll gain an insight into the major functional areas of most organisations. You'll explore what they do and learn the language and techniques they employ in describing their area of the business. Our emphasis is on giving you managerial-relevant insight.
Developing Management Potential – the Professional Management Practice class will help you understand the key skills needed to be successful in your career. It introduces key skills required for a career in management and helps you to identify and address your development needs.
Building a Career Focus – individual classes give you exposure to different areas of the business. The elective classes and the MBM project allow you to decide what kind of focus you're going to take in your degree and beyond. The Spring and Summer School elective classes bring together postgraduates from across the business school helping you to build networks and knowledge.
Study abroad
The MBM programme includes a number of elective classes from which students will choose. For those who are interested in studying abroad, the 'Managing in Europe' elective class provides the opportunity to do this with classes taught at Toulouse Business School, France.
Facilities
The MBM is delivered in our award-winning building on Cathedral Street in the heart of Glasgow's city centre. Designed to meet the demands of corporate clients and those studying at a postgraduate level, it's purpose-built to facilitate study, interaction and work.
A modern lecture room in the Business School building will be your base for the year. With good social space conveniently located next to where you're taught, you'll find this a comfortable area from which to work. There's campus-wide Wi-Fi and good quality catering facilities nearby.
Our Business School provides a number of services including:
a free printing allowance
a dedicated IT support team
The School's Business Information Service ensures that you can keep up-to-date with the latest trends and issues affecting the business world. The databases available are a particularly powerful tool, providing a rich array of information including:
market reports
financial analysis
international news
trade journals
Accreditation
The MBM is accredited by the Association of MBAs (AMBA) as a Pre-Experience Masters in Management.
Student Competitions
Each year, the programme runs the 'Best project award' where the best final project wins a monetary award. The Dean also awards letters of commendation to other top projects selected by supervisors.
Individuals are also encouraged to participate in university and international competitions. For example, previous students have competed and won key awards at the G20 Youth Summit and Strathclyde Enterprise Pathway competition.
Conversion to the MBA
As a graduate of the MBM, you'll be offered the opportunity to convert your qualification to the prestigious Master of Business Administration (MBA) degree.
To take advantage of this opportunity you must apply within five years of graduating and have acquired sufficient work experience and exposure to management processes and issues.
The conversion syllabus can be completed through any route of the MBA. That includes studying in Strathclyde Business School's centres around the world and the flexible learning option. Most people choose to undertake the conversion while continuing their career by undertaking self-study supported by weekend workshops.
For those who started their MBM after September 2010, the conversion syllabus is:
The Reflective Practitioner
Exploring the International Business Environment Strategy Analysis & Evaluation
Making Strategy
Strategic Consulting in Practice
Two elective classes
MBA Project
Conversion generally takes 18 months on a part-time basis.
Entry requirements
First or second-class Honours degree, or equivalent, in a non-business or management-related subject. The MSc Business and Management is primarily designed for those with non-business related degrees and is not suitable for those with general business degrees such as BA/BSc Business Studies or Bachelors in Commerce.
For students whose first language is not English, get more information about the English language requirements for studying at Strathclyde.
There's no requirement for prior work experience, although many students on the course have worked for a couple of years. The course is not suitable for those who have extensive experience.
As the course involves work on word processing and spreadsheet packages, a reasonable level of competence in both is advisable.
Pre-Masters preparation course
The Pre-Masters Programme is a preparation course for international students (non-EU/UK) who do not meet the entry requirements for a Masters degree at University of Strathclyde. The Pre-Masters programme provides progression to a number of degree options.
To find out more about the courses and opportunities on offer visit isc.strath.ac.uk or call today on +44 (0) 1273 339333 and discuss your education future. You can also complete the online application form. To ask a question please fill in the enquiry form and talk to one of our multi-lingual Student Enrolment Advisers today.
Careers
The degree opens up a range of exciting career possibilities. In broad terms, our graduates' career paths follow one of four directions:
Entry into a management programme within national and multi-national organisations. Recent graduates have joined organisations such as Accenture, KPMG, Morgan Stanley, Deloitte, Facebook, Google, Eon, PricewaterhouseCoopers.
Entry into a more specific programme where it's the combination of first degree, or work experience, and the MBM that distinguishes them from the competition. Graduates have been recruited by such prestigious firms as Ford Motor Company, Royal Bank of Scotland, Ubisoft, Cisco Systems, BSkyB, Schlumberger.
Many have taken up an opportunity within their family's business, developing the business to take advantage of the opportunities presented by today's environment.
Others are pursuing their dream of becoming an entrepreneur and building their own successful business.
Last updated Sep 2019
About the School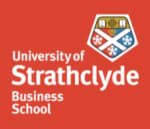 Strathclyde Business School(SBS)is a pioneering, internationally renowned academic organisation that shapes anddevelops the business minds of tomorrow. Strathclyde is one of a small percentage worldwi ... Read More
Strathclyde Business School(SBS)is a pioneering, internationally renowned academic organisation that shapes anddevelops the business minds of tomorrow. Strathclyde is one of a small percentage worldwide to be triple accredited, holding accreditation from the international bodies, AMBA, AACSB and EQUIS.
Read less
Glasgow ,
Athens ,
Zürich ,
Singapore ,
Dar es Salaam ,
Manama ,
Kuala Lumpur ,
Petaling Jaya ,
Muscat ,
Muscat ,
Dubai ,
Abu Dhabi ,
Milan ,
Munich ,
Beijing ,
Toulouse
+ 15 More
Less