MSc in Business Psychology
Home ›
MSc ›
MSc in Business Psychology
Program Description
For students without a BPS accredited degree, MSc Business Psychology offers you the opportunity to study alongside the students of MSc Organisational Psychology and gain a fascinating look at the science of how people and groups behave at work.
A deeper understanding of organisational psychology is an asset to anyone currently working in the field of social sciences or human resource management, or thinking of studying to become an occupational psychologist.
This course gives people with an appropriate background the theoretical knowledge and practical skills used in organisational psychology to help them develop or change careers.
You learn about Psychological Assessment at Work, Learning, Training and Development, Leadership, Engagement and Motivation, Well-Being and Work, Work Design, Organisational Change and Development, Research Design, Advanced Data Gathering and Analytical Techniques and Applying Psychology to Work and Organisations.
You study with students on the MSc Organisational Psychology course, which will enhance your experience, but you do not need to register with the British Psychological Society (BPS).
Special features
Students taking the MSc Business Psychology course will sit with students from MSc Organisational Psychology and study the same course modules.
Course units details
Semester 1
Professional Skills for Organisational and Business Psychologists
Selection and Assessment in Organisations
Research Skills for Professional Pratice 1
Training, Support and Development
Semester 2
Work Design, Performance and Well-Being
Managing People and Organisations
Research Skills for Professional Practice 2
Relationships at Work
Summer period
Apply what you have learned in the taught part of the course. Normally consists of a literature review followed by a piece of work based on qualitative or quantitative research.
Examples of recent dissertation topics:
What factors determine successful mentoring relationships? A study of a formal graduate mentoring scheme
The role of individuals' personality and perceived values in adoption of mobile data services
An exploration of the job satisfaction and career progression of visible minority women in Canada
Understanding financial responsibility: an exploratory analysis of the main characteristics that influence spending and saving behaviours
A study of occupational stress in the Indian information technology industry
A Gravesian values-system perspective on the design of consultative interventions in organisations
Why organisational change programmes fail
Coursework and assessment
Assessment across the course units varies and includes a combination of examinations, report, coursework, practical assessment and presentations. A dissertation of around 15,000 words is normally undertaken.
Entry requirements:
We normally look for a UK bachelor degree with first or upper second class honours or the overseas equivalent in psychology without GBC (Graduate Basis for Chartership), or in related disciplines such as social sciences, human resources or business and management. Knowledge or experience in statistics is desired.
Relevant work experience is desirable and examples of types of areas of work include HRM, counselling, training, career advice.
When assessing your academic record, we take into account your grade average, position in class, references and the standing of the institution where you studied your qualification.
Last updated Feb 2020
About the School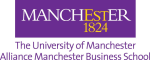 Alliance Manchester Business School is one of the UK's first two business schools, set up in 1965), and is now the largest campus-based business and management school in the UK. Manchester is recognis ... Read More
Alliance Manchester Business School is one of the UK's first two business schools, set up in 1965), and is now the largest campus-based business and management school in the UK. Manchester is recognised for its original thinkers: our long and proud history of research excellence continues the spirit of innovation and achievement for which the city is renowned.
Read less